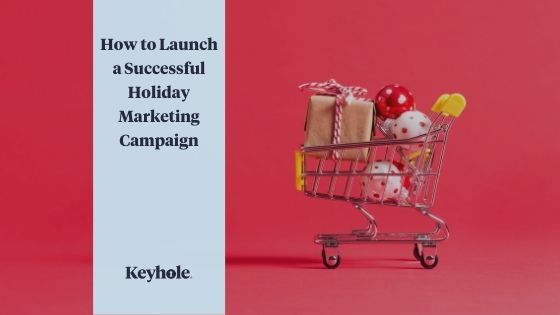 With the holiday season quickly approaching, it's almost that time of the year again:
Time to get your decorations out of the box and scramble for something to gift your friends and family. For some, this may be the only time of year to splurge and gift themselves a little something special.
In other words, everyone's looking for something to buy, especially with Cyber Week kicking off the holiday shopping season.
In fact, Adobe found that the major holiday shopping weekends can lift sales by an impressive 200%. For business owners and marketers, this is the perfect time to start planning your holiday marketing campaigns so that you can make the most of it.
You don't want to miss out on the only season where almost everyone finds a good reason to shop more than usual.
At the same time, it may be easy to shy away from planning your holiday marketing campaign because there's so much involved in the process. Not to mention, the fact that you have to compete with more businesses than usual.
Fear not! In this post, we provide you with a detailed guide on how to plan your holiday marketing campaign. We also give you a few holiday marketing ideas to inspire your campaign this year.

1. Start Planning Early
When it comes to planning your holiday marketing campaign, never procrastinate. You're already behind if you haven't already cooked up some ideas for how you want to run your campaign.
The goal is to get your target audience to start thinking about your products and your brand well before the holiday shopping season actually begins. August and September are a good time to start so that you have everything you need to launch your campaign by the end of October or early November.
You don't want to just target the last-minute shoppers but the early birds as well. In fact, targeting early-bird shoppers and offering special deals and rewards for shopping early could be highly profitable for your campaign.
A Deloitte survey even found that early-bird shoppers who began shopping before Thanksgiving planned to spend about $400 more than those who shopped later. And over 60% of respondents planned to do their shopping before Thanksgiving.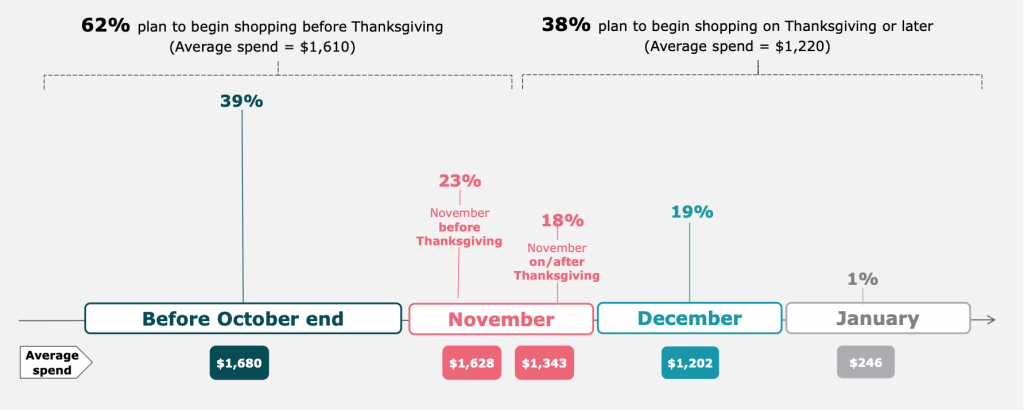 2. Holiday Marketing Means More Competition
Of course, with people shopping more this season, you're bound to see more businesses trying to capitalize on it too. Even businesses that have avoided running a marketing campaign throughout the year wouldn't want to miss out on winning over holiday shoppers. That means the competition is going to get much tougher and you'll need all hands on deck for your holiday campaign.
To face the tough competition, make sure you deliver outstanding experiences at every stage of the conversion funnel. Right from the discovery and awareness stage, leverage creative promotion campaigns that stand out from the competition and speak to your target audience.
You'll also have to plan campaigns spanning across multiple channels and social platforms to reach as many people as possible. For instance, you might have to invest in new but popular platforms like TikTok. Since it's still a fairly new concept for most brands and marketers, you'll have an advantage over the competition.
Once shoppers land on your site, make sure you offer a seamless shopping experience. It doesn't hurt to review your current website performance to look for any bugs that could get in the way of your customers having an exceptional experience.
Are there any lags in your page load speed? Do you need to update your page security? Perhaps there are some broken links that you need to fix. Make a note of all of these issues and fix them before your campaign goes live.
3. Create an Irresistible Offer
What will your customers get out of the campaign? Planning your holiday marketing campaign requires a strategic approach, which also involves creating an offer that they can't refuse.
At the same time, the offer should still be profitable for your business. You can't just offer 50% off everything if you're going to lose money on most of the sales.
So, it's crucial that you plan well ahead of time for an irresistible offer that benefits both parties. Start by selecting the items you can afford to run a sale on and then offer a reasonable discount on those. You could further sweeten the deal with exclusive experiences that your competitors don't offer.
For example, all customers who sign up for early access could stand a chance to win a free TV, or a trip to Bali, or something along those lines. It could also be something as simple as free shipping for all subscribers.
4. Invest in Creative Promotion Strategies
The most important part of your holiday marketing strategy is your promotion approach. In fact, this should make up for about half of your entire strategy. You've created an irresistible offer and now you need a way to effectively promote it so that you attract a massive and relevant audience.
It's crucial that you spend some time devising promotion strategies that stand out from the competitors. You could use the following holiday marketing ideas to promote your offer:
Craft Exclusive Offers to Attract Early-Bird Shoppers
Generate hype around your holiday sale by providing shoppers with the opportunity to unlock deals a little earlier. You could set up an opportunity to sign up for early access to your sales and get exclusive offers and deals that won't be available to last-minute shoppers.
This means you get to capitalize on the big-spending early shoppers before they spend their money anywhere else. And you also get to build a buzz for the sale as those early-bird shoppers tell their friends all about how good of a deal they managed to get.
Anastasia Beverly Hills, the makeup brand, regularly runs limited period offers to sign up for early access to its Black Friday sale. And the brand makes sure that this offer doesn't get out of control by limiting the signup period.
That means that if you don't sign up early enough, you'll miss out on early access, which creates a sense of urgency.
Use Attractive Graphics across All Channels
Graphics instantly catch the eye, so they're a must have for your holiday marketing campaign. Regardless of which social media platform you're using or whether you're promoting your sale via email, you need to craft attractive graphics that'll instantly draw in your target audience.
See the following Black Friday promotional graphic from Morphe Brushes' Facebook page, for example.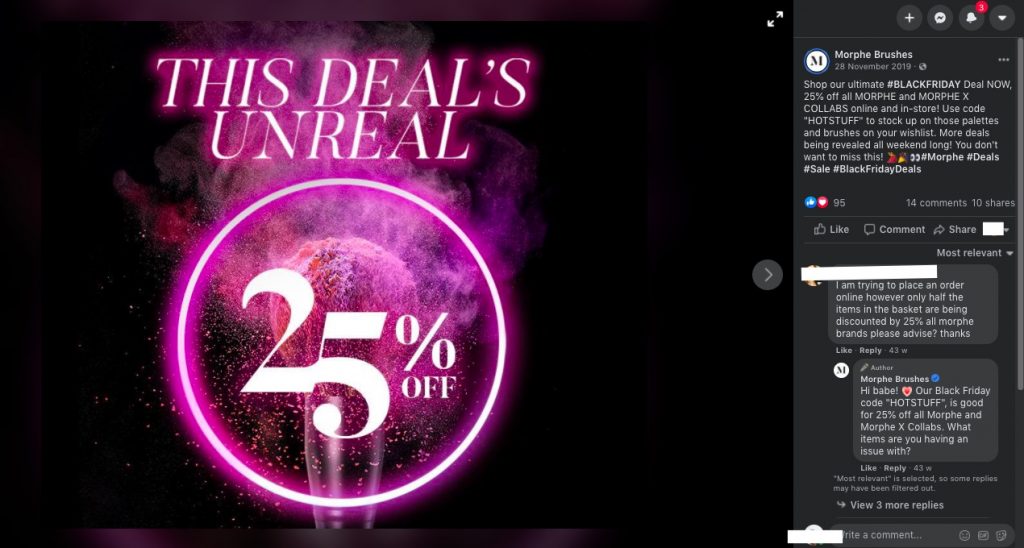 You could use free design tools like Canva to create your own promotional graphics. But make sure you follow a similar theme and color scheme for the same campaign. This will help with your campaign branding efforts by making it more memorable for shoppers.
Make The Most of Countdown Timers
There are two ways countdown timers can help your promotion campaign – they can build up excitement for an upcoming sale, or they can create a sense of urgency for an ongoing one. Set up a timer on your website counting down to the start of your sale. You could also create social posts counting down to the same event to further promote it.
Then create a sense of urgency by setting up a timer counting down to the last day of the sale. A "Sale Ends in…" timer could compel many shoppers to grab the offer before it's too late. But make sure you only do this when there's an authentic time limit or you'll end up losing the trust of your customers.
Create Content that Adds Value and Inspires Purchases
Content marketing can be a highly effective tool to promote your holiday marketing campaign. Create holiday gifting guides and shopping guides that not only add value to your target audience but also inspire their purchases.
These types of content will work as blog posts, infographics, videos, and social posts too. You could even publish video reviews and tutorials of popular products that people might be considering.
You can use content marketing to target both early-bird shoppers and last-minute shoppers. For example, you could create a gifting guide and publish it in late October, urging shoppers to start planning their gifts early so they can avoid the last-minute rush.
You could also publish a list of last-minute deals for those who still haven't done their holiday shopping.
Take for example how PhotoShelter provided subscribers with a gift guide for photographers in partnership with Feature Shoot.
Pro tip: Use a social publishing and scheduling tool to be able to visualize and analyze your social media content strategy.
Capitalize on Influencer Marketing
You could further amplify your holiday promotion efforts by working with influencers and content creators within your niche. Perhaps, they could include your products as a part of their shopping guides or reviews. Or you could ask to feature your product in their social media posts or blog.
Look into keywords and hashtags within your industry to find the most influential content creators in your niche. Find an influencer or micro-influencer that fits your brand and budget, and reach out for a potential collaboration.
Influencer marketing is a great way to get your business in front of hundreds of thousands of followers could be a great way to promote your holiday offers. Use an influencer tracking tool to track, measure, and help optimize the performance of your influencer.
Use Interactive Games/Posts to Keep Things Fun
You could even get shoppers more involved in the promotion by sharing posts that they can interact with. Share fun polls and quizzes through your social media to keep them engaged. For instance, Home Depot created a holiday Bingo card and shared it on Instagram.
Alternatively, you could also use user-generated content and hashtag campaigns to build a buzz around your holiday sale. This is a great way to involve your target audience in your promotion efforts.
Improve your chances of getting more sales out of each purchase with the help of a referral program. Each time someone makes a purchase during the sale period, you could send them a "thank you" email or note with a referral code for an additional discount that they can share with their friends.

Alternatively, you can also use the same approach to reward long-time customers with special holiday deals exclusive to them. Send them an email thanking them for their support and include a referral code they can share with a certain number of friends.
You can even use referral tools to make the referral process automated and scalable.
5. Seal It with A Winning Landing Page
Next, make sure you have a place for your target audience to land once they click on your link. Create a landing page that matches your offer so visitors know that they've reached the right place. This page should clearly highlight the top benefits of your offer, i.e. what your customers are getting out of the deal.
Design-wise, it should also match the promotional graphics that you're using on other platforms and channels. If you're leading shoppers to a sale page and not a specific product page, you could have a banner matching the design of your promotional graphics.
Check out Cult Beauty U.K's landing page for an upcoming Black Friday sale. Since the sale hasn't started yet, they've invited visitors to bookmark the page. They've also added some additional information about when the event is going to start. And for those who can't wait till the sale begins, they've also encouraged them to check out other deals and offers.
6. Prepare for Possible Setbacks
Hiccups are bound to happen, especially during major events such as the holiday shopping season. You may have anticipated an influx of traffic and orders for your holiday marketing campaign, and you would've made the necessary preparations to handle the extra activity.
But there may be situations outside of your control, especially if your campaign reaches more people than you'd originally expected. So make sure you have a solution in place in case anything goes wrong during your campaign:
What will you do in case people can't click on your ad link? How will you fix any checkout issues in the middle of your campaign? What happens if your server can't handle the increase in traffic?
Be prepared with solutions for all of these possibilities so that you can deliver a quick fix.
7. Analyze and Adapt
You may think that you can kick back and relax once your campaign goes live, but that's far from the truth. There's still one thing left to do and that is to measure your campaign performance.
This is easily one of the most critical aspects of your holiday marketing campaign as it gives you important insights on how your effort has paid off. It will indicate whether you need to change something, and so on.
Use this step of the campaign to see whether you'll be meeting your goals and if not, what could be hindering your efforts? Look for areas where people dropped off in your conversion flow, which platforms seem to be performing worse than others, and so on. Then look for possible reasons and fixes behind these problems to quickly adapt your holiday marketing campaign.
Make the most of the Keyhole Campaign Monitoring Tool to measure the ROI of your holiday marketing campaigns. The machine learning prediction feature is particularly useful as it helps you anticipate how your campaign might perform in the next 24 hours, 7 days, or 30 days. Use this feature to find out if you need to switch things up to drive even better results.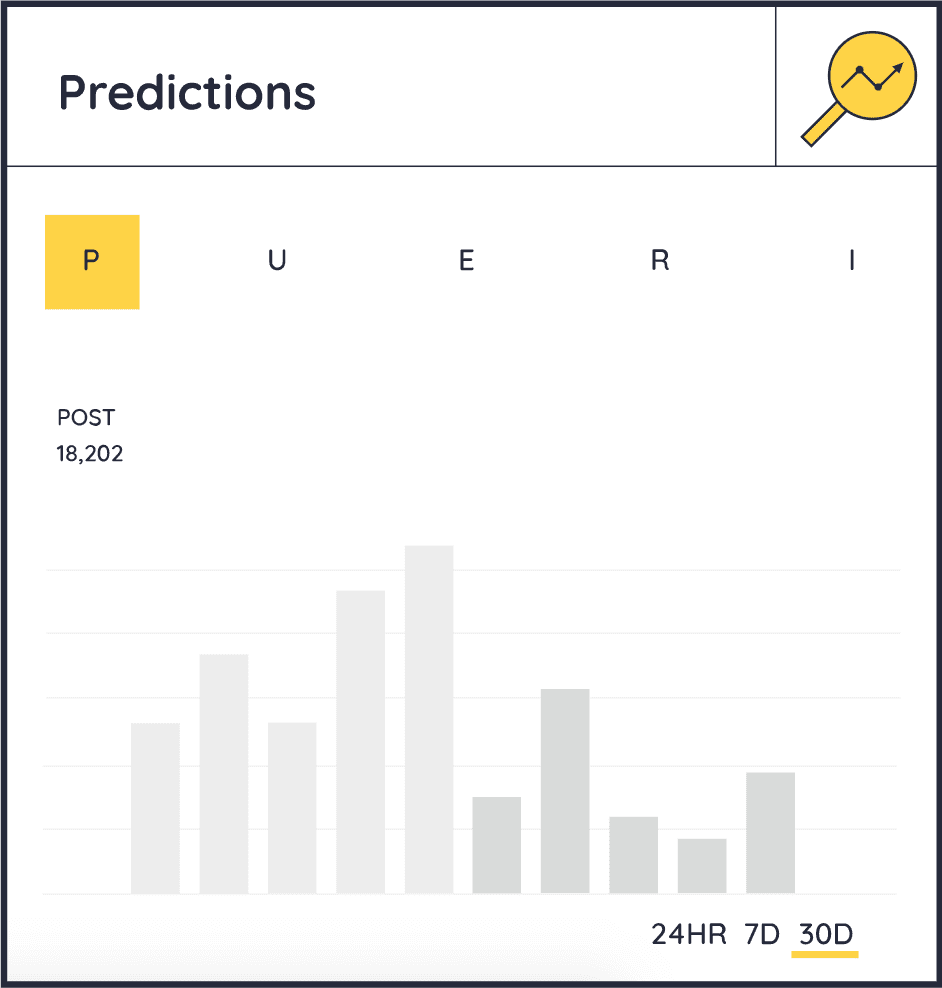 Ready to Launch Your Holiday Marketing Campaign?
While the holidays are the best time for businesses to launch a marketing campaign, it can be challenging to stand out in a sea of competitors. Follow the steps given above along with the holiday marketing ideas to develop a winning strategy this holiday season.
Don't forget that the analytics process is a critical aspect of the whole campaign because it's the very thing that tells you how well your investment is paying off.
If you're still new to the whole campaign tracking process, use our free social media reporting template for a detailed guide. And before you get ready to launch your holiday marketing campaign, sign up for the Keyhole free trial to see how it fits into your overall campaign monitoring efforts.
---
Related Articles:

5 Best Christmas Hashtag Campaigns
Social Media Campaign Monitoring

Keyhole helps marketers make data-driven decisions while streamlining their social media management efforts. On top of campaign tracking, influencer marketing, and social listening, you can also schedule and publish your social media posts, all in one platform.
Our customers report that Keyhole saves them 5 hours a week on gathering and reporting data, which translates into over $7,000 saved every year.
Start your free trial today and work smarter, not harder.