Despite restrictions, Halloween made a splash this year, at least on social media. There were over 963.7K posts with the hashtag #Halloween2020, which resulted in 5.5 billion impressions this past October, showing that people were still excited about the beloved holiday.
But most importantly, what are people talking about?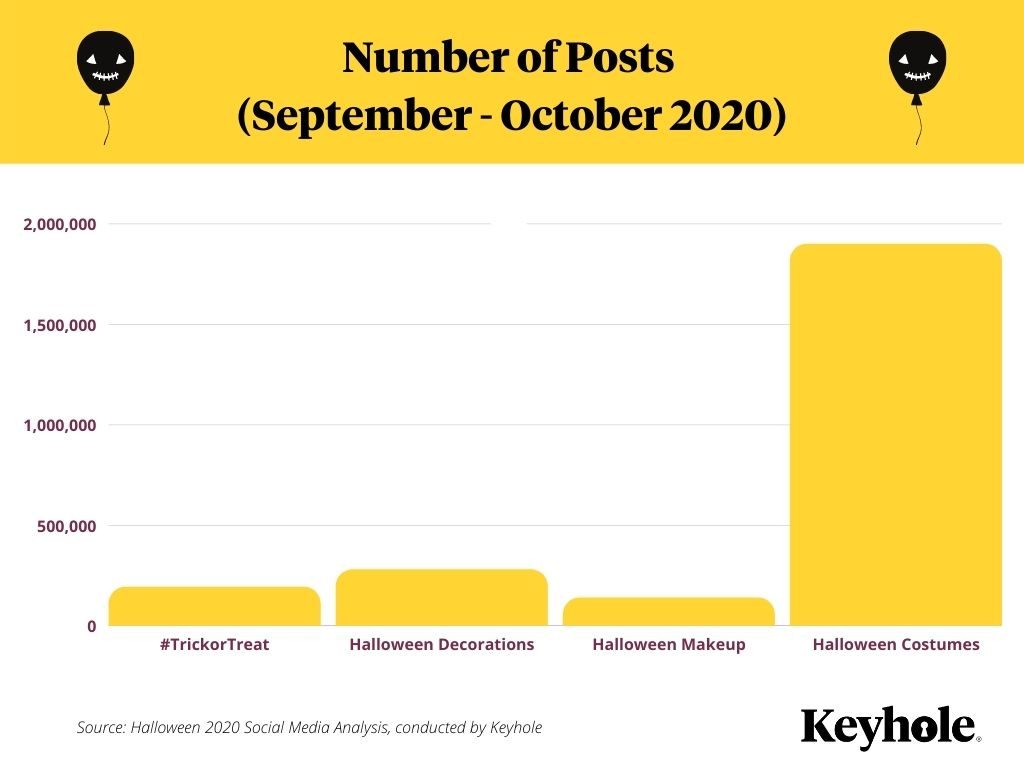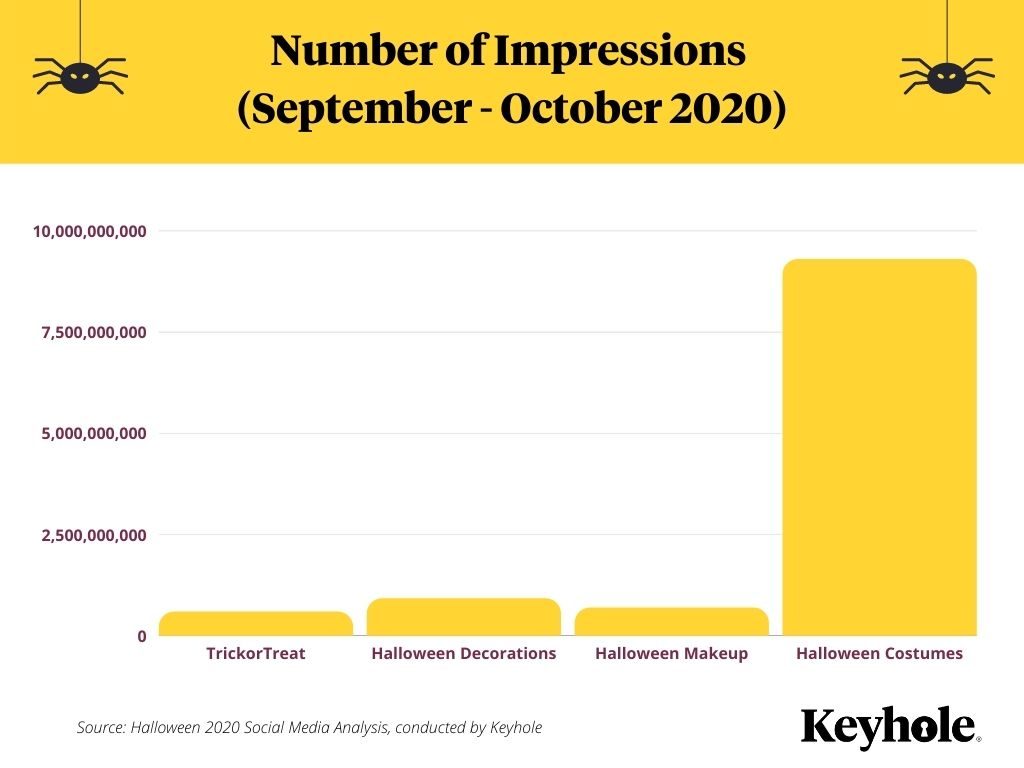 #TrickorTreat
192.4K Posts and 589.9M Impressions (September – October 2020)
Remember how exciting it was to be a kid on Halloween? Getting your costume ready, staying up late, and getting to eat more candy than you could all year?
Those were the days!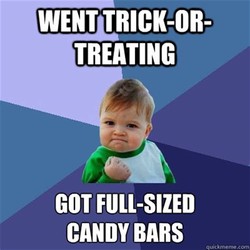 This year, however, people were on the fence about it. Recent polls show that at least 38% of parents planned on allowing their kids to trick or treat this year, while for 31%, it's a hard pass.
Curiously, 62% of poll respondents said that they would be handing out candy this year, while only 23% said they would go trick or treating. And well, having extra candy around is not such a bad thing.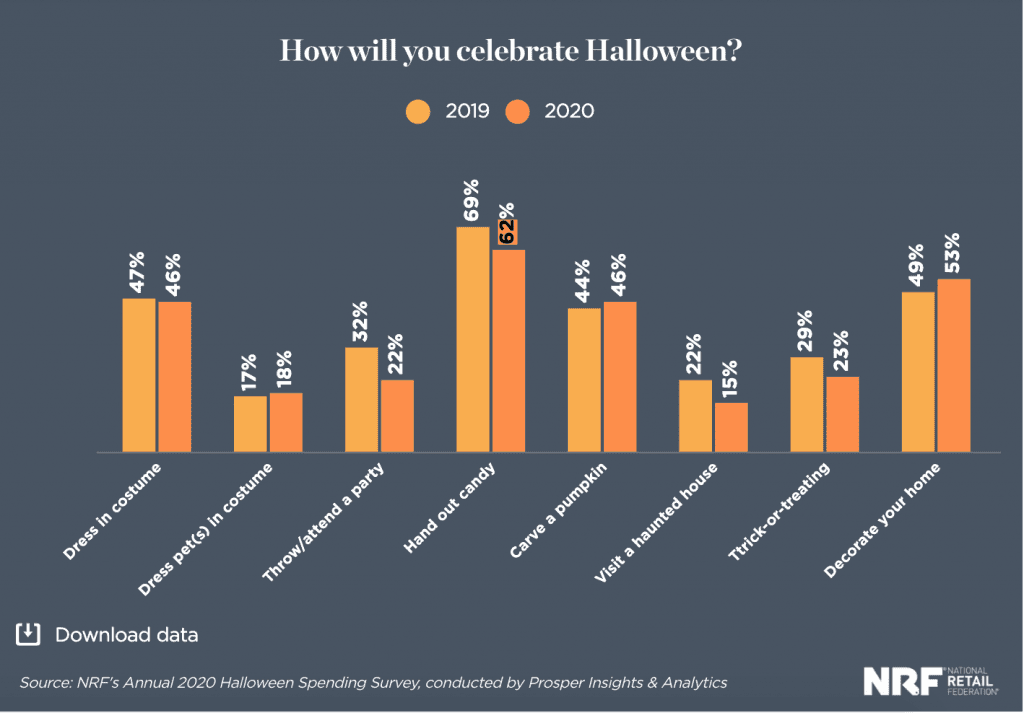 Some candy brands came to save the day – and their profits – by finding creative ways to ensure that kids get a trick or treating experience this year.
Contender 1: Mars Wrigley
Mars Wrigley created a completely online experience with Treat Town. This new app – created in partnership with Disney Parks – would allow users to engage in various Halloween-themed activities including virtual trick or treating.
The confectionery giant also partnered with the National Safety Council in creating a guide for parents to safely participate in Halloween.
Using their hashtag #bettermoments to promote the app on social media was a questionable decision. It is quite difficult to track a hashtag that most people would use in a context that is completely unrelated to your brand.
The #bettermoments hashtag is quite popular with topics such as pain, breakups and suicide prevention. These associations are the exact opposite you'd want as a candy brand.

Lesson learned – hashtag choice is crucial when using social media to track and measure your campaigns.
Alternatively, Mars Wrigley's sub-brand Skittles used the #DareTheRainbow to promote two campaigns: a giveaway – with AMC's The Walking Dead – and a zombie-prank challenge, resulting in 1.4 million impressions.
The beloved brand Snickers played it cool this year. After all, being voted as America's most beloved Halloween candy gave the brand enough bragging rights.
After a contentious battle between Snickers and Reese's – Snickers took the crown. And the results were surprising, considering the number of Americans with peanut allergies has tripled since the 90's.
What about the second runner-up?
Contender 2: Hershey's
Hershey's did not disappoint this year, by going all out and creating a robot-operated door that travelled to various American neighborhoods and offered a contactless trick-or-treat experience.
With little promotion, the #REESESDOOR hashtag gained about 385.3K impressions, and the story was picked up by many US publications. A single post from a TikTok influencer had over 35K impressions.
And despite gloomy expectations, recent data shows that candy sales have climbed 13% from last year. Halloween chocolate purchases alone are up by 25.3%.
Arguably, the increase in candy purchasing might have little to do with trick or treaters, and more to do with treating ourselves after a hard-knock year.
While many might miss out on the trick or treating fun, parents and non-parents alike are not letting the holiday go to waste and are bringing the spook home. Data proves that you don't need a party or trick or treating to partake in the festivities.
"Halloween Decorations"
279K Posts and 915.8M Impressions (September – October 2020)
Halloween Decoration posts have been incredibly popular in social media, and also 53% of survey respondents indicated that they would be decorating their homes.
In terms of spending, decorations and costumes have the highest total expected spending this halloween ($2.6 billion each).
It isn't too surprising. Halloween decorations are one of the safest ways to go all out when celebrating Halloween.
Out of 27.7 million Halloween social media posts, this neighbourly shout-out and this COVID-inspired house decoration were among the tweets with the most engagements in October.
And the Halloween decorations brand that is killing it on social media is none other than Home Depot.
Contender 1: Home Depot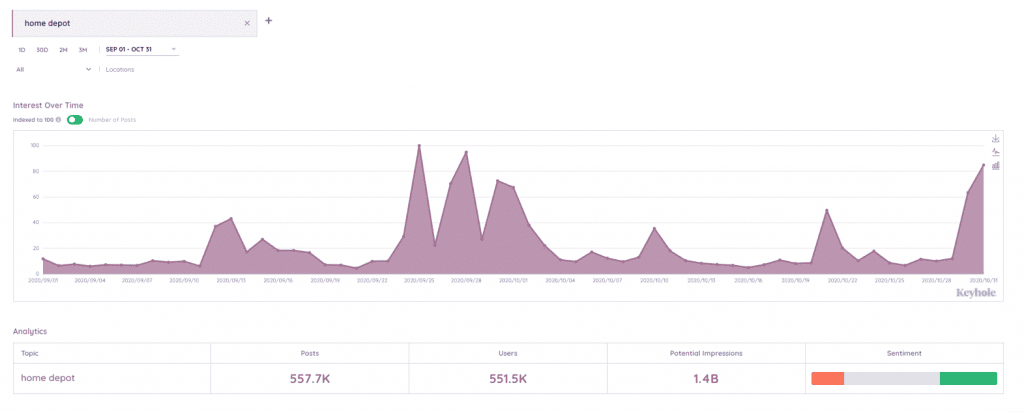 That's right, Home Depot mentions acquired 1.4 billion impressions in the past two months. In case you haven't heard, their 12 ft. skeleton became the most coveted decoration this year.
Once social media posts started to go viral, sales went through the roof. Even with a hefty $300 price tag, Home Depot quickly sold out of the big-boned decoration. People wanted them so bad that ebay auctions were going for over $800.
So what does giant skeleton envy have to teach us?
Aside from tremendous entertainment, there are a few lessons we can get from the 12 ft. skeleton's success.
First, visibility and impact – it is really hard to miss and ignore a gigantic skeleton in plain sight. With more than half the world using social media, if your product makes a visual impact, there is a chance that people will post about it.
Second, exclusivity – after selling out for good, the skeleton became even more desirable. Home Depot was very hushed about how many skeletons they sold, and simply communicated that they would no longer be available.
Let's be honest – we have a primal instinct to want what we can't have. Indicating that your products have limited availability will make them more desirable to consumers.
"Halloween Makeup"
138.9K Posts and 688.5M Impressions (September to October 2020)
Speaking of desirability, most industries can only wish to have the social media success that makeup has had. In fact, it was the makeup industry that helped us realize the power of influencer marketing.
But is it successful across all social media platforms?
YouTube
YouTube has been the largest social medium for makeup-related content with the success of makeup tutorials.
To exemplify the power of YouTube and makeup influencers look no other than James Charles' Halloween makeup video featuring Kylie Jenner.
The video has over 12 Million views, and it was engaged with over 818K instances. And while few brands could possibly afford a celebrity or mega influencers, collaborations with different influencers based on your budget can make a huge impact.
But what about other platforms?
Instagram
Instagram has become another great medium for cosmetic brands. The brand Anastasia Beverly Hills was a pioneer in turning its focus to Instagram over YouTube.
The brand amassed a 20M following on Instagram, leveraging short videos to create mini tutorials featuring their products and using contests to boost engagement.
This year, one of the posts gathering the most engagement (77K) was French makeup artist Marion Moretti's post. While she showed her stunning The Mask rendition, she also invited engagement both online and offline.
Moretti, made sure to tag all of the makeup companies she used for her look, and even created her own hashtag (#camelloween2020) to encourage user generated content.
TikTok
A new great opportunity for cosmetic brands, and really any brand, looking to use social media as a way to showcase their product is TikTok.
Elf cosmetics launched the contest #eyeslipsface in October, asking TikTokers to "give face" while using their commissioned song. The catchy song and giving TikTokers the freedom to be creative paid off: the #eyeslipsface has over 6.6B views.
So what can we learn from cosmetic brands' success on Halloween?
Like any makeup guru will tell you – "when in doubt, keep blending." Not blending into the background, but blending different elements together to make them cohesive.
Make sure you blend your content and strategy with the medium you're using. Fit is everything in social media and every platform has its own metrics and formulas.
For example, Instagram can help consumers discover your brand and make decisions about your products. On the other hand, TikTok will help you connect with a younger audience and encourage engagement with your brand.

As for influencers, fit is even more important. In order to be successful, it is important to be authentic. So, influencers will have control over the message and the audience.
Find an influencer that will be able to deliver his/her message about your brand in an authentic manner. Also, pay attention to their followers and determine whether this is the audience you want to reach.
"Halloween Costume"
1.9M Posts and 9.3B Impressions (September to October 2020)
Which leads us to Halloween Costumes – in our humble opinion – the true spirit of Halloween.
Bear with us now..
Humans around the world and history have used costumes as a way to celebrate their cultures. For example, Jewish people wear costumes for Purim, during Carnival people dress up in the Caribbean, Venice and Switzerland.
We wear costumes to create the fantasy of inhabiting a new persona. For a day, we get to absorb the positive attributes of our character. Clinging tights on any given day might make many men feel emasculated but that wouldn't be the case if it's part of a superhero costume.
There is an important insight from this. Thinking about consumption has enormous psychological implications. More often than not, people consume a brand because of what it makes them feel about themselves, not necessarily for the benefits of the product.
In many western cultures, Halloween is the day to dress up in costume. And today, sharing your costume in social media has become the norm.
This is why an average $3.4 billion is spent on Halloween costumes every year. Men spending $96 on average, while women spend $77 – which is surprising, since women usually pay the pink tax.
So what costumes were popular for Halloween 2020?
According to Freightgeist – Google Trends report on Halloween costumes – the top 10 Halloween costume searches are as follows:
Witch
Dinosaur
Harley Quinn
Rabbit
Clown
Angel
Fortnite
Devil
Ninja
Spiderman
Which leads us to the Halloween costume social media post with the most engagement for October
Which leads us to pet costumes, Americans spent about $440 million to dress up their furry friends. And this trend continues to grow by about 16% each year.
While popular human costumes are witches, princesses, villains and superheroes. These are the 5 most popular animal costumes:
Pumpkin
Hot Dog
Superhero
Cat
Bumblebee
This year, posts featuring cats with the #Halloween2020 was among the most popular this year, whether it was costumes for cats, or black cats. In fact, the Instagram account Meowed by 9GAG had a great month on Instagram: total engagements were 19M – that's 11M more than September.
So is the real winner of #Halloween2020 the noble cat? At least those cats that had the patience to be dressed up and photographed by their owners.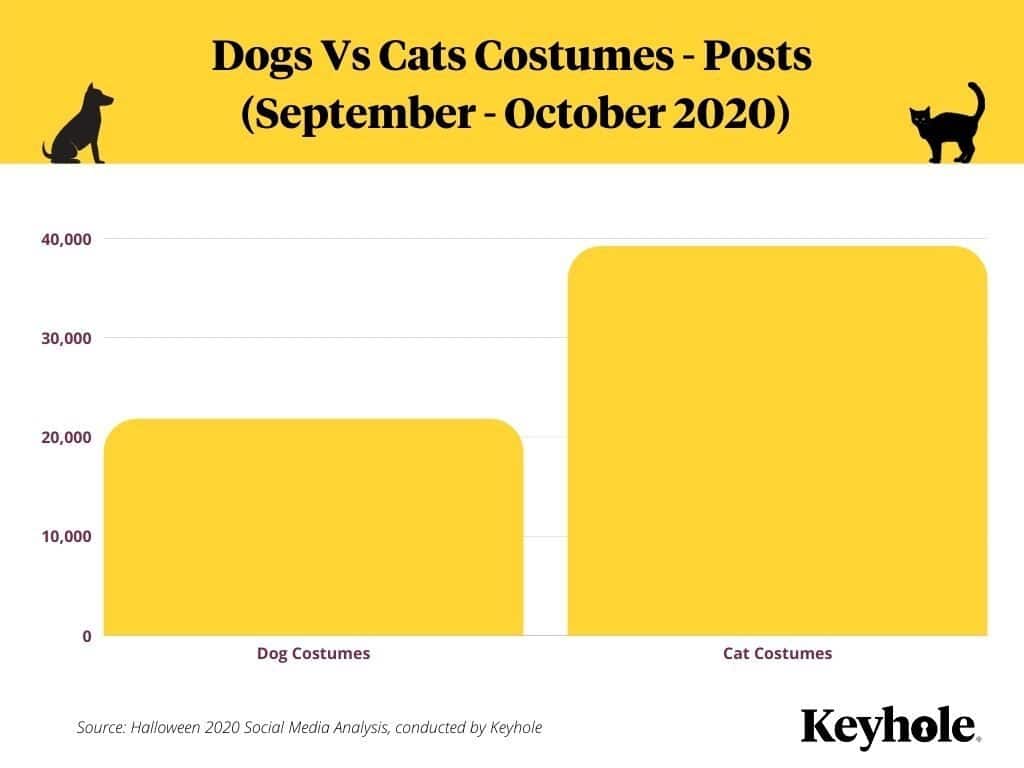 The greatest contender is of course, the dog. While dog costumes are not among the top posts of #Halloween2020, there are fewer dog costume posts (21.8K) than cat costume posts (39.2K).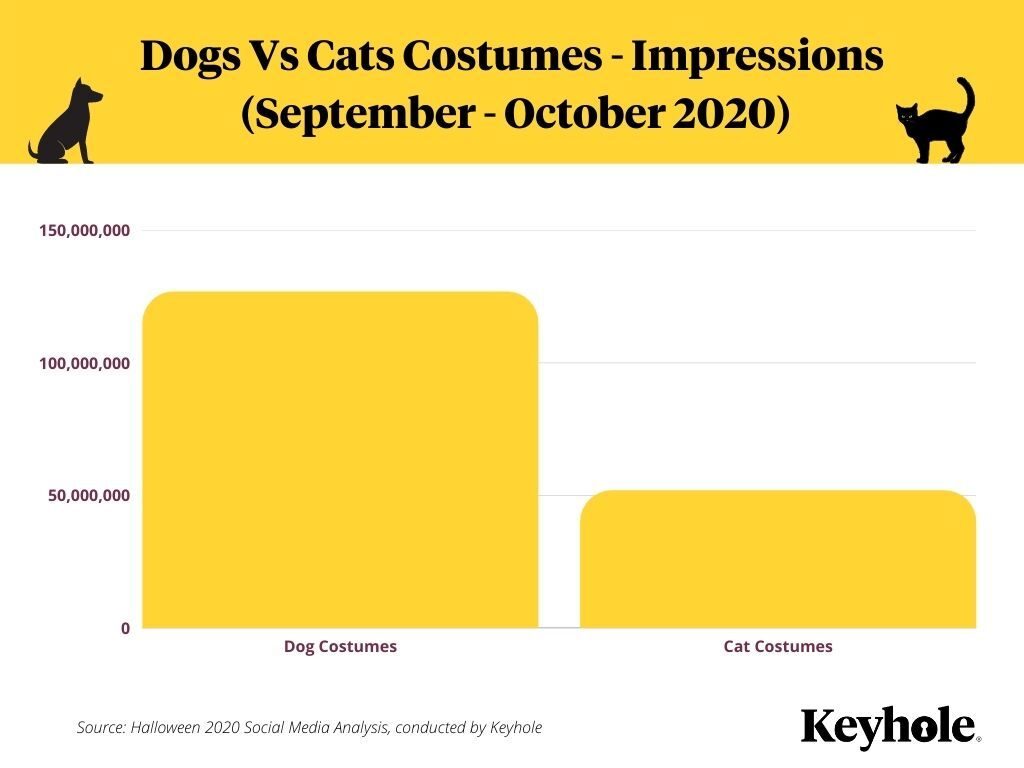 Dog costume posts, however, had 126.8 M impressions in the past two months, making them the true social media winner of this Halloween.
If you're wondering why, just look at this picture and try not to smile! If you're wondering why, just look at this picture and try not to smile!
This Halloween taught us that even when facing curveballs and adversity, new opportunities can be created. Not only for marketers but also for people who want to continue enjoying their favourite holiday.
The most creative brands – and people – have one thing in common: adaptability. All the brands we mentioned were able to get a good perspective on the situation to understand what people really wanted and then created a solution.
Practicing social media monitoring and listening can help identify trends and inform our process to create opportunities. It also allows us to track our performance and adapt as needed.
Both in marketing and in life, we can take this important lesson into consideration. Pay attention to what is happening, inform yourself as best you can, and be ready to create your own solutions.
Do you have any 2020 lessons you'd like to share with us? We'd love to hear from you!
---
Keyhole is a real-time conversation tracker that helps marketers make decisions by gathering with social media data. Try Keyhole for free with a 7-day trial.
---
About The Author
Mariana O'Connor is heading content and email marketing at Keyhole. She has a Masters degree in Marketing from the Schulich School of Business. When she's not reading or writing about the latest marketing trends, she is usually out and about, working out, learning a new skill or watching RuPaul's Drag Race.