Log onto Twitter during a game and you'll likely see a sports team's hashtag trending.
Although some are more popular than others, it's not always because a team has a large following.
Social media strategists can quantify a hashtag's strength by impressions per post (IPP). This metric — impressions divided by posts — shows the average of number of times a tweet containing the hashtag appeared in users' timelines.
A tweet with a team's brand hashtag can earn thousands of potential impressions, according to data collected from March 29 to April 5, 2016: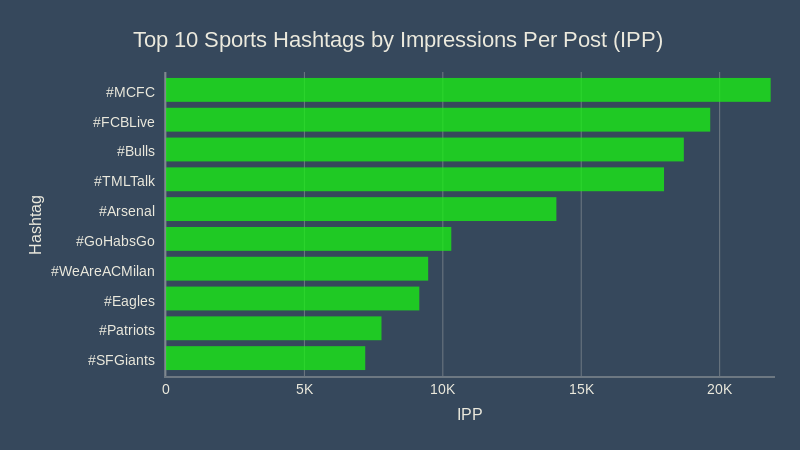 You can measure the strength of any sports hashtag you want using Keyhole.
Below is a closer look at top 10 sports hashtags on Twitter, followed by take away lessons:
1. #MCFC, Manchester City Football Club
Manchester City not only has the top IPP hashtag among football — or soccer — teams, but the entire sports world.
More than 80,000 posts amassed almost 2 billion impressions, giving it a leading IPP rate of around 22,000.
Almost a third of the tweets were original posts, whereas more than 60% of them were retweets of influential accounts. For example, a tweet from Champion League rival Paris Saint-Germain earned almost 2,200 retweets.
2. #FCBLive, Futbol Club Barcelona
Tweets with #FCBLive racked up an average of almost 20,000 impressions.
Barcelona has more than 17 million Twitter followers who tweeted around 291,000 times. The bulk of the posts came during game time. At the match's high point, fans sent 42,000 posts.
The 1-0 goal celebration had the highest reach:
GOAALLL Barça!!!!! Gerard Piqué puts them 1-0 up with a header!!!!! https://t.co/no7Xcrzsj2 #ElClásico #FCBlive

— FC Barcelona (@FCBarcelona) April 2, 2016
3. #Bulls, Chicago Bulls
Totalling more than 766 million impressions, #Bulls tweets have an IPP average of almost 19,000.
The basketball team's hashtag has the second-lowest retweet ratio — slightly more than 52% — on this list. And since only 11% of posts are replies, Bulls fans, bloggers and journalists are largely creating original tweets.
4. #TMLTalk, Toronto Maple Leafs
Perhaps professional hockey's most polarizing franchise, the Toronto Maple Leafs' official hashtag averages the highest IPP in the sport at almost 18,000.
The retweet rate for #TMLTalk is almost as low as #Bulls — less than 54%.
More than 25,000 posts earned a total of 455 million impressions, with 80% of hashtag use coming from Canada. Though not popular across the pond, 3% of activity came from Great Britain.
5. #Arsenal, Arsenal Football Club
One of London's Premier League squads, Arsenal cracks the top half of this list by registering more than 14,000 IPP.
There were more than 9,000 posts within an hour during a match's high point.
The most retweeted post using "Arsenal" was from a member of boyband One Direction. He wrote about the passing of a young Gunners fan:
Sad news about brave Jake Elphick-cox a committed footie fan of @Arsenal #jakesjourney ⚽️⚽️

— Louis Tomlinson (@Louis_Tomlinson) March 19, 2016
6. #GoHabsGo, Montréal Canadiens
With more than 318 million impressions between almost 31,000 posts, the Québec hockey club's hashtag generates around 10,000 IPP.
Among the top 10 sports team hashtags, #GoHabsGo has the lowest percentage of retweets at less than 49%. And with almost 28% of posts being replies, Canadiens fans didn't hesitate to tweet at each other.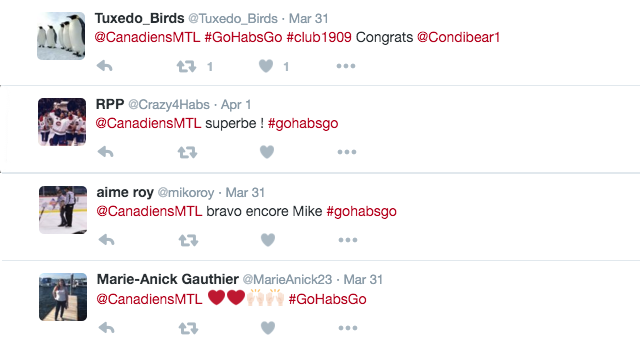 7. #WeAreACMilan, Associazione Calcio Milan
AC Milan may not be the powerhouse it was in the '90s, but the team's hashtag is the Italian soccer league's strongest.
At almost 9,400 IPP, more than 11,000 users tweeted slightly less than 19,000 times with #WeAreACMilan. The most shared posts about the Rossoneri belonged to the @ACMilan account itself, as only 19% of tweets were original posts.
8. #Eagles, Philadelphia Eagles
With European football dominating this list, the Eagles are the first American football team to make an entry. In the surveyed week, the Philadelphia team notched almost 9,200 IPP.
Part of the hashtag's popularity is owed to the Tohoku Rakuten Golden Eagles — a Japanese baseball club. But the bulk of the tweets are about the football team.
Reporter Ian Rapoport is the most influential English-speaker using #Eagles, earning more than 5 million impressions:

9. #Patriots, New England Patriots
Backed by more than 2 million followers, the Patriots hashtag ranks behind the #Eagles with more than 7,700 IPP.
The fans aren't afraid to express their opinions. More than 36% of tweets using #Patriots are original posts. Once again, Ian Rapoport is one of the most influential users, racking up more than 10 million impressions.
10. #SFGiants, San Francisco Giants
The only team with less than a million followers to crack this top 10 list, #SFGiants earned almost 7,200 IPP.
The baseball team's opening game of the season saw a high of more than 11,000 posts within the span of an hour. Unsurprisingly, the majority — 87% — of posts came from the United States. Canada was next with a 2% share.
Method of Ranking
How did I generate IPP numbers for different sports hashtags?
I used the Keyhole real-time tracker to collect post, user, reach and impression data from more than 30 team hashtags. I chose the hashtags by account influence score. The clubs also had to have more than 750,000 followers.
As written earlier in the post, the data is limited to tweets posted between March 29 and April 5, 2016. Hashtag activity was consistently high among all teams and their followers during this timeframe.
READ: How Coke Generated $100,000 Worth of Free Twitter Impressions in One Day
Lessons to Learn from the Top Sports Hashtags
The teams on this list didn't use identical tactics to popularize their hashtags. There are differences in audience targeting and use of the hashtag itself.
You don't have to work in sport to add these take away points to your social media plan:
1. Discourage One-and-Done Tweeting
As the hashtag's concept is based on driving and categorizing conversations, Tweeting once and ignoring resulting discussions can limit a hashtag's effectiveness.
For example, Real Madrid's brand hashtag — #HalaMadrid — earned more than 5 billion potential impressions. In this sense, it was second only to archrival FC Barcelona's hashtag.
But it only registered 6,885 IPP, partly due to users tweeting once instead of:
Retweeting informative posts
As a result, they neither amplified other users' tweets nor drew as much attention as possible to the #HalaMadrid trend.
So, how can you better spark conversations around your hashtag? The next point covers a proven method.
2. Use a Call-to-Action Hashtag
Call-to-action (CTA) hashtags can encourage audiences to actively tweet, boosting impressions.
Take #TMLTalk as an example. Despite only having around 1.2 million followers, the Toronto Maple Leafs' hashtag ranked in the top five — ahead of Twitter powerhouses Arsenal and AC Milan, who have 7.29 million and 3.32 million followers.
A CTA hashtag typically starts with a verb, such as "talk" or "share." It then has a short phrase to give context, such as a club name or abbreviation. #ShareACoke and #BellLetsTalk are examples.
In the case of #TMLTalk, fans, journalists and opposition clearly know the Maple Leafs are encouraging discussion about their team.
On the other hand, there's ambiguity with #Arsenal and #WeAreACMilan. Are they meant for casual conversation? Match-time tweeting? Team use only?
A traditional marketing concept, CTAs give a sense of purpose and clear direction to audience members.
3. Collaborate with Influencers
When an influencer — a thought-leader with a large social following — tweets your hashtag, it will earn a noticeable boost in impressions.
That's because whereas the average Twitter user has 208 followers, influencers can have thousands or millions.
The value of working with influential users is clearer once you examine impressions per poster (IPPer). This metric — impressions divided by users who tweeted your hashtag — shows how many impressions the average poster generated.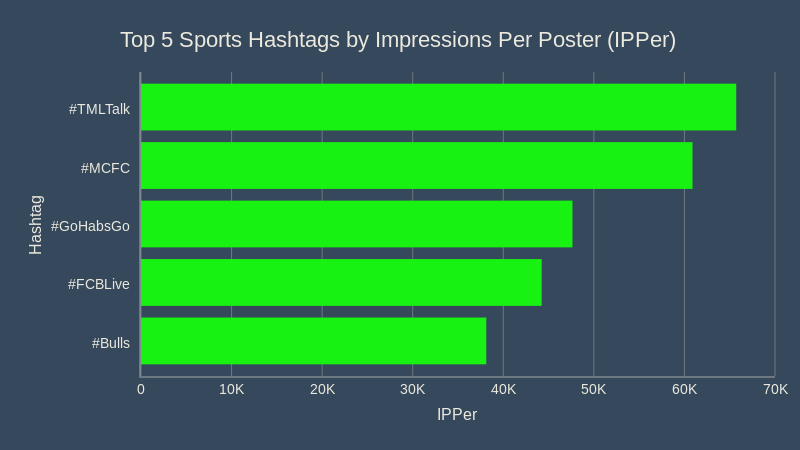 #TMLTalk jumps top-rated #MCFC in this metric, despite the Leafs having a follower count that's almost three-times smaller than Manchester City.
Creating a Twitter influencer marketing plan is complex, but generally consists of:
Finding highly-followed users in your niche
Building relationships by regularly interacting with their tweets and content
Pitching a win-win request, such as offering your product for free if they review it
Creating a landing page to track traffic the campaign delivered
IPPer will rise as more influencers tweet your hashtag, gaining more online exposure for your brand.
4. Diversify Your Audience
The only account with less than a million followers to crack this list belonged to San Francisco Giants, partly because more than one target audience was tweeting, retweeting and responding.
Almost 40% of users tweeting #SFGiants were female. That compares to 28% of #GoHabsGo tweeters and 24% of #TMLTalk tweeters.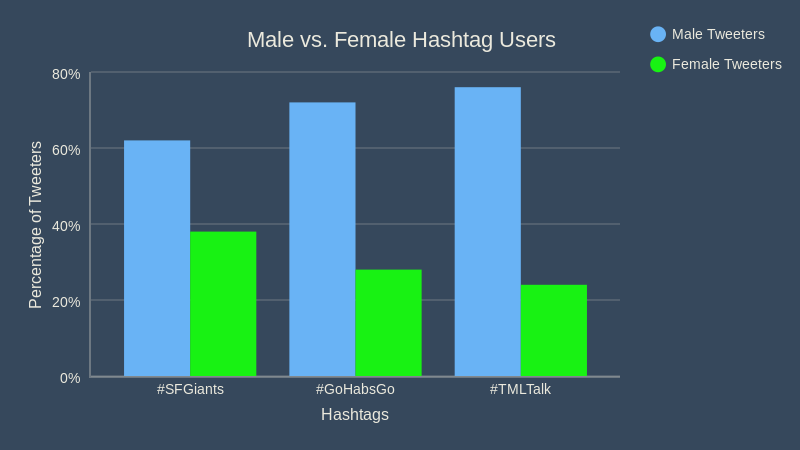 Those numbers may seem low. But, for context, only 14% of users who tweeted #Bulls were female. #MCFC only saw 13% participation from women.
You can target niche and secondary Twitter markets by:
Posting images and videos that depict the audience members
Using different language, such as common slang to appeal to a young demographic
Tweeting with an

audience-specific hashtag

, such as #SmallBiz to communicate with entrepreneurs and small business professionals
As the Giants' hashtag shows, activating these markets can have a clear effect on brand promotion and awareness.
Final Thoughts About the 10 Strongest Sports Team Hashtags
Teams with around a million followers made the list over squads with more than 10 million Twitter fans.
This shows that with a calculated social media plan, small brands can develop a more engaged audience than larger ones. And for social media marketers who work for enterprises, the list teaches you to respect competitors of all sizes.
Study the top 10 sports team hashtags to learn the strategies behind their success — your brand's IPP rate will soon rise.
---
Keyhole is a real-time conversation tracker that provides keyword and hashtag analytics for Twitter and Instagram. Get started for free and search your brand now.