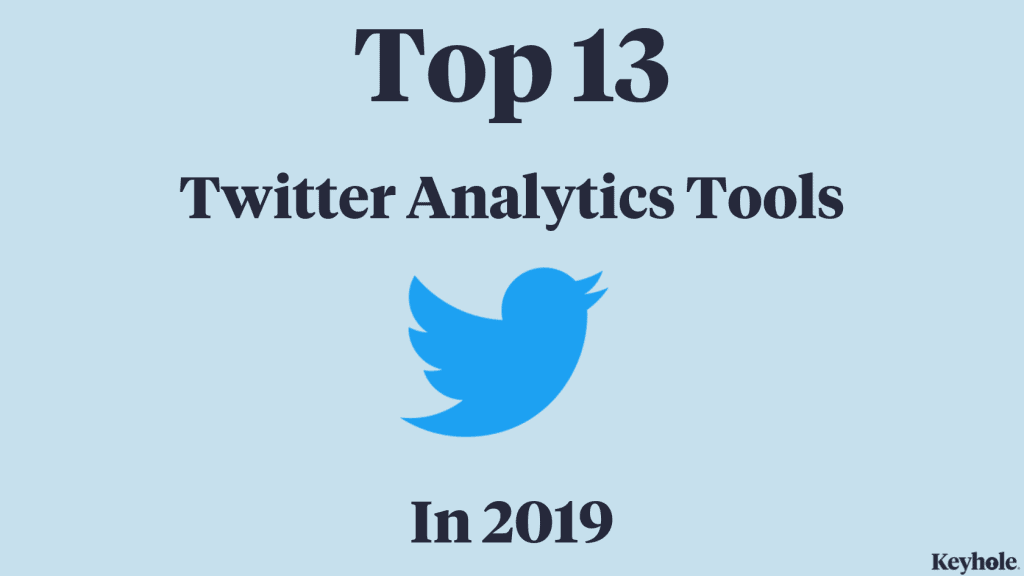 Looking for the best Twitter analytics tools?
We've identified a list of the top 13 free and paid Twitter analytics platforms to help you determine which tool is the best for your business.
Updated on September 16th, 2019. This list now covers 13 tools.
Jump Links:

Why do you need a Twitter Analytics tool?

Exploring the Top 13 Twitter Analytics Tools
1. Twitter Analytics (Native)
2. Keyhole
3. Hootsuite
4. Buffer
5. Sprout Social
6. Klear
7. Mentionmapp
8. Union Metrics
9. Agorapulse
10. Followerwonk
11. Quintly
12. Tweet Binder
13. ContentStudio
Why Do You Need a Twitter Analytics Tool?
Twitter has always been a challenging platform for businesses.
While businesses love having instant access to their customers and brand mentions, you can invest hours, days, weeks, and even years into the platform without having a sense of the ROI generated from Twitter.
We all know social engagement is important for brands, but how do you track the real world impact on your business?
Should you go after new followers or should you run a new Twitter campaign? Are there influencers out there who may be impactful to your brand?
Finding the right Twitter data analytics tool will provide you with the answer to those questions to help your social strategy flourish.
Features of the Best Twitter Analytics Tools
What can Twitter analytics tools do for your business? Before you start looking into investing in the best tool for your business, make sure you consider exactly what insight you want to gain.
Here are a few key reasons to use a Twitter data analytics tool:
Tracking important Twitter Metrics
Tweets that historically have the most engagement

Brand mentions

Insights from your competitors
Growing your Brand
Identify potential brand influencers

Grow your follower base

Grow your business
Guiding your Twitter Content Strategy
Discover what hashtags and topics your followers are discussing

Improve new content by leveraging data on what your audience finds most engaging

Manage your Tweet schedule

Better manage replies to brand mentions
Exploring the Top 13 Twitter Analytics Tools
Now that you've established what you're looking for, review our research of the top 15 Twitter analytics tools.
1. Twitter Analytics (Native) – A good analytics tool for beginners
Features: The native Twitter Analytics platform offers a wide range of basic information. This free analytics tool includes data about both your Twitter account and general insights into what's trending on Twitter.
Through Twitter Analytics, the main dashboard features a monthly summary of information such as the number of Tweets, Tweet impressions, profile visits, mentions, and followers. At a glance, you can also see your top tweets, top mentions, and top new followers per month.
Twitter's audience insights break down your follower base by their interests, occupations, buying styles, wireless carriers, gender, and more. Many other top Twitter analytics tools do not offer this data.
The tool also offers general Twitter trend data, including trending topics, events, sports, movies, and more. This tool offers native ability to advertise directly to Tweets relating to any of these topics, and the ability to target by goal (followers, engagements, leads, website clicks, and more).
Main advantage: This is a simple tool for beginners, offering detailed audience demographics data and built-in advertising tools.
Disadvantage: The majority of data reports can span only a 3-month period. Most businesses will need more robust data reporting.
Pricing: Free
2. Keyhole – Social media data that helps you make great decisions
Keyhole is a live tracking tool for social media conversations. Their simply designed dashboards give you an overview of key data that helps you make meaningful decisions about your brand.
Keyhole features a full slate of analytics features and in-depth reporting. To start, their hashtag and keyword listening allows you to analyze industry conversations live and their account analysis tool lets you analyze and optimize your posting schedule and content. They also allow you to track and build automated reporting around individual campaigns, perform competitive analysis, and perform research on both live and historical data for Twitter, Instagram, Facebook, and Youtube.
Main advantage: Keyhole is a huge time-saver, and is primarily used for real-time social listening and gaining actionable insights through data.
Pricing: Keyhole ranges from $179/month for 3 hashtags and 3 account trackers to custom pricing available for Enterprise.
3. Hootsuite – All-In-One Tool for Social Content Management
Hootsuite is widely known as the most popular tool for managing social media content. It's also a commonly used social listening tool. While it used to be the main tool on the market, it faces many more competitors now.
Hootsuite has a deep feature set beyond basic analytics, boasting social media scheduling tools, user / keyword / hashtag monitoring, content curation, and team management.
If you're looking for Twitter analytics data, Hootsuite provides a dashboard overview of your basic metrics. You can also build unlimited reports, exportable in most common document formats. One of the most useful tools is the ability to track how fast your team members respond to brand mentions.
There are also a wide variety of add-ons from other data providers, some of which are free, but many of which come at additional monthly fees.
Main advantage: Consolidates data from Facebook, Instagram, and Twitter. Large user base and support information.
Disadvantage: Hootsuite is much pricier than similar competitors.
Pricing: Hootsuite offers a 30-day free trial. $29/month for a single user, $129/month for 3 users with up to 20 profiles, and $599/month for up to 50 social profiles. Enterprise plans available.
4. Buffer – For easy, lightweight content scheduling
Buffer is primarily a social scheduling tool, but for those who are in need of a combined platform, it also provides Tweet-level analytics.
You can consider Buffer a lighter, less expensive version of Hootsuite, allowing users the ability to easily drop posts into a pre-planned content schedule.
From an analytics perspective, Buffer has announced Buffer Analyze, a more robust social media marketing tool, which promises the ability to track key metrics on the posts you've shared, including the ability to track what type of content has performed best.
Main advantage: Easy to use for scheduling content. The free tool is fairly robust.
Disadvantage: At present, data reporting is fairly limited, but Buffer Analyze may change that.
Pricing: Buffer Analyze is billed at $50 a month. Tweet-level analytics is included in both their Reply and Publish products. Reply will set your business back $225 a month, and Publish will set you back $99 a month.
5. Sprout Social – Another great all-in-one platform
Sprout Social is another full social media management solution. It offers tools to manage analytics tracking, engagement, publishing, listening, collaboration, and automation.
The Smart Inbox feature combines all messages from all major social profiles into a single stream.
Sprout Social's data reporting tools are quite in depth. You can build several listening queries that monitor specific keywords or users in order to create a live feed of brand mentions, and analyze user sentiment or geolocations.
From an analytics standpoint, Sprout Social allows you to build custom reporting dashboards that include data around engagement, task performance, messages, top performing tweets, Twitter trends, Twitter comparisons, keyword reporting, and more. They allow these reports to be branded with your logo for easy sharing.
Main advantage: Robust reporting capabilities and built-in image editors and CRM tools.
Disadvantage: Reports do not incorporate unlimited historical data.
Pricing: Individual accounts are $99/month, including up to 10 social profiles. Corporate or Enterprise accounts start at $149 and $249/month respectively. They also offer a free 30-day trial.
6. Klear – Discover key influencers
Klear's main functionality is to help your business identify key influencers on Twitter, YouTube, Instagram, YouTube, and other blogs, and has over 5 years of historical data for your business to leverage.
Klear is simply designed, easy to use, and can provide helpful insights for small to medium businesses.
The analytics tool provides analytics for individual influencers in a beautiful dashboard, including engagement reports, audience demographics, popular content, and more.
Klear also offers monitoring tools that let you track KPIs, true reach, and estimated ROI.
Main advantage: Great for identifying influencers and their reach. Intuitive interface.
Disadvantage: Limited use, as it offers shallower data reporting for your business's profiles.
Pricing: Klear offers a free version with limited features. A premium account with basic reporting is $249/month, with larger accounts and more robust features requiring a quote.
7. Mentionmapp – Discover content and discussions related to your business
Mentionmapp is a network visualization tool, offering interactive maps and webs to explore accounts and content topics related to your business
This tool visualizes user interactions through a connected cloud, identifying key relationships and highlighting major accounts that are driving certain conversation topics.
This also helps you identify related hashtags that you may not be participating in.
Recently, the tool has also added the ability to track real vs. fake users to be able to tie out fake engagements and users that are not relevant to your business.
Main advantage: Discover related content and related hashtags to your business through an intuitive visual cloud.
Disadvantage: The network/cloud visualization doesn't provide for easy data reporting or monitoring.
Pricing: Free for up to 300 searches a month, or $27/month for unlimited searches.
8. Union Metrics – Detailed Twitter reporting
Union Metrics provides full analytics reporting that help you make meaningful decisions about your brand.
It features a full slate of analytics features. To start, their profile analysis tool lets you analyze and optimize your posting schedule and their keyword listening allows you to analyze industry conversations live. They also allow you to track and build automated reporting around individual campaigns, perform competitive analysis, and perform research on historical Twitter data.
Main advantage: Basic, affordable Twitter data analytics reporting solution.
Disadvantages: Unlike some other tools on this list, it only tracks Twitter profiles.
Pricing: Their pricing ranges from $49/month for one user and 3 profiles up to $199/month for unlimited users and 6 profiles.
9. Agorapulse – Incorporate data across all your social platforms
Similar to Hootsuite, Agorapulse is another all-in-one tool that allows you to manage your entire social media presence across all social profiles, including Facebook, Twitter, Instagram, LinkedIn, Google+, and YouTube.
Agorapulse offers content scheduling tools, including the ability to requeue or reschedule old posts. It also provides message feeds to help consolidate all incoming messages. From a listening perspective, Agorapulse features monitoring and chatter streams and allows you to track average response time on each platform.
This tool provides one-click Twitter analytics reporting that's easily exportable to a PowerPoint presentation. You can also see the performance of key metrics like replies, impressions, and clicks over time. You can also track the number of interactions on specific hashtags to help you inform your content strategy.
Main advantage: Basic reporting across all social platforms.
Disadvantages: Limited ability to manage content on platforms within the app with occasional photo issues. Inability to combine reports for one brand across several platforms.
Pricing: Ranges from $99 a month for a two users to $499 for twenty users. Free trial available.
10. Followerwonk – Profile your followers and identify influencers
Followerwonk is one of the longest standing tools available to track Twitter followers. The tool includes strong visualizations that let you track who your followers are, where they are located, what they typically tweet about, and when they typically tweet.
The best feature of Followerwonk is the ability to track compare followers across multiple user accounts, allowing you to identify potential key followers that you're missing out on.
Main advantage: Ability to build a story about your followers.
Disadvantages: The analytics are all follower/following-based, not providing additional data for your profile like engagement metrics.
Pricing: The free version offers a variety of tools to analyze an individual account. Their "Target" and "Multitask" levels for larger follower counts are available for $29 and $79/month respectively.
11. Quintly – Consolidated social media analytics reporting
Quintly provides in-depth analytics tracking for multiple social channels, including Twitter, Facebook, YouTube, and more.
It offers competitive benchmarking, allowing you to track your account performance versus that of your competitors. You can also track your key KPIs and centralize your online marketing success all in one place.
You can also automate your social media analytics reporting with the ability to create custom reports, including live reports with shareable links, customized to your brand.
Advantage: All-in-one social analytics solution with customizable, branded reports
Disadvantages: Pricier than similar analytics tools. Lacks deeper listening analytics of competitors.
Pricing: After the free 14-day trial, accounts start at $300 a month, based on the number of profiles.
12. Tweet Binder – Attractive Twitter analytics reports
Tweet Binder is a basic analytics reporting tool for Twitter and Instagram. The tool offers a variety of reports, including live reports, 30-day reports, or historical data reports.
The tool provides attractive infographics that are great for internal reporting, including statistics like estimated economic value, top contributors, potential reach, and highest potential influencers.
Advantage: Attractive reports for internal Twitter analytics reporting.
Disadvantages: Plans are quite expensive as they are offered in Euros. Data reporting is limited for Basic and Medium accounts.
Pricing: 79€/month for a basic plan with 7-day reports, up to 700€/month to unlock all features.
13. ContentStudio
Last but not least, ContentStudio is a content discovery and curation tool. Like other tools on our list, this is primarily a social listening tool, helping you monitor conversations and popular content across a variety of topics on all social platforms. There are also a variety of automation and publishing tools available.
With this tool, you can track what's trending right now. As of 2018, the tool does not yet have a full analytics tool, but it promises to have one soon.
Advantage: Track conversations across all platforms.
Disadvantage: No established analytics reporting tool.
Pricing: ContentStudio starts at $49 a month for ten social accounts, and ranges up to $299 a month for 150 social accounts.
---
Keyhole is a real-time brand and campaign monitoring tool that provides keyword and hashtag analytics for Twitter and Instagram. Get started for free here.