We may know it as the season to be jolly, but for advertisers the holidays are a time of cutthroat competition.
Blockbuster-quality seasonal ads are part of a longstanding tradition, with many companies investing millions of dollars each year (just look at retailer John Lewis, who spent $8.7m on their 2015 slot alone). Ultimately, they know it's a smart investment: the National Retail Federation predicts this year's holiday spending to exceed $650 billion in the US alone, and the right ad can be key to directing those funds your way.
2016 saw an impressive number of holiday ads go viral, with contributions coming from seasoned veterans (we're looking at you, John Lewis) and newcomers (well-played, Allegro) alike.  To see how this year's ads stacked up, we used Keyhole to dig into what the people of Twitter have to say. Instead of focusing on view count, we decided to rank the Top 7 ads based on social buzz (and we're glad we did – take a look at #4!)
Our winners are below, but first, take a look at the data Keyhole collected on the top keywords in relation to "Christmas ads":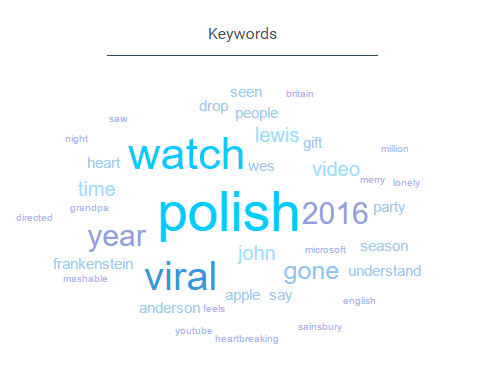 Now, without further ado: the seven holiday ads that dominated social media this year!
1. Allegro – English for Beginners
Get your tissues out, folks: Polish Auction site Allegro went the emotional route with their ad, and it definitely hit its mark. Their touching story of an elderly man who purchases an "English for Beginners" kit had viewers tearing up (and clicking "Share") all over the world.
2. John Lewis – #BustertheBoxer
John Lewis is a known powerhouse in the world of Christmas ads, and rightfully so. Their 2016 spot about the trials and tribulations of a Boxer named Buster quickly gained a large fanbase, and even inspired a line of merchandise! Humans weren't the only ones to catch a case of Buster madness, either: check out this adorable reaction video from a canine fan of the ad.
3. H&M – Come Together
Taking the notion of blockbuster-quality holiday ads in its most literal sense, H&M's contribution saw Wes Anderson directing Adrien Brody in a short 4-minute film. The winning combination of starpower and style made it a surefire social media hit.
4 . WWF – #iProtectTigers
While the 400k views it touts may seem insignificant compared to others on this list, the impact this World Wildlife Fund ad has had on social media is no small matter. When we used Keyhole to analyse the top hashtags used in relation to Christmas ads, #iProtectTigers was the clear frontrunner!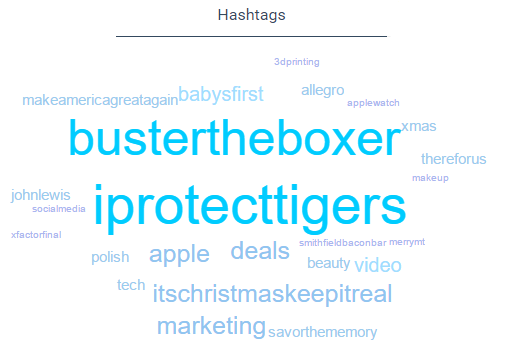 The moral of the story? When it comes to social media marketing, views aren't the only hallmark of success.
5. Apple – Frankie's Holiday
It's never a surprise to see a company of Apple's magnitude at the center of social media buzz, but "Frankie's Holiday" incited an impressive emotional response that took some viewers aback. If you have any tissues left over from the Allegro ad, you may want to keep them on hand!
6. Amazon Prime – Untitled
Much like Apple, Amazon used their holiday spot to stress the importance of acceptance without boundaries. While the ad has been subject to some controversy, the general response has been overwhelmingly positive. At a time where faith is often seen as a point of conflict, viewers are applauding Amazon's theme of universal kinship.
7. Sainsbury's – The Greatest Gift
Another well-known fixture in the world of holiday ads, Sainsbury's upped the ante this year by using 3D printing to create an impressive stop-motion advertisement. Featuring the vocal stylings of comedian James Corden, a warm-fuzzy theme and a catchy tune, it's a definite crowd-pleaser.
Want to see how your favourite holiday ads are performing? Try out Keyhole now.