Gone are the days when Snapchats were only flirty, semi-nude pics. Snapchat, the black sheep of the social media family, is now being picked up and experimented by brands all over the world.
Snapchat has over 100 million daily users that send 400 million snaps every day – it's not a surprise that companies are desperate to tap into Snapchat's user-base. According to Sumpto's study, 77% of college students use Snapchat daily! If your brand's target audience is the younger audience, Snapchat is a platform worth considering. 
Here is a compilation of the best Snapchat campaigns by top brands. 
1. The Last Selfie: World Wildlife Fund (WWF)
World Wildlife Fund Snapchat campaign stirred the flames of animal lovers everywhere. With their partner agency UncleGrey, and 41? 29!, WWF banked on Snapchat's core function – messages that disappear after 10 seconds – to illustrate the disappearance of endangered species around the world.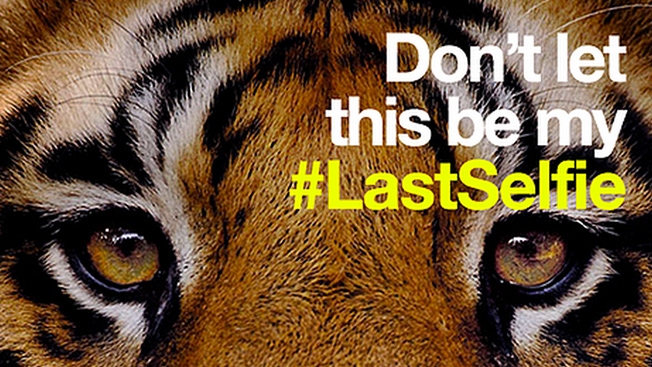 According to Tuba Ugur, Communications Officer for WWF, "The urgency to act and Snapchat's dynamic were the perfect match to disseminate our message for species. The continuity of our conservation work is vital for success. For this to happen, we have to clearly and creatively explained our reason for existence to current and prospect supporters. Millennials are targeted for this campaign, and that's why we chose to use Snapchat, which is mostly used by them."
Results: In three days, they reached their donation target for the entire month.
2. #CKMeforME Self Exploration Lab: Calvin Klein
Calvin Klein wanted to increase engagement on two emerging social media channels: Snapchat and Tumblr. This was partly to connect better with the millennial generation who are known to be prolific users of these channels. Celebrities such as Korean pop star Taeyang, singer/songwriter Dev Hynes, and models Edie Campbell and Lucky Blue were asked to produce selfies and videos in a room called the 'Self Exploration Lab.'
They produced more than 200 pieces of content and shared through various social channels and then users were asked to publish their creations.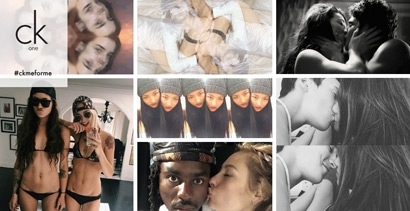 Results: 15% engagement on Snapchat, 140,000 content views, and 16.5m impressions on Twitter.
3. My Story: McDonald's
Influencer marketing seems to be something of a theme among big-brand Snapchat campaigns. McDonald's significantly increased its following on the social network with the help of NBA star LeBron James. McDonald's created a 36-second video 'story' featuring James and other sports stars to promote its new Bacon Clubhouse burger.
The brand also used Twitter to promote its Snapchat account in the run-up to the campaign.
You snap? We will soon. Add us for a tasty surprise. @Snapchat username: mcdonalds pic.twitter.com/mNtLhmEpsV

— McDonald's (@McDonalds) February 22, 2014
Results: Within an hour of announcing the stunt, McDonald's had already gained thousands of new Snapchat followers.
4.  Testino's 24-hour Fashion: Burberry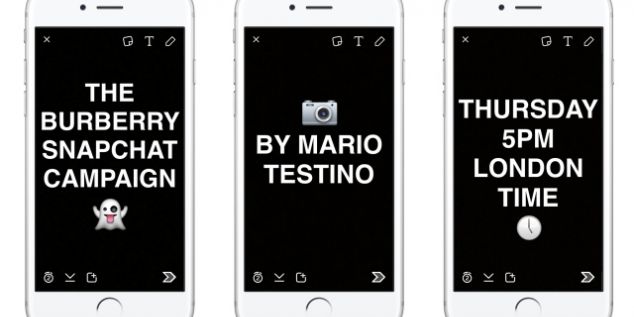 Burberry is the rebel of luxury fashion when it comes to Social Media Marketing. It wants to lure the young audience, and they're doing their due diligence! Last month of this year, Burberry launched its first ever 24-hour fashion campaign. This series, shot by renowned fashion photographer Mario Testino, were only up for 24 hours before disappearing – completely. It's an innovative marriage of high-end cultural influencer with one of the most frowned upon platform. Marketing magazine calls this "a match made in heaven."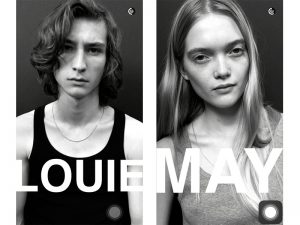 Snapchat viewers were also the first to be introduced to the brand's newest British campaign stars, who look set to be the catwalk's next big stars.
5. Superbowl Live: Audi & The Onion
Very few brands have fully embraced the platform yet, and none had used it on a stage as big as the Super Bowl. Audi took a leap of faith. They partnered with The Onion, a satire magazine, to run a Snapchat campaign to increase brand awareness amongst millennials.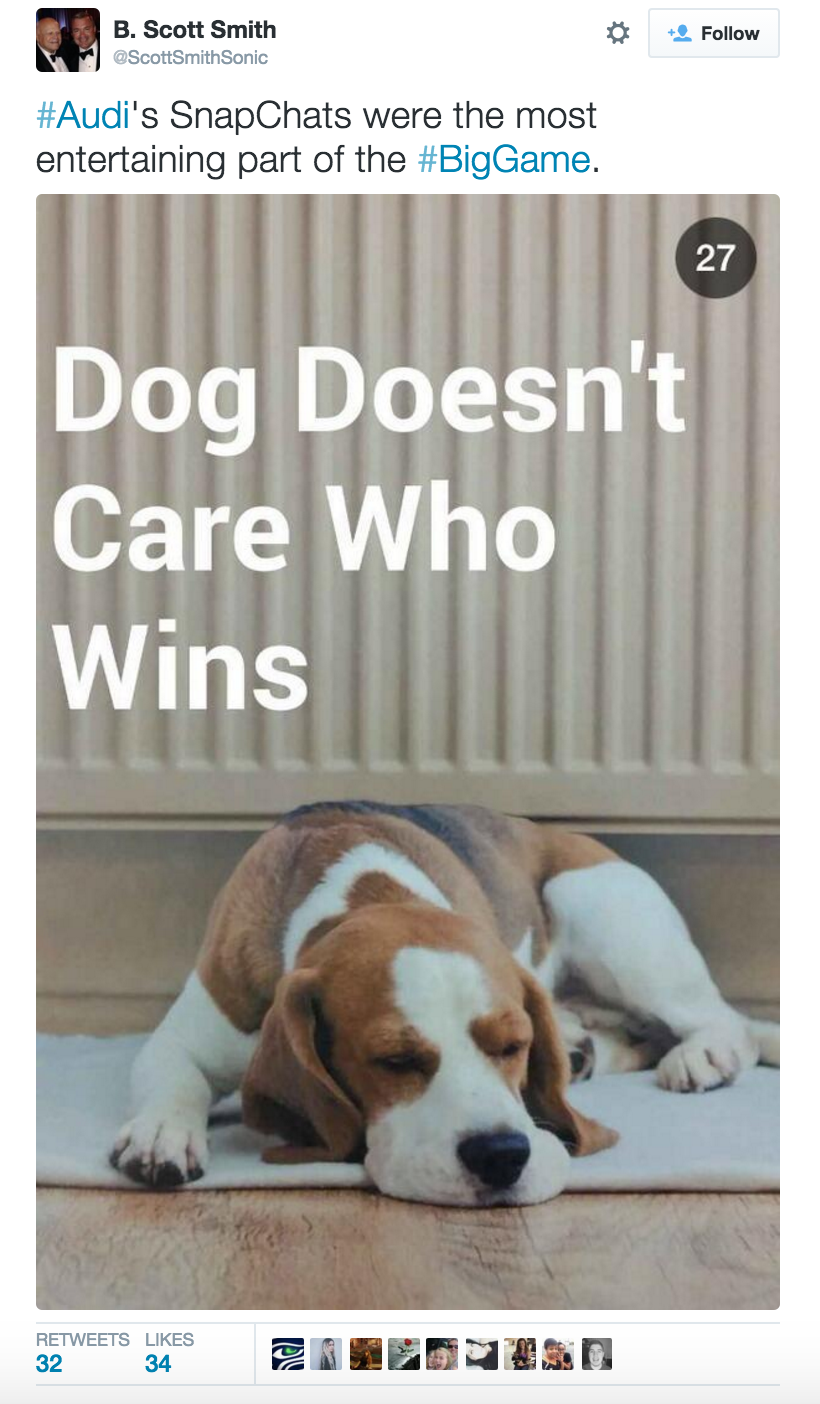 They teamed up with Huge and Onion Labs agency and The Onion's in-house creative team to create a series of humorous photos and copies that encapsulated typical behaviors of people and their pets as they watch the game. It poked fun at the banality of what happens during the halftime show.
#Audi's SnapChats were the most entertaining part of the #BigGame. pic.twitter.com/AMMwEGc1hx

— B. Scott Smith (@ScottSmithSonic) February 3, 2014
Results: Over the course of the game, more than 5,500 people followed Audi's Snapchat and the impact spilled over to other platforms. Audi's Facebook fans increased by 9000 during this campaign.  Snapchat reported that this was the fastest-growing account they had ever seen.
We expect to see a huge influx of Snapchat campaigns by brands in years to come. Innovative brands have proven that with Snapchat, you can increase community engagement and brand awareness through creative marketing campaigns. Feel free to comment and share any Snapchat campaigns you think we should include!
---
Keyhole is a real-time conversation tracker that provides keyword and hashtag analytics for Twitter and Instagram. Get started for free and search your brand now.