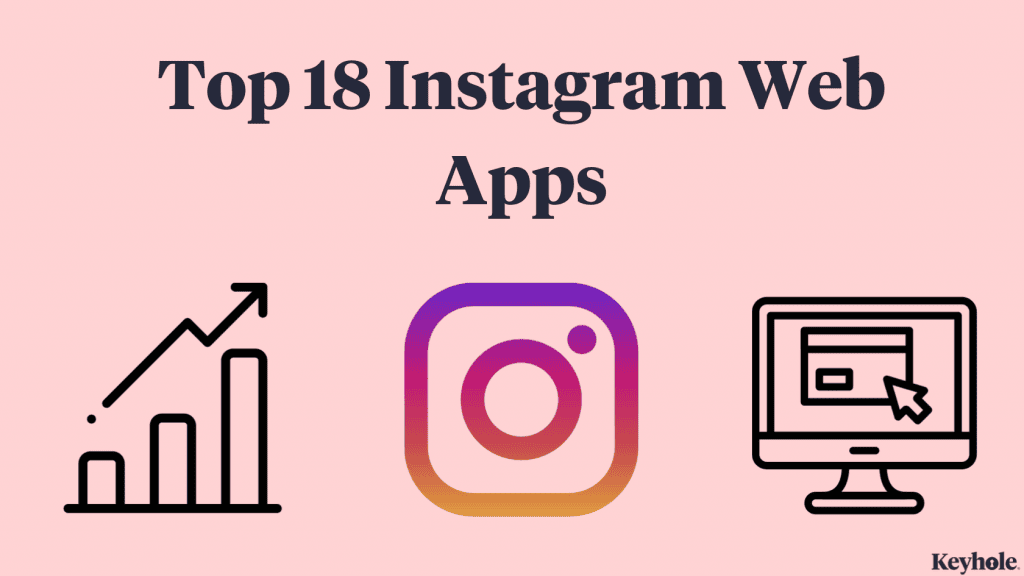 Updated on September 25th, 2019. This list now covers 18 tools.
Looking at prices and differentiating features, learn about the top 18 Instagram web apps:
Jump Links:

1. Keyhole
2. AgoraPulse
3. BrandWatch
4. Compfight
5. Crowdfire
6. Hootsuite
7. Iconosquare
8. Locowise
9. Mention
10. Olapic
11. Quintly
12. Repost
13. Sked Social
14. SnapWidget
15. Socialbakers
16. Sprout Social
17. squarelovin
18. Synthesio

Final Thoughts
1. Keyhole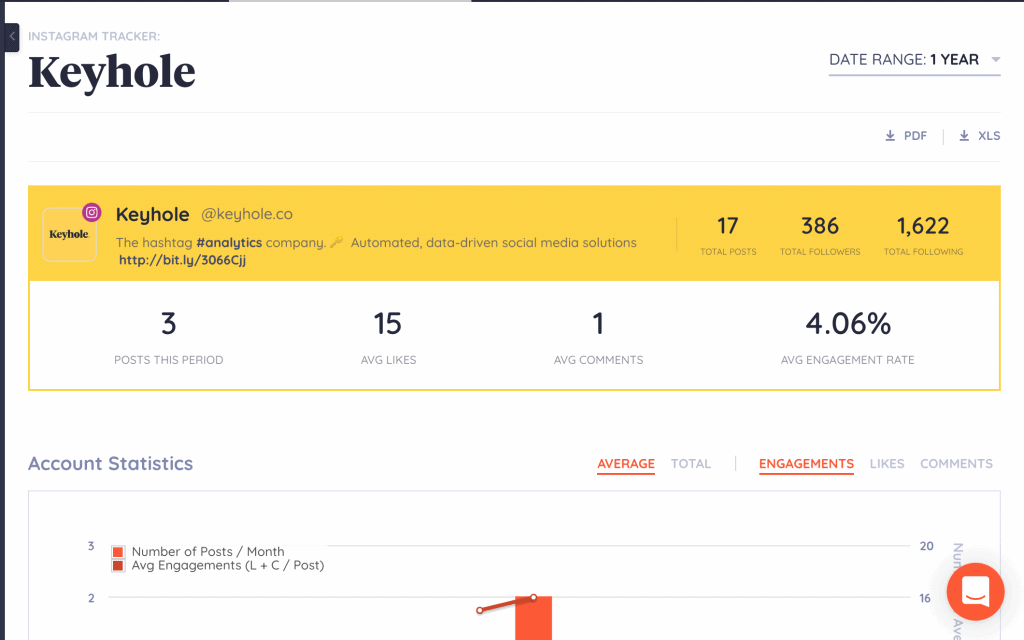 Use Keyhole to track data from any public Instagram account, as well as metrics surrounding hashtags and keywords.
In terms of account tracking and reporting, Keyhole analyzes data such as follower growth and engagement to offer optimization insights. For example, it tells you the best times to post to boost engagement. In terms of hashtag and keyword tracking, you can use the tool to gather real-time and historical metrics surrounding your search terms. These include reach, impressions, related phrases and periods of high activity.
You can combine account tracking with hashtag and keyword tracking for Instagram influencer marketing purposes. First, see who generates the most engagement when using a hashtag or keyword. Then, set up account trackers to monitor those users more closely. 
New to influencer marketing? You can read more about it here.
Price: Starts at $179 USD per month; advanced plans vary
2. AgoraPulse
If you prioritize engagement and brand awareness analytics, use AgoraPulse. As you publish content through the platform, it will monitor who shares it and uses your brand hashtags. It will also notify you when users mention your profile. The tool supplements these features with community management statistics such as response rate. Plus, you can export your key metrics into PowerPoint, simplifying the reporting process.
Price: Starts at $89 USD per month; advanced plans vary
3. Brandwatch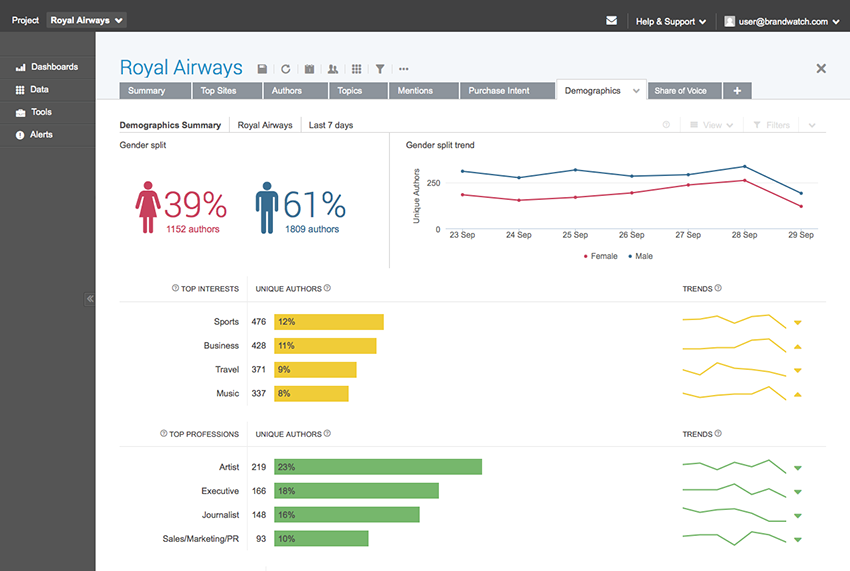 Think of Brandwatch as a research and management suite that works across major social media platforms, including Instagram. You can monitor your brand's reputation in real-time, getting alerts when consumers post positive and negative messages. The suite also simplifies community management by filtering spam and duplicate mentions. Brandwatch analyzes markets you want to enter, too — it tracks demographic data such as gender and occupation, as well as sentiment.
Price: Contact Brandwatch to discuss a unique plan
4. Compfight

Create content by searching through Compfight. This web app pulls images from flickr based on the filters you select. The Creative Commons filter, for example, will find content you can use for commercial purposes. If you want stock images, you can exclude original photos from your results. Compfight's search criteria make it ideal for quickly finding specific images, adding to your Instagram library.
Price: Free
5. Crowdfire
Try out Crowdfire to build your Instagram following. The web and mobile app guides your growth strategy by monitoring who follows you. It identifies recent followers and unfollowers, making it easy to see which audiences you're attracting and pushing away. It also suggests users to follow and unfollow. You can post on Instagram through Crowdfire, too.
Price: $9.99 — $199.99 USD per month
6. Hootsuite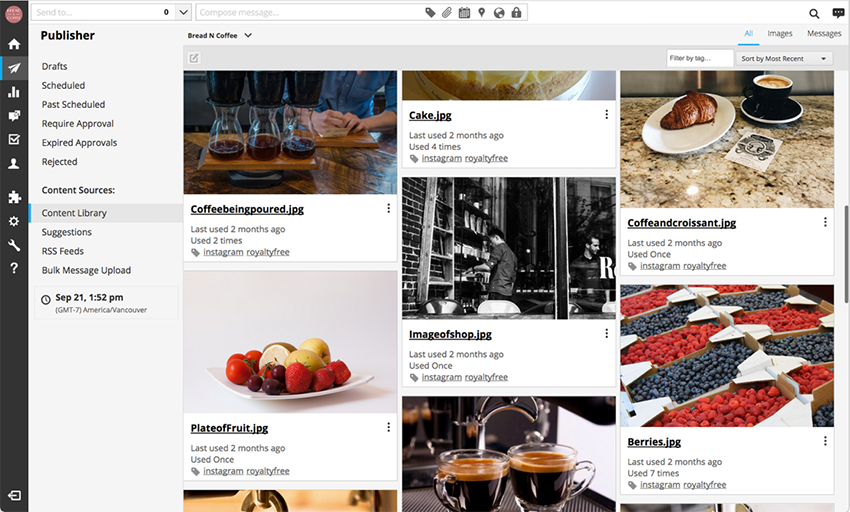 A popular platform management tool, try Hootsuite for its Instagram analytics and monitoring features. Beyond scheduling posts and aggregating content, it tracks standard engagement numbers and audience data such as location and sentiment. The tool is also ideal for large social teams with a customer-service focus. You can flag posts and assign team members to address them.
Price: $29.99 — $599.99 USD per month
7. Iconosquare
Use Iconosquare to track a range of metrics while posting to Instagram and setting up custom hashtag feeds.The dashboard monitors audience growth, offering insights such as follower location. It makes optimization suggestions, too. These include the best times to post and which hashtags to use. You can also choose to receive emails that summarize your main metrics.
Price: $29 — $59 USD per year for each Instagram account
8. Locowise
Try Locowise to optimize your Instagram activity, attracting more followers and earning greater engagement. The web app goes beyond analyzing your profile — it looks at data points from competitors and countries you're active in, telling you when the best posting times are. Locowise also has sentiment and audience demographic metrics. 
Price: $495 — $695 USD per month
9. Mention
Track and follow up on mentions with the aptly-named Mention. The dashboard is made up of trackers that locate posts and comments containing keywords you've inputted. You can choose to reply or pass the task onto a team member. For social media monitoring wherever you are, download Mention on your mobile device.
Price: Starts at $25 USD per month; advanced plans vary
10. Olapic
Capitalize on user-generated content by using Olapic to grow your Instagram brand asset library. The platform sources visuals that your customers create and upload to major social media channels. Through a unique algorithm, Olapic ranks these images based on potential to engage your audience. You can then ask a user for permission to post his or her content on your profile.
Price: Contact Olapic to discuss a unique plan
11. quintly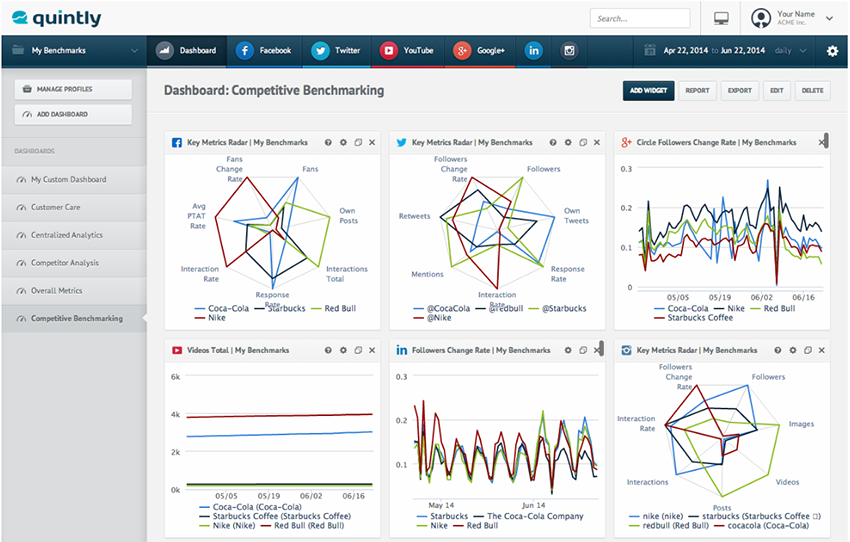 Use quintly for benchmarking, as it measures your Instagram profiles against competitors. It visualizes engagement metrics through graphs, allowing you to compare and contrast the performance of different accounts. You can also use quintly to automate reporting. With a range of templates, you can create custom reports and set them to send according to your schedule.
Price: Starts at $300 USD per month; advanced plans vary
12. Repost
Scroll through your Instagram feed, and you'll likely see Repost in action. As the name implies, you can use this Apple and Android app to repost your favourite photos and videos. Just copy the share-URL of an image and paste it into Repost. The app will add the original poster's username to the image as you share it, giving credit where it's due.
Price: Free
13. Sked Social
For a straightforward Instagram management tool, consider Sked Social, formerly known as ScheduGram. You can upload, customize and schedule content through the web app. It integrates Canva, so you can edit images by adding text, graphics and filters. Plus, there isn't a limit on the amount of unique users who can log onto your ScheduGram account.
Price: Starts at $25 USD per month for each Instagram account; advanced plans vary
14. SnapWidget
Used by more than 100,000 domains, sign up for SnapWidget to add responsive Instagram photo grids to your website. You can customize feeds based on hashtag use, or set them to only show posts from specific users. SnapWidget is ideal for brands with photogenic products, looking for more ways to display them on their websites.
Price: Free — $50 USD per month
15. Socialbakers
For a wide dataset presented in a detailed analytics suite, try Socialbakers. Its features include custom benchmarking and competitive analysis, allowing you to create groups of profiles to track your accounts against. When assessing content performance, Socialbakers differentiates between paid and organic reach. This feature lets you measure the raw popularity of your posts, determining if your Instagram budget should go to ads or other areas.
Price: $200 — $400 USD per month
16. Sprout Social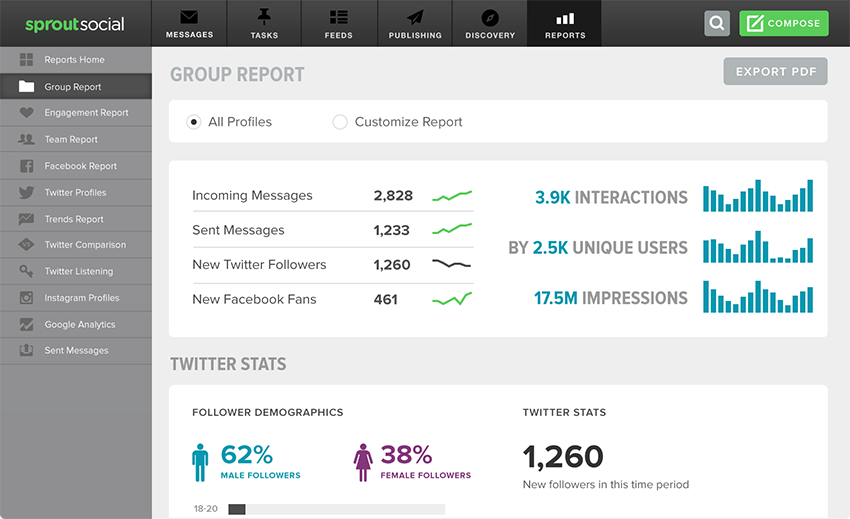 Use Sprout Social to engage and monitor activity on Instagram. You can connect to multiple profiles, replying to all comments and posting original content from a central location. Or, like Mention and Hootsuite, you can assign community management tasks to other team members. Sprout Social also allows you to create hashtag feeds, making it easy to track and participate in discussions about important topics.
Price: $99 — $249 USD per month
17. squarelovin
Access your Instagram account's performance metrics by using squarelovin. The web app displays follower growth charts alongside engagement information, including your top posts in terms of likes and comments. squarelovin also makes optimization suggestions based on engagement. For example, it shows the best filters to use.
Price: Contact squarelovin to discuss a plan
18. Synthesio
Marketing itself to enterprise-scale brands and agencies, use Synthesio for social media monitoring across Instagram and other websites. The tool delivers analytics such as activity heat maps and common phrases used with your keywords. To measure your topic authority in relation to competitors, it also tracks share of voice.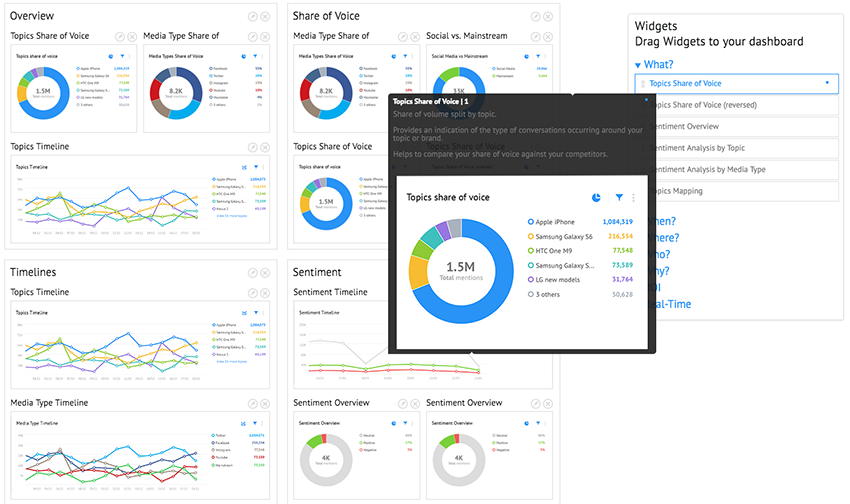 Price: Contact Synthesio to discuss a unique plan
Final Thoughts About the Top 18 Instagram Web Apps
A few of these platforms should catch your eye. But the choice depends on what your focus is, needs are and budget allows for. A combination of tools could be the solution if you must manage and monitor Instagram activity, while analyzing and reporting performance.
By using this list of 18 Instagram web apps, the research and decision processes should be easier.
---
Keyhole is a real-time conversation tracker that provides keyword and hashtag analytics for Twitter and Instagram. Get started for free here.