With ever-growing technological advances, we are now able to easily reach anyone in the world instantly. Under such influences, Instagram marketing campaigns have created powerfully lasting results. Last year, one of the most successful campaign is undoubtedly hosted by GoPro, which increased their average engagement on Instagram per post throughout the year of 2014 grew by 57%.
As we slowly approach the end of the year, we have compiled a list of the 10 best Instagram marketing campaigns of 2015.
But before diving into them, you can use this Keyhole to track and analyze any Instagram campaign you want.
1. Guerlain
COMPANY: Guerlain
As one of the oldest French perfume houses in the world, Guerlain expanded its horizons, marching into the cosmetics industry in the late 19th century as the first company to manufacture lipstick.
PROJECT LEAD: Jérôme Grange, Head of Media Guerlain
CAMPAIGN: #Terracotta de #GuerlainTerracotta is a legendary bronzing powder developed by Guerlain 30 years ago that is already very popular amongst the brand's existing customers; however, Guerlain wished to reach a younger audience base through digital media. In collaboration with Mazarine and Performics, Guerlain established a 4-week Instagram photo campaign targeting women in France to bring forth the connection between Terracotta and Paris — both classy and elegant.
"As a luxury brand, Guerlain has a rich history of producing beautiful creative. But with Instagram, we now have the tools to distribute that creative with precise targeting and we can measure the impact with incredible accuracy. This is a game-changer for us and Instagram is a natural home for our brand."  – Jérôme Grange, Head of Media Guerlain
RESULTS: From a Nielsen Brand Effect study, the photo campaign reached an overwhelming success.
965,000 women reached

23 point increase in ad recall

15 point increase in campaign awareness
2. Bloom & Wild
COMPANY: Bloom & Wild Just a small startup business in 2013, Bloom & Wild, a British letterbox flower delivery service has grown exponentially, reaching as much as £2.5m in growth capital. Aside from their innovative products, their innovative digital marketing strategies also set them apart from the rest of their competition in the industry.
PROJECT LEADS: Kirsty MacDonald, Senior Marketing & Partnerships Manager Bloom & Wild; Camilla Dolan, Investment Director MMC Ventures
CAMPAIGN: #BloomandWild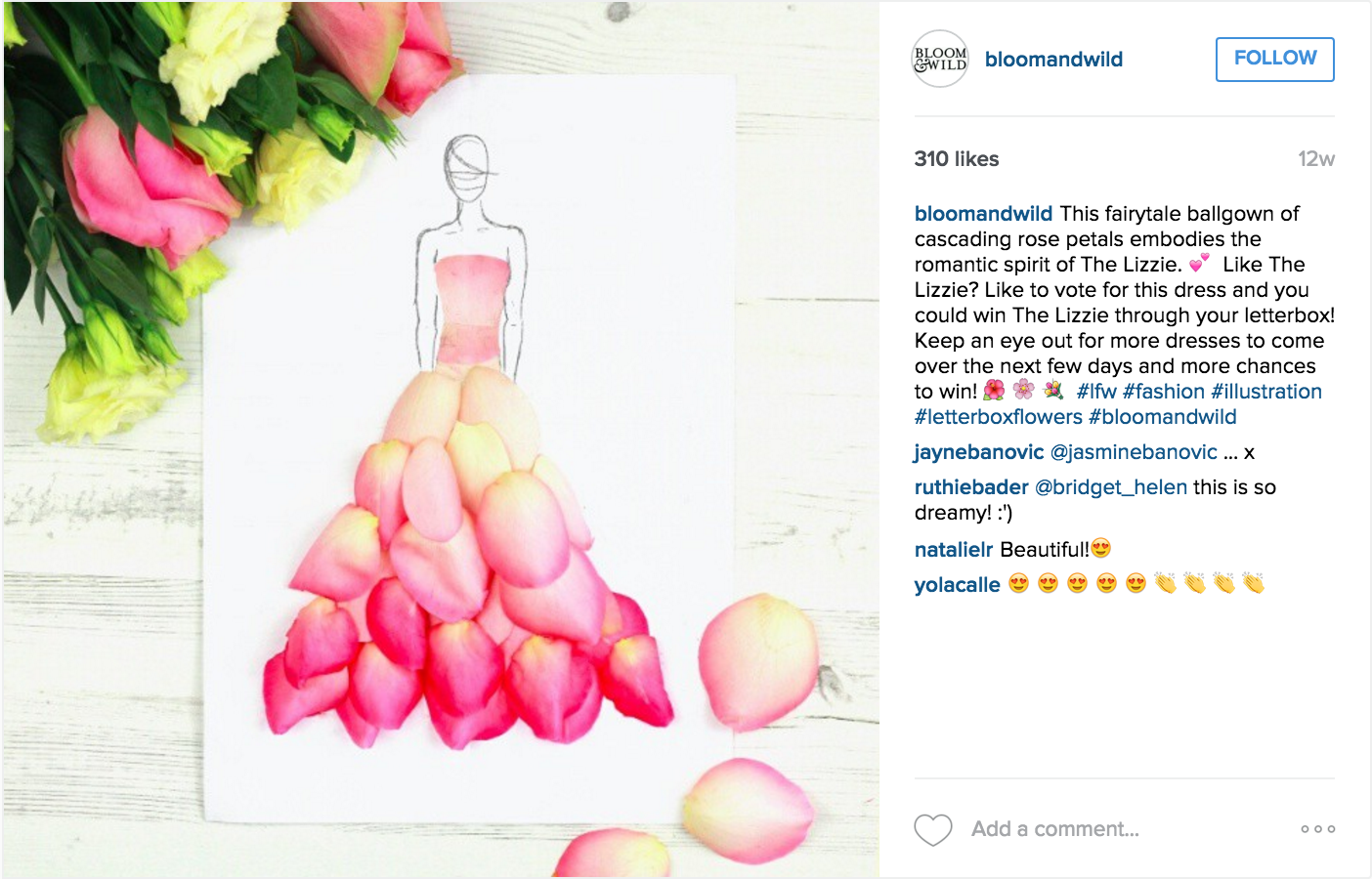 Recognizing the chance to attract a wider audience, Bloom&Wild grabbed the opportunity to launch an advertising campaign on Instagram, focusing on 3 key areas — "targeting the right people, testing formats to see which worked best, and sharing content that represented their business story." 
RESULTS:
Through ads on Instagram, Bloom & Wild reached surprisingly great results and found…
more publicity & engagement
increased sales by 62%
major growth of consumer base
3. Scotiabank
COMPANY:  Scotiabank
Canadian companies also have their share in Instagram marketing campaigns. Scotiabank, the third largest bank in Canada by deposits and market capitalization, tested waters on Instagram in hopes of raising awareness for their credit card program, especially to young students aged 18-22.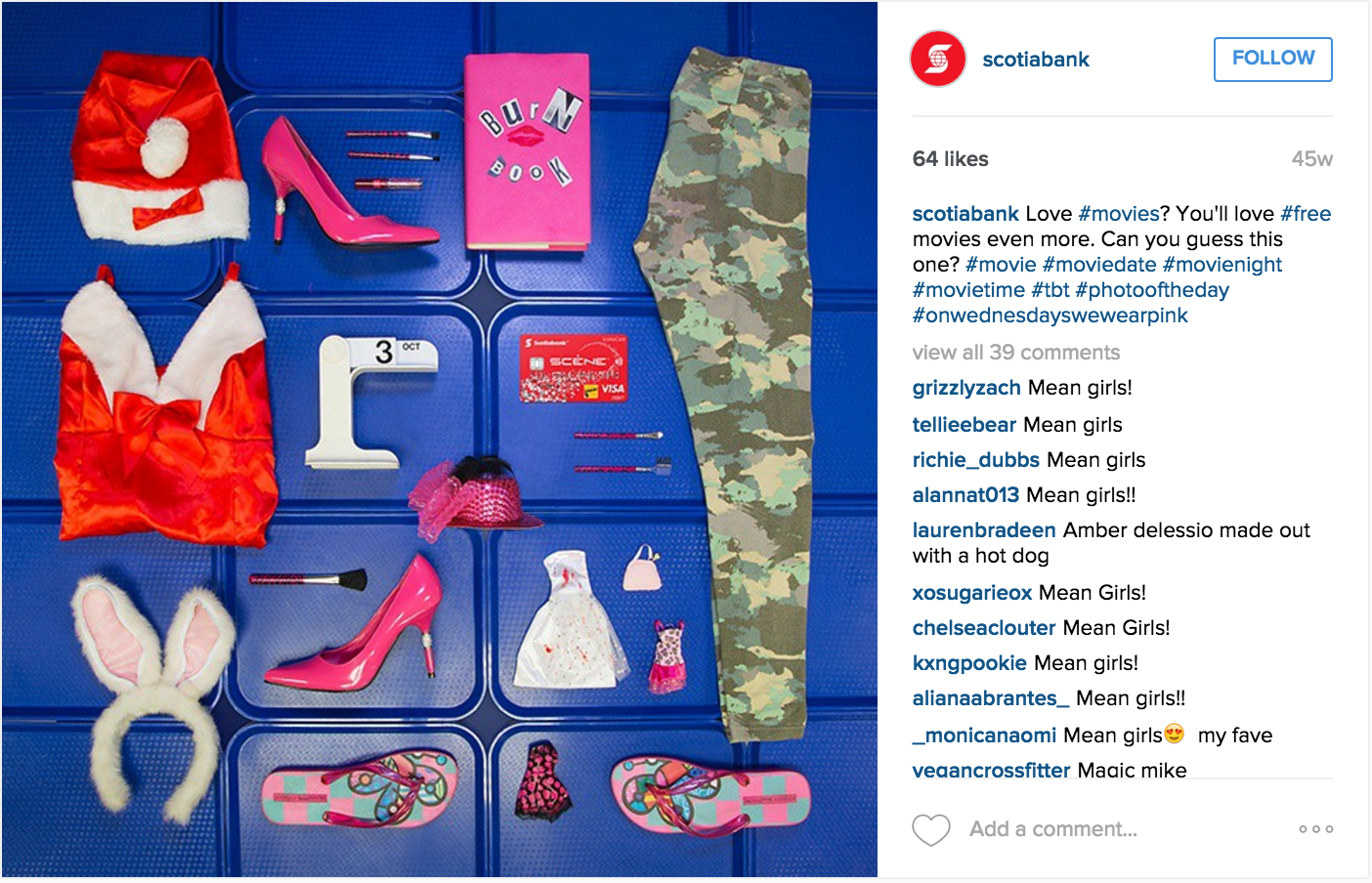 CAMPAIGN:  #ThingsOrganizedNeatly
The #ThingsOrganizedNeatly campaign consisted of photos of various items in which Scotiabank would post on its Instagram account asking for everyone to participate in guessing which movies these items symbolized.
RESULTS:
According to another Nielsen study, the campaign led to…
20 point lift in ad recall
6 point lift in brand awareness
4. Air Canada
COMPANY: Air Canada
Air Canada,the flag carrier and largest airline of Canada, also stepped up their game, turning over to social media marketing for more exposure. To ensure their hard work pays off after much planning and organization for the addition of new destinations such as Panama and Rio de Janeiro, Air Canada wanted  to generate more awareness.
PROJECT LEAD: Craig Landry, VP Marketing Air Canada
Thus, an Instagram photo campaign was designed; influencers, or social media celebrities, were hired to travel to each destination and post Instagram photos to promote local scenery and culture.
RESULTS: It may sound too simple to be true, but with the help of Instagram influencers, the campaign upheld by Air Canada reached…  29 point lift in ad recall 4 point life in message association
5. L'Oréal Paris
COMPANY: L'Oreal Paris What's more romantic than a snowy, white winter? L'Oréal Paris, the world's largest cosmetics company, started a winter-themed photo campaign using the contrast between bold, audacious colours and the pure, white snow.
PROJECT LEAD: Lubomira Rochet, Chief Digital Officer
CAMPAIGN: Photos of models wearing the brand's bright coloured cosmetics or just the products themselves were displayed on the company's Instagram account for more brand awareness.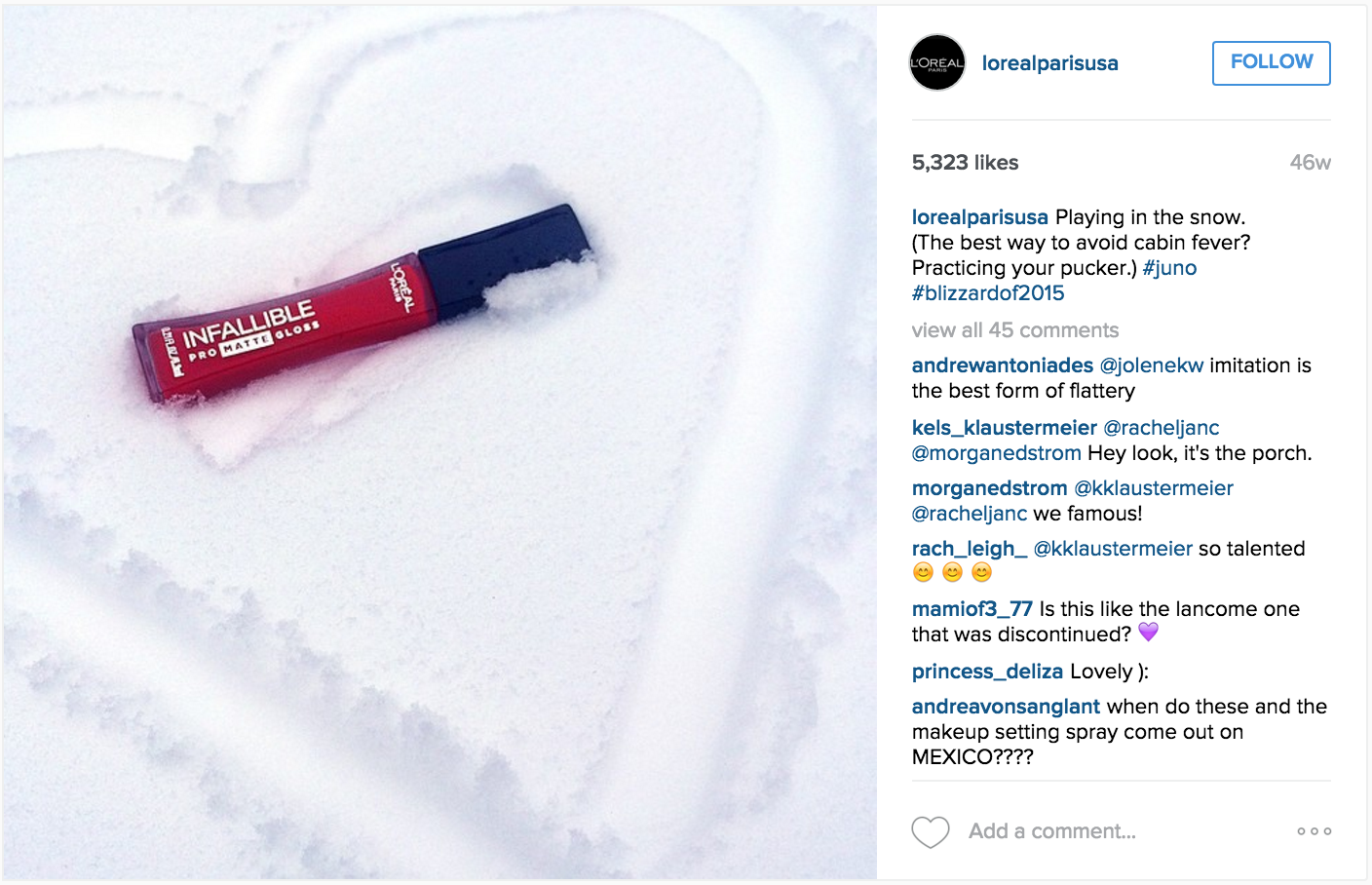 RESULTS:
As a result, the colour contrasts brought a dazzling ending to the marketing campaign with…
7 point lift in recommendations from the target market
14 point lift in ad recall
6. Canadian Tire
COMPANY: Canadian Tire
Also looking for more brand recognition and to increase brand recommendations, Canadian Tire, a retail company which sells a wide range of automotive, sports and leisure, and home products, joined the world of Instagram marketing.
PROJECT LEAD: Duncan Fulton, SVP Communications, Corporate Affairs, CTC & Chief Marketing Officer,Mark's & FGL Sports
CAMPAIGN: #ShovelitForward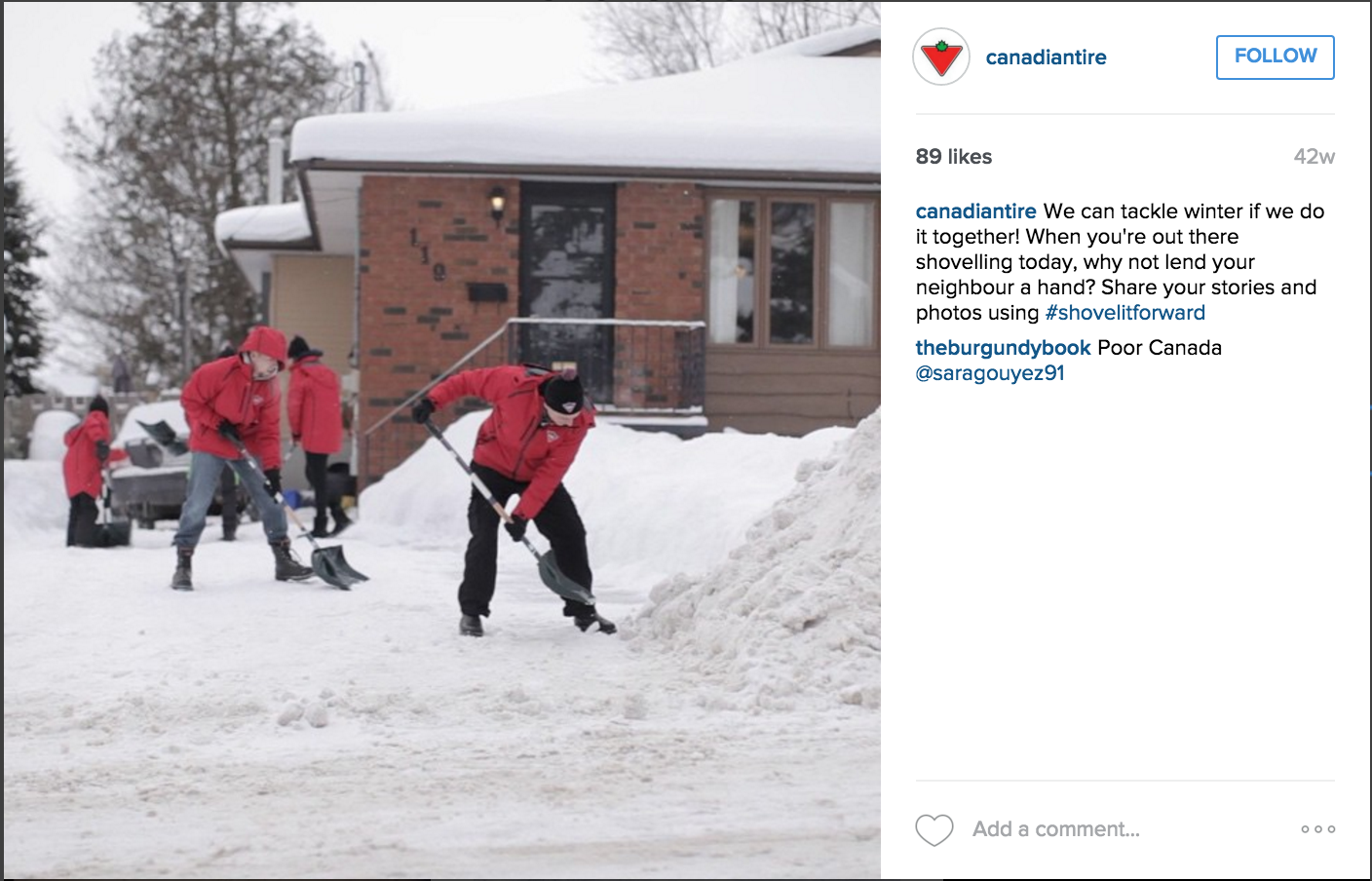 Unlike the other companies that only invested in photo campaigns, Canadian Tire experimented with promotional videos on Instagram. With the hashtag #ShovelitForward, Canadian Tire shared videos displaying the kindness of Canadians as neighbours help each other shovel snow out of driveways.
RESULTS:
The goal of the company was to promote itself to a target audience who are between 25-34 years old, and the results were not disappointing
45 point lift in ad recall
18 point lift in campaign awareness
6 point lift in favorability
7. A&W
COMPANY: A&W
It may seem strange to see a fast food restaurant appear on the list of the Top Instagram Marketing Campaigns, but A&W definitely recognizes the potential of social media marketing and uses it to its advantage. The fast food company was proud to announce its commitment towards their big change as the "first national burger restaurant to serve beef, chicken, and eggs raised without hormones or steroids."
PROJECT LEAD: Julia Cutt, Assistant Marketing Manager A&W
"We're impressed with Instagram's ability to increase brand awareness in a short period of time."– Julia Cutt
CAMPAIGNS: To attract younger consumers who care more and more about healthy living and safe foods, a photo campaign on Instagram was launched emphasizing its choice of serving quality food with healthy ingredients.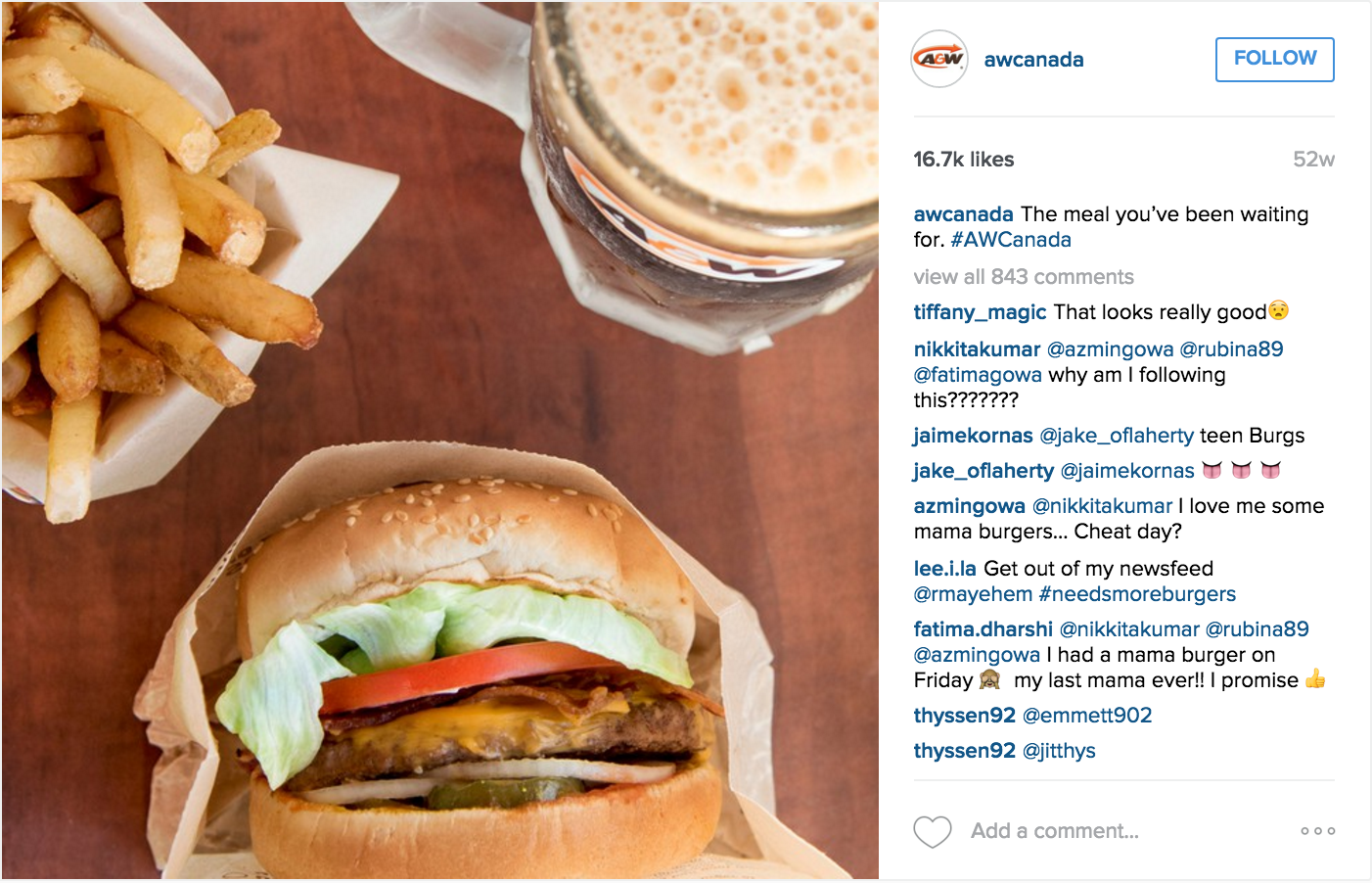 RESULTS: Just like previous campaigns, A&W's Instagram marketing campaign is also successful, bringing in as much as… 39 point lift in ad recall 5 point lift in message association
8. Poshmark
COMPANY: Poshmark Still relatively new, Poshmark— a small mobile and online marketplace for women's fashion situated in Menlo Park, California—wants to increase app installs so as to expand its network of buyers and sellers.
PROJECT LEAD: Preston Lee, Sr Marketing Director Poshmark "Our initial results for Instagram mobile ads were so promising that this platform has quickly become a key part of Poshmark's growth strategy moving forward." ––Preston Lee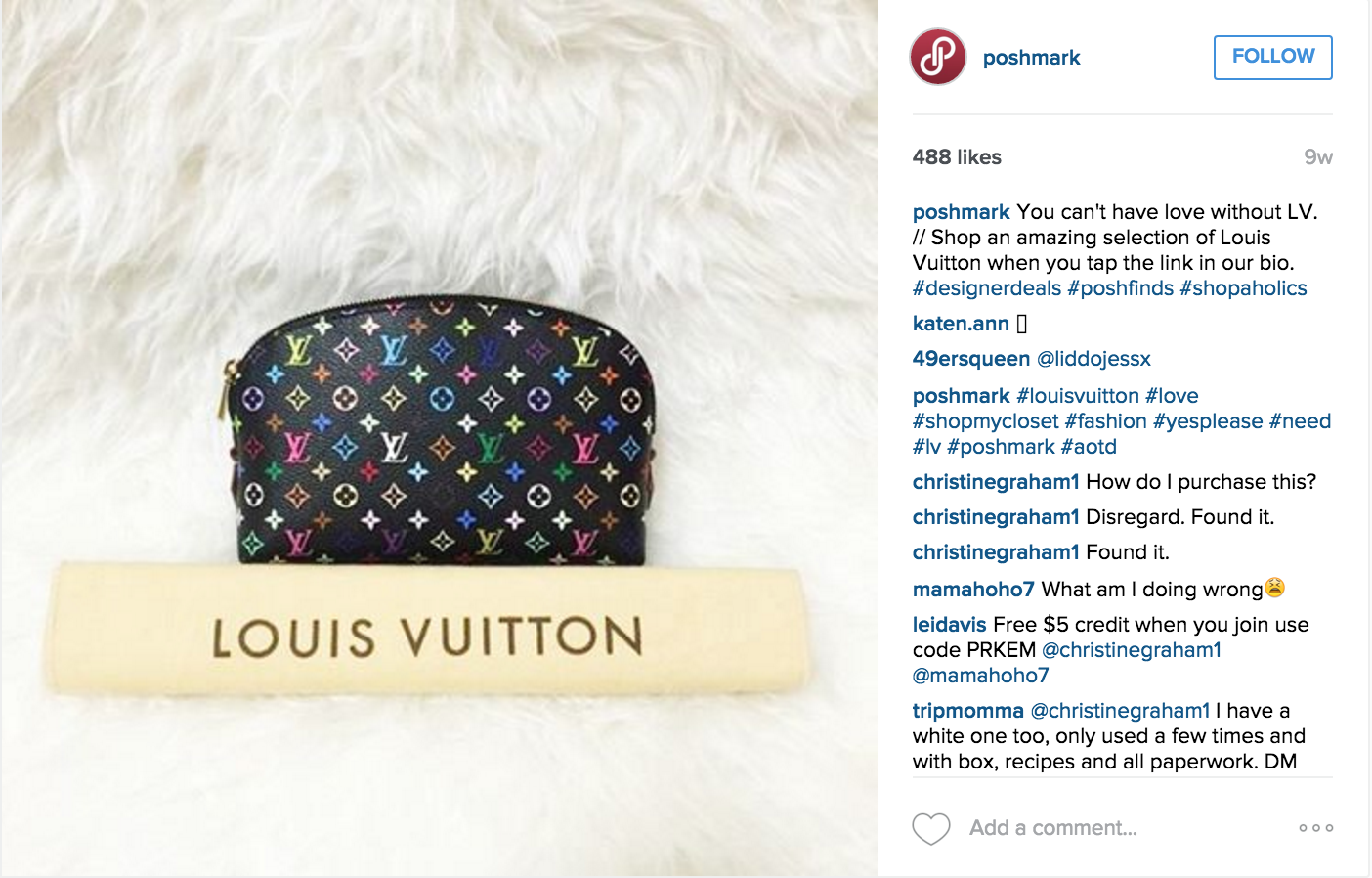 CAMPAIGN: Since Postmark has little influence as a brand, its campaign "borrows" the fame of luxurious brands and posted photos of high end products with captions enticing app downloads for discounts. Image Besides marketing on Instagram, Poshmark also invested in Facebook marketing.
RESULTS: With both combined, the brand surpassed its goals with an overwhelming… 37% increase in app installs   27% decrease in advertising costs
9. Burt's Bees
COMPANY: Burt's Bees As another lover of colours, Burt's Bees, a natural homegrown candle and lip balm company, generates a vibrant campaign.
PROJECT LEAD: Melissa Sowry, Digital Marketing Manager Burt's Bees "Burt's Bees recognized that Instagram has quickly grown into the go-to social hub for beauty enthusiasts to be inspired, to share and to find the latest beauty products, trends, and tips." ––Melissa Sowry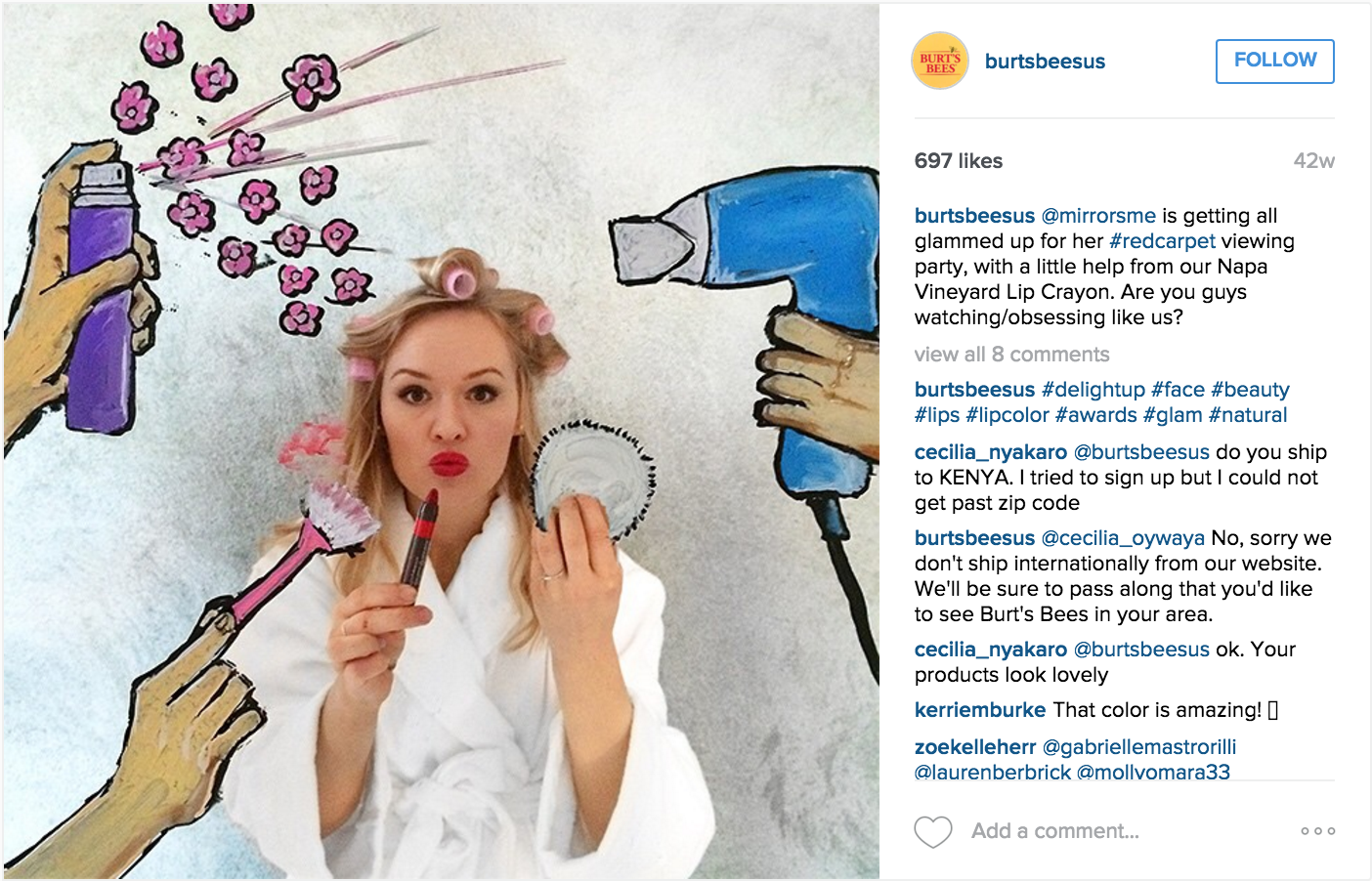 CAMPAIGN: #delightup
The company takes a very creative approach, creating cute, funky crayon drawings coloured with its own line of lip balm/stick colour, which aligns with the interests and tastes of its target audience —American females from 18-24. The main ideas behind #natural and #delightup on these playful crayon photos are to highlight its natural ingredients, and to showcase its wide selection of colours as well as the precision of the lip crayon.
RESULTS:
After a month, the campaign generated …
16 point life in ad recall between control and exposed groups
5 point lift in product awareness between the same groups
10. Samsung
COMPANY: Samsung
Samsung is already a well-established multinational conglomerate company.
PROJECT LEAD: Russell Taylor, Chief Marketing Officer Samsung Electronics UK and Ireland
"We are extremely pleased therefore with the level of social engagement for the #StandTall campaign which really resonated with the public. Having the likes of Thierry Henry and Kevin Spacey connecting with the campaign through our Twitter Mirror at the Awards also helped deliver fantastic social results."
–– Russell Taylor
CAMPAIGN:
Its well-established relationship with The Prince's Trust acted as a catalyst for it to run the #StandTall campaign for The Prince's Trust Celebrate Success Awards — an award that "honour[s] the achievements of young people supported by The Trust who have succeeded against the odds, improved their chances in life and had a positive impact on their local community."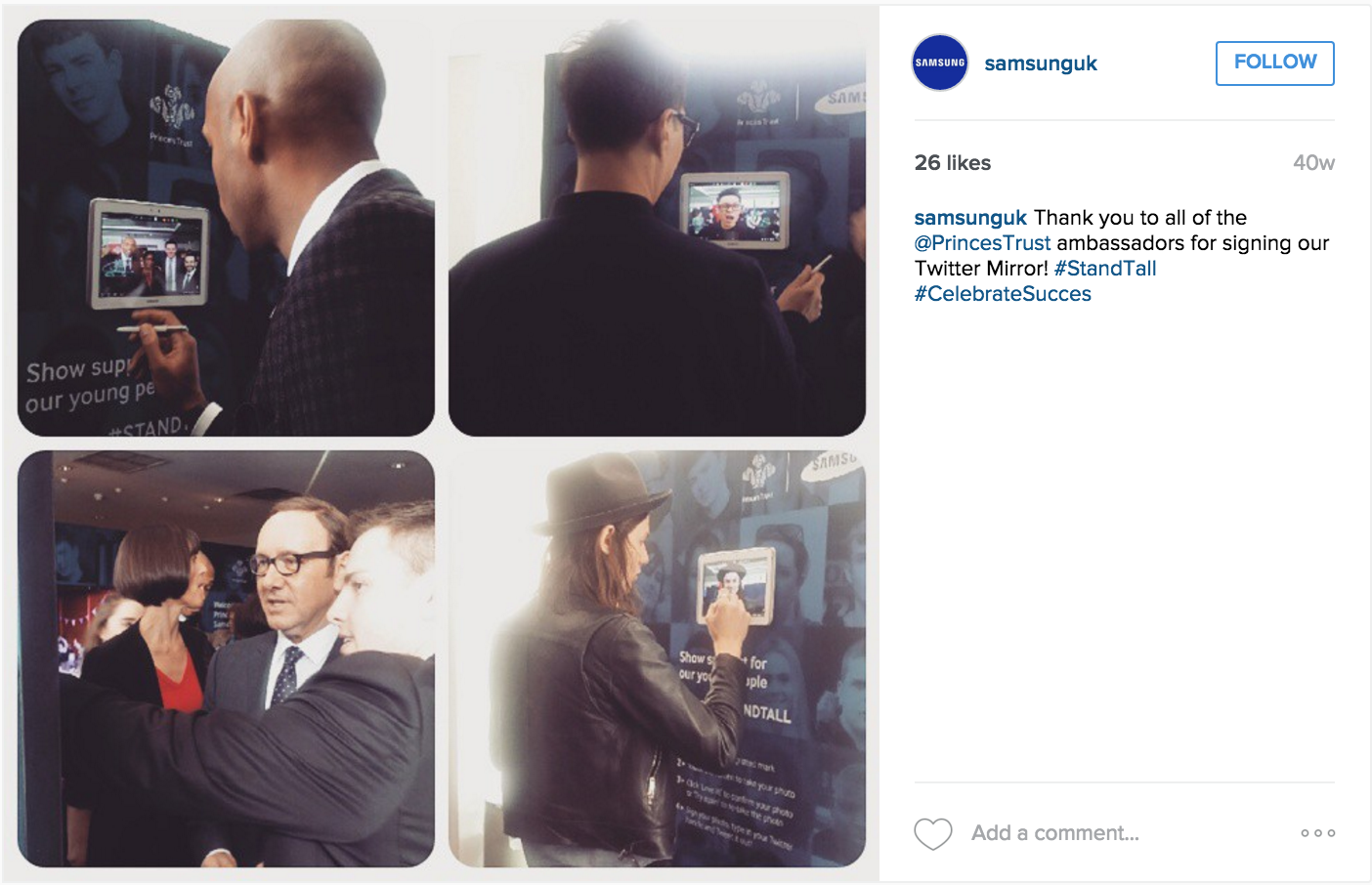 RESULTS: Through posting photos, selfies of participants of the awards ceremony on Instagram, as well as other social media sites, the campaign overall generated…
681,217 impressions.
7% engagement rate versus a benchmark of 1.5%.
The cost per engagement was 7p, versus a predicted benchmark of 50p
Whether you like it or not, it's a digital world. It's amazing news, because now you are able to reach an international audience almost instantly. If you want to engage with more potential customers, especially young consumers, Instagram is a fantastic platform to market your company or products at low costs with high returns.
---
Keyhole is a real-time conversation tracker that provides keyword and hashtag analytics for Twitter and Instagram. Get started for free and search your brand now.