Studying popular fashion hashtags can help retail and apparel companies strengthen their social strategies, whereas bloggers can use them to gain visibility.
That's because posting with a fashion brand hashtag on Instagram can earn thousands of potential impressions, according to data collected between April 25 and May 1, 2016: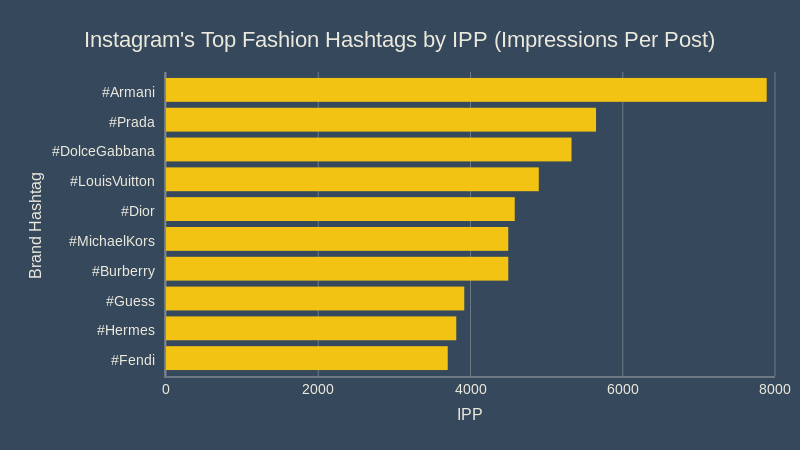 Like in the above graph, you can measure a hashtag's strength by impressions per post (IPP). This metric shows the average number of times an image or video with the hashtag appeared in users' feeds.
To determine IPP, you can use Keyhole.
Here's a closer look at Instagram's top 10 fashion and apparel hashtags, followed by take-away lessons:
1. #Armani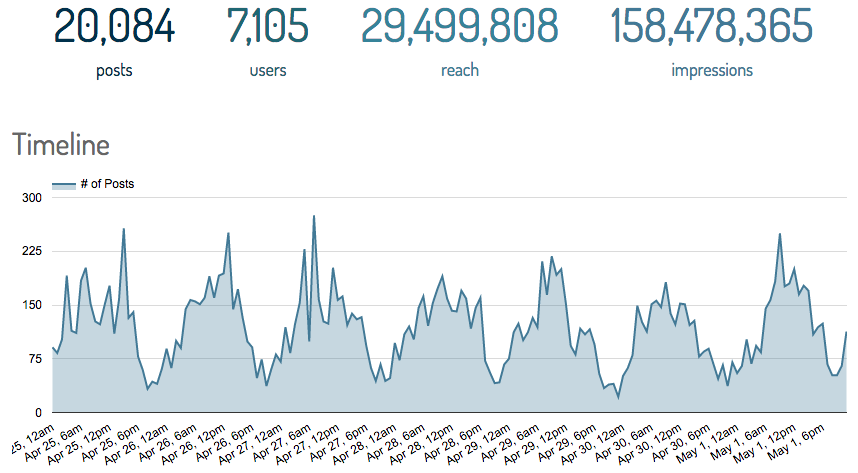 A luxury fashion and Italian cultural icon, Armani owns Instagram's strongest apparel hashtag.
Almost 160 million impressions from around 7,100 users give it an IPP rate near 7,900. Models and style icons from Asia, Europe and North America shared more than 20,000 visuals during the monitored period.
Unlike the other hashtags in this top 10 list, more men (60%) than women (40%) share #Armani content. This is partly because male fashion influencers post about the company's men's lines: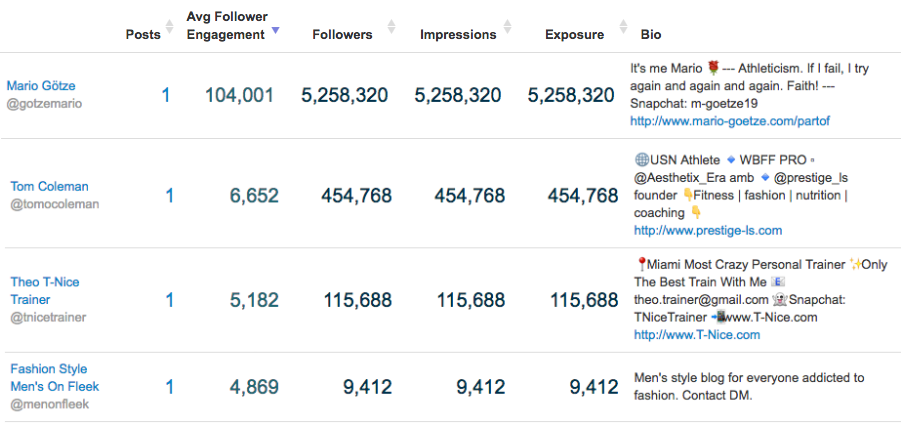 2. #Prada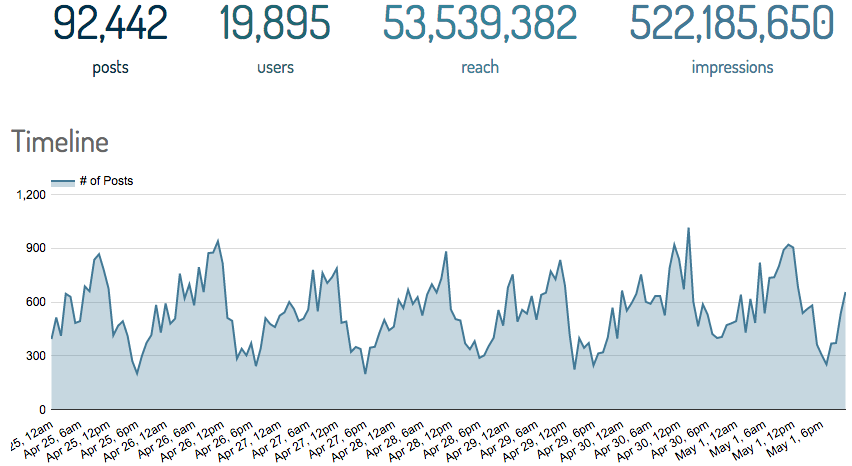 Driven by pictures of accessories and leather handbags, Prada's hashtag had an IPP rate of more than 5,600.
In terms of male-to-female posting ratio, it's almost the opposite of #Armani. Instagrammers using #Prada were 58% women. On four separate occasions, they posted more than 900 times in the span of an hour.
3. #DolceGabbana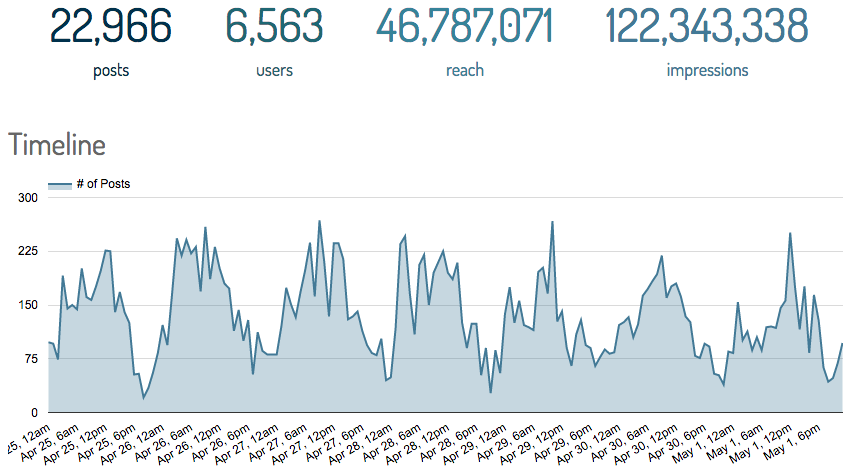 The third straight brand from Italy, around 6,500 Instagramers posted Dolce and Gabbana's hashtag more than three times each. This earned almost 5,400 IPP.
About 38% of activity came from Russia — the highest percentage of single-country hashtag use on this list. That compares with 10% of activity from Italy and 5% from the United States.
Two influential accounts from Russia, @tsum_moscow and @barvikhaluxuryvillage, combined to earn more than 10 million impressions.
4. #LouisVuitton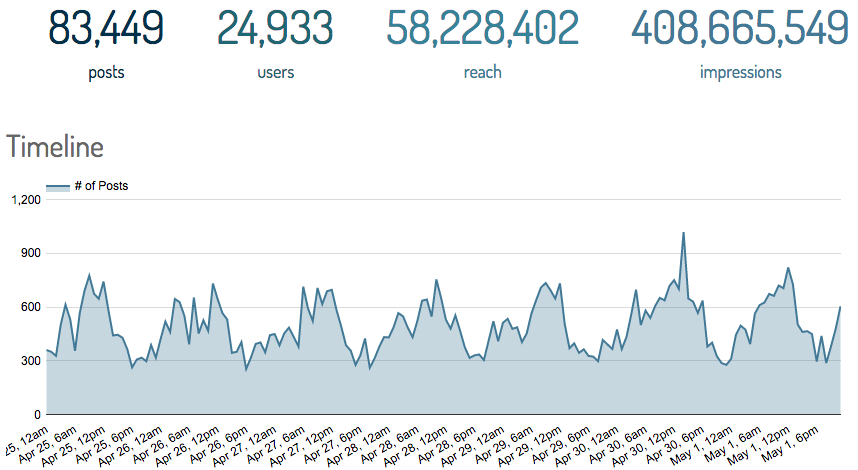 Parisian fashion house Louis Vuitton registered almost 4,900 IPP.
Although France was responsible for 9% of the activity, Japan and Thailand accounted for 14% and 8%. But @LouisVuitton generated the most impressions for its own hashtag, posting 12 times and earning more than 116 million impressions.
This shows how important it is for a hashtag's creator to actively use and popularize it.
5. #Dior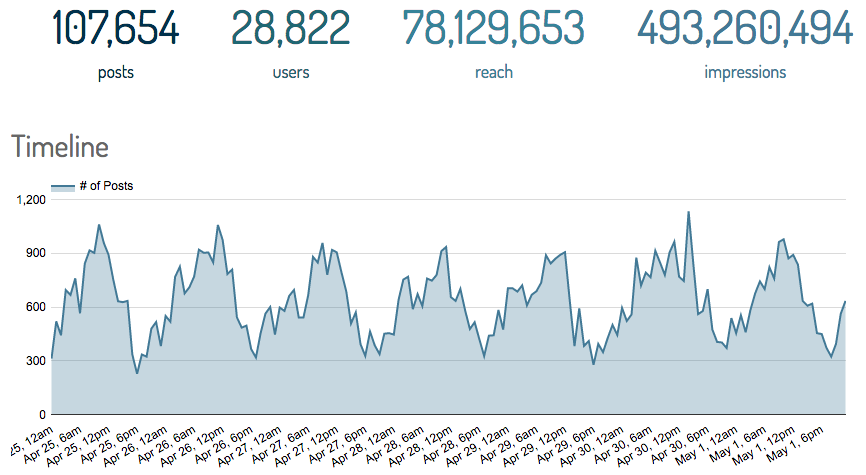 Fueled by more than 107,000 posts by almost 29,000 users, #Dior generated more than 4,500 IPP.
Another French company, this one's hashtag has a slightly weaker presence in its home country at 6% of total activity. Almost three-quarters of users are female, many of whom are fashion influencers who earn thousands of likes on each post.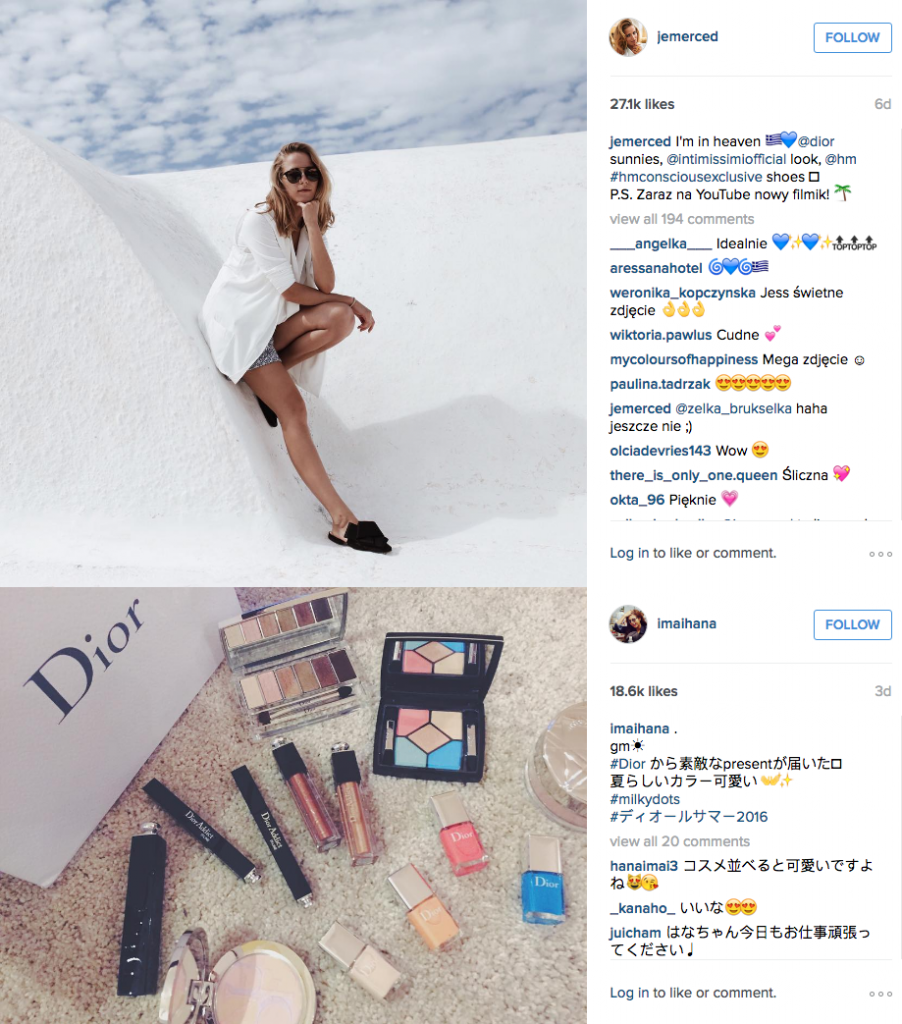 6. #MichaelKors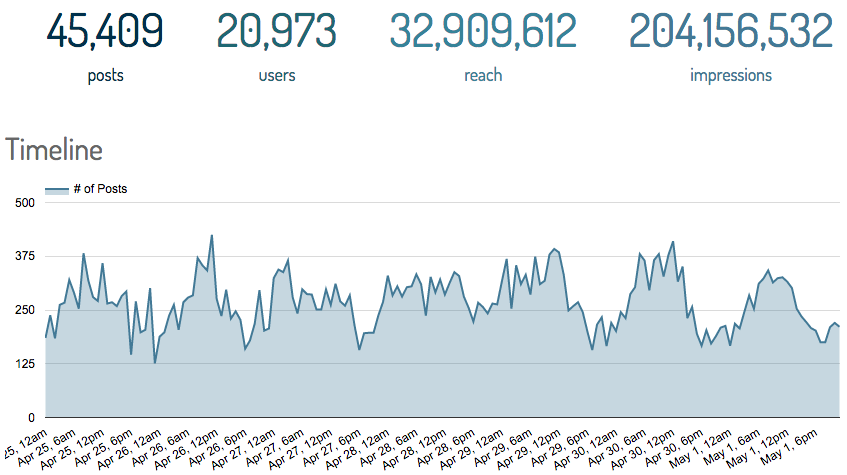 #MichaelKors starts the bottom half of this list, as more than 20,000 users helped it earn an IPP rate higher than 4,500.
Unlike some hashtags on this list, the most engaging posts don't belong to the brand itself. Rather, influencers from across Asia and Europe dominate engagement and impressions on behalf of the American fashion designer.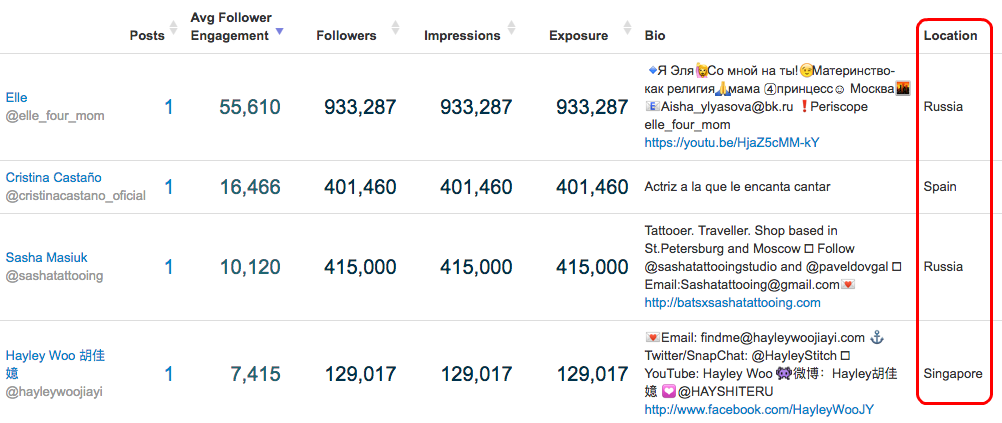 7. #Burberry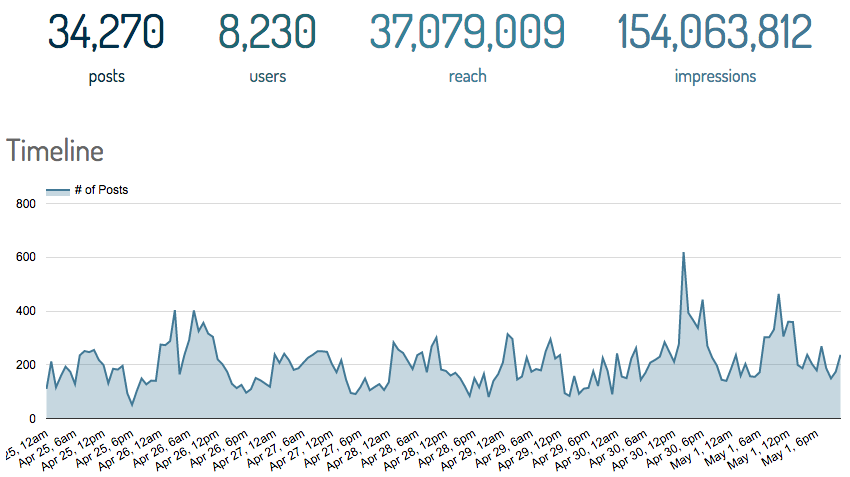 This British luxury fashion house's brand hashtag generated more than 154 million impressions from around 34,000 posts. At its high point, Instagramers used it more than 600 times within an hour.
@Burberry bolstered the hashtag's strength, earning more than 47 million impressions by itself. The brand includes videos in its visual content strategy, one of which earned around 550 comments and 39,000 likes:
8. Guess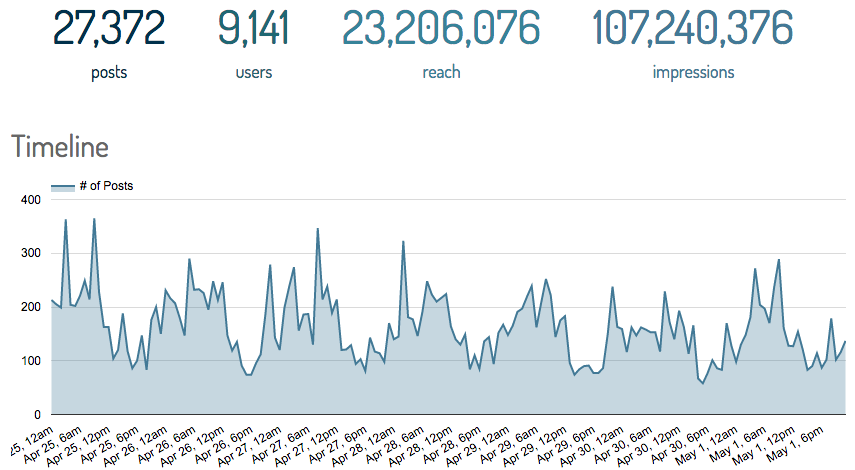 In a list dominated by French and Italian brands, #Guess is second American company. It has an IPP rate higher than 3,900, as more than 9,000 users posted almost three times each on average.
The hashtag is owned by the female market — only 35% of its users are male. The United States makes up 12% of participants, edging out other countries with large fashion audiences on social media. Ukraine had 8% of participants, whereas Russia and Italy each accounted for 7%.
9. #Hermes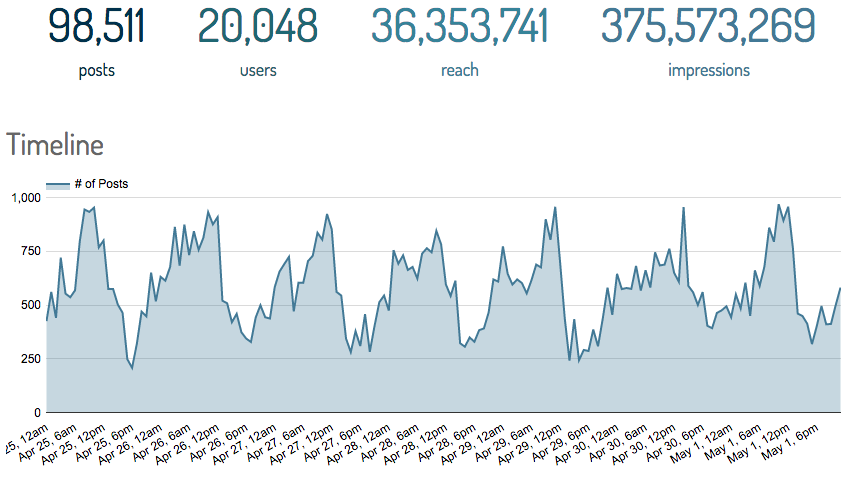 #Hermes sneaks into the top 10 with around 3,800 IPP, powered by almost 100,000 posts. At its high points, Instagramers used the hashtag more than 950 times within an hour.
The brand has 2.3 million followers — five times less than fellow French designer Louis Vuitton — but posted six times to generate almost 12 million impressions by itself.
Social fashion personalities created some of the most popular posts. For example, a post by Germany's @AndySuryandi earned about 6,000 engagements.
10. #Fendi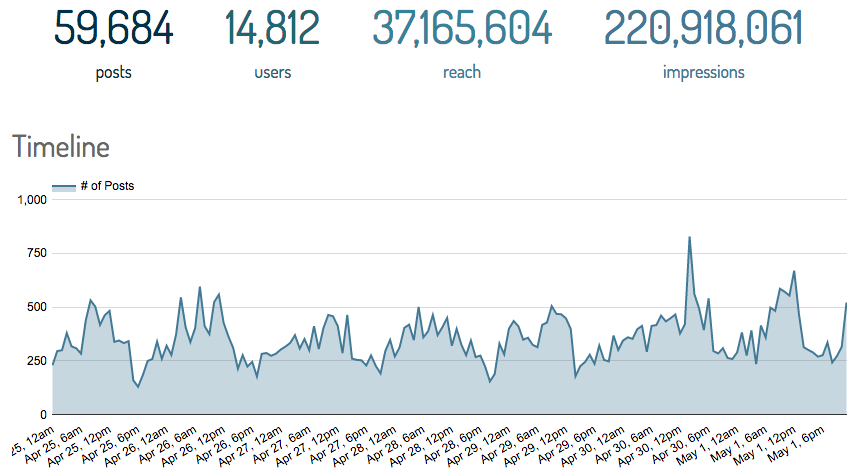 Another entry for Italian luxury fashion to round out the top 10, Fendi's 4.5 million followers helped its hashtag yield more than 3,700 IPP.
Although the apparel brand's home country accounted for 8% of hashtag activity, Russia and the United States were responsible for 26% and 10%, respectively.
Method of Ranking
To track and generate IPP numbers for different hashtags, I used Keyhole real-time trackers.
I started off by identifying the 20 most popular fashion brand hashtags on Instagram, in terms of total post volume. You can do this by typing terms into the social platform's search bar: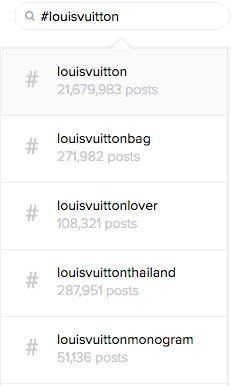 I then ran trackers to collect post, user and influence data for each one. As I wrote earlier in this blog entry, data is limited to content posted between April 25 and May 1, 2016. Hashtag activity was consistent for all brands during this timeframe.
READ: How #SMMW16 Earned Almost a Billion Twitter Impressions in Three Days
Each brand on this list reached fashion fame both online and offline, but used diverse tactics to build their social presences. Some target different digital audiences and others have unique posting strategies.
You don't have to work in high fashion to add these ideas to your social media plan:
1. Target International Audiences
Since Instagram and other online media allow you to reach audiences across the globe, many fashion brands target international markets with their hashtags.
For example, #LouisVuitton sees high activity levels from countries where English — or French — isn't the first language:
You can reach audiences in different countries by:
Posting with hashtags relevant to niche overseas markets, possibly in their languages

Scheduling images reflecting a foreign market's news, events and holidays

Sharing new content during peak activity hours in your target audience's timezone — typically during the workday and evening,

according to data from CoSchedule
The next point will cover another way to reach audiences around the world.
2. Harness Influencers
Your hashtag will earn a jump in potential impressions when an influencer — a topic thought-leader with a large social following — posts your hashtag.
That's because influencers often have thousands or millions of followers. That compares with less than 200, which is the median number of Instagram followers.
The value of working with influential users is clear once you look at impressions per poster (IPPer). This metric shows how many impressions the average poster generated.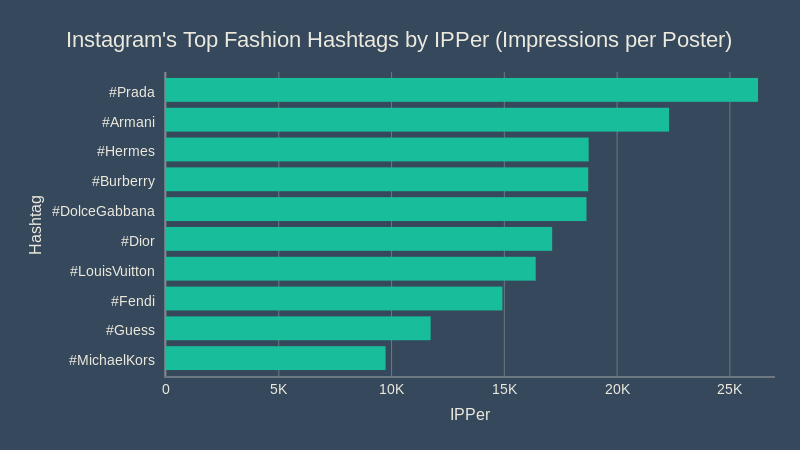 @Fendi's hashtag jumps from ninth to third in terms of IPPer. This is despite having a follower count less than half the size of @LouisVuitton's, which fell from fourth to seventh.
Instagram influencer marketing campaigns are intricate, but typically consist of:
Identifying popular users who align with your brand

Reaching out to them through email or a direct message

Pitching a win-win request, such as getting to keep your products if they model them for you and send traffic to the campaign's landing page

Monitoring the performance of Instagram posts and the landing page itself
As more influencers share visuals captioned with your hashtag, IPPer will rise and help you win more online exposure
3. Don't Just Use Images
Sharing photos alone can limit engagement, hindering reach and impressions.
On top of original images and graphics, post videos to communicate a deeper message while potentially gaining more likes and tags in the comments.
For example, the previously-mentioned Burberry video got almost 39,000 likes. Another from an #Armani influencer received more than 18,000 engagements.
If videos already play a role in your social content strategy, sharing them on Instagram may yield more interaction than posting to Twitter or Facebook.
That's because Instagram has an organic engagement rate up to 60 times higher than Facebook and more than 120 times higher than Twitter, according to Forrester Research:

With a boost in engagement, your content — and hashtag — may reach more user eyes.
4. Incentivize Posting
Encourage followers and audience members to not only post using your hashtag, but to tag friends and comment on other users' visuals.
A small, yet active, audience can have more influence than a large, yet inactive, audience.
For example, #Nike failed to make this list despite more 155,000 users sharing content with the hashtag. They mostly posted once each, generating a limited number of impressions.
On the other hand, #Fendi, #Hermes and #Prada made this list with audiences hovering around the 20,000-mark. They each saw the average user post more than four times: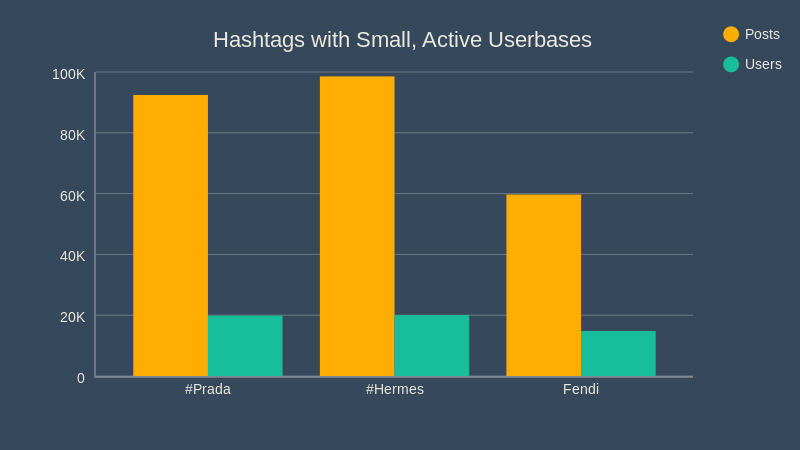 Incentivize your audience to stay active by:
Offering random prizes, such as a coupon, to users who post with your hashtag

Giving perks, including free items, to the most engaged user at the end of each month

Awarding discounts or one-time offers to people who follow you and share your content
Depending on your audience, you may need more original tactics to encourage posting.
But once you pass this hurdle, you should see more images and videos fill your hashtag feed.
Wrapping Up
The hashtags that made this list all belong to notable brands, yet knocked off competitors with larger retail and social presences such as Nike and Ralph Lauren.
This shows that organizational size doesn't always matter when engaging fans and building a social presence. Even independent bloggers and fashion-lovers can work to develop audiences comparable in size and interaction.
Monitor and study the 10 best fashion and apparel hashtags on Instagram to learn what drives their success — your brand or personal hashtag should rise in visibility.
---
Keyhole is a real-time conversation tracker that provides keyword and hashtag analytics for Twitter and Instagram. Get started for free and search your brand now!