The digital landscape is highly volatile, but social media continues to become an increasingly large part of our lives. There's a platform for everything, from short- and long-form write-ups to images, reels, and lengthy videos. It can thus be super hard to manage your presence in these fast-paced online social spaces.
And this is where some of the best social media marketing tools come in! They're no less than a blessing for all kinds of businesses and marketing teams. Social media manager, marketing consultant, brand manager – whatever capacity you work in, these tools can be the key to your success.
In this article, we'll talk about some of the most popular social media marketing tools on the market that can give your social media game a major boost. Let us give you that much-needed push toward conquering the saturated and competitive digital landscape. But first, here's a quick overview of the many benefits that these tools bring.
No matter what anyone thinks, social media management is not easy. We've often seen sizable SMM teams simultaneously handling numerous social platforms, struggling to regularly push attention-grabbing content, managing customer interactions, and analyzing performance data. And they do all this for multiple clients, no less!
Social media tools can help you easily and efficiently tackle all these problems.
Take scheduling tools like Buffer or Hootsuite, for instance. You can conveniently put together a proper calendar and automate the publication of your posts. Imagine the amount of time you could save and the level of consistency you could achieve.
Similarly, if you want to really get into the nitty-gritty of how well your content has been doing with your online audiences, tools like Keyhole and BuzzSumo can help. With their advanced analytical capabilities, these platforms give you a deeper understanding of your content's performance. You can then improve your content further and win your audience's hearts.
That's not all. Some of these tools really help improve internal communication, collaboration, and performance among big and small social media teams and agencies. A large fraction of them are cloud-based, meaning central access for all members at all times. Everyone stays in the loop and on top of things. There are features that allow you to clearly define assignees for every task, along with deadlines. Other tools, such as those for graphic design and video editing, help in the actual content production process.
With the right digital marketing tools, your team can attain new levels of efficiency, collaboration, and consistency. More importantly, they'll give you a chance to expand your reach, boost engagement, and gain a higher overall return on your investment.
So let's go over a few of these social media management tools and see how each of them can contribute to your business's success this year.
Price: Starts from $79 per month
Keyhole is primarily a social media analytics tool for businesses that want to track brand mentions, engagement levels, and social trends.
There are five key areas that the tool focuses on.
Social listening
Profile analytics
Influencer tracking
Publishing
Trend analysis
Keyhole gathers crucial data such as how many times and in what context (good or bad) your brand is being mentioned on different social media platforms. It gives you access to metrics such as the number of followers gained/lost, impressions, reactions, reposts, DMs, or clicks you've gotten from your social media posts. And you can track not only your own social profiles but also your competitors'.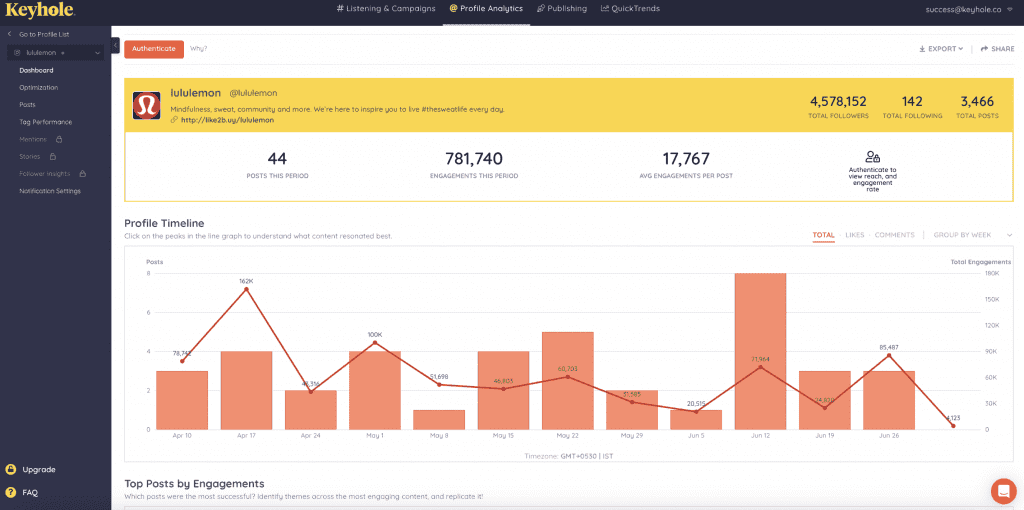 It also collects data on what topics your followers generally like to talk about by tracking and analyzing which hashtags or keywords are trending and how certain campaigns have been performing. By gaining accurate insights into popular topics, you can strategically plan your content stream and gain an edge over your competitors.
Given the rapid growth that influencer marketing has achieved in recent years, the influencer tracking feature is a must-have for businesses that heavily rely on word of mouth. The tool identifies your most active and celebrated followers and analyses whether or not their profiles are good enough to promote your business through.
You can use Keyhole's scheduling tool to prepare your social media posts well in advance and automate the critical process of their timely publishing across multiple social platforms.
"There is no guesswork when you use Keyhole. There is only top notch data that you can use to improve your social media marketing strategy."
Neil Patel (Co-Founder, NP Digital)
"I really do value Keyhole. It was one of the first platforms that I came across for navigating the social Internet, and it's proven to be highly user-friendly and a pure joy to use. I even use it in my free time."
Melissa Fares (Social Media Reporter, Reuters)
Price: Annual subscription: $49.95, Lifetime subscription: $69.95
Movavi Video Editor is a feature-rich video editing tool that allows businesses to create impressive high-quality videos for various purposes, including social media.
The sleek interface is exceptionally user-friendly, shattering the conception that editing videos is too complex for marketers. Its video editing capabilities are augmented with AI to achieve some cool results, such as stabilization of shaky videos, auto-resizing frames, and smart background and noise removal.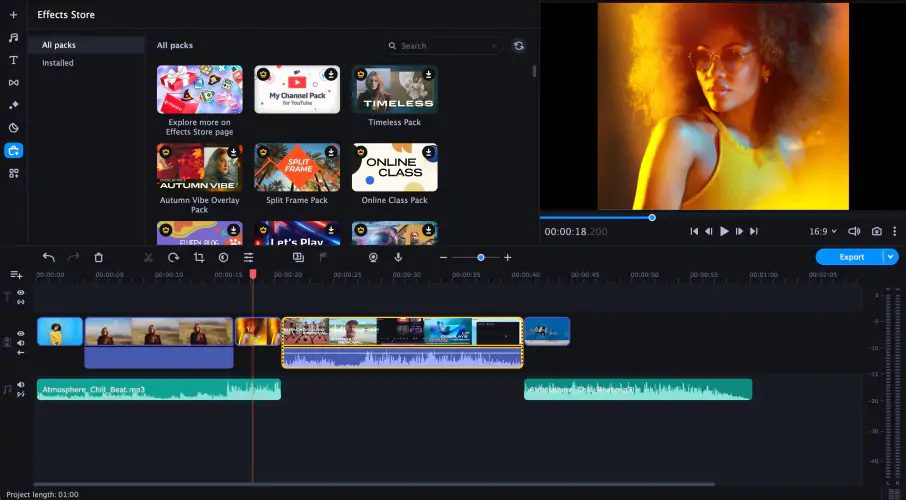 In addition to its seamless video editing capability, Movavi offers lots more. You have to check out the pre-built video templates, visual effects, transitions, animations, audio and music library, titles, voice-over, and captioning. You can also personalize your videos with a brand kit to make your business stand out from other generic content.
To maximize social media support, Movavi provides extra effects for YouTube and supports vertical video for platforms such as TikTok and Instagram Reels. It also allows you to easily share your masterpiece across various social media platforms by exporting the final video to a format of your choice.
The software is compatible with both Windows and macOS and is also available as a free web app.
Price: Starts from $99 per month per user
Only a few tools can help a social media manager like Hootsuite can.
This all-in-one social media management tool lets marketers handle multiple social accounts seamlessly within a single workspace. No more Alt+Tab-ing and Ctrl+C-Ctrl+V-ing your way through all your social profiles!
The tool has a clean interface that makes every feature easily discoverable, making it intuitive for all users. Post scheduling, responding to DMs and messages, trend tracking, brand monitoring, performance and data analytics, and collaborating with team members – everything is a breeze with Hootsuite. It even has a social ads management module!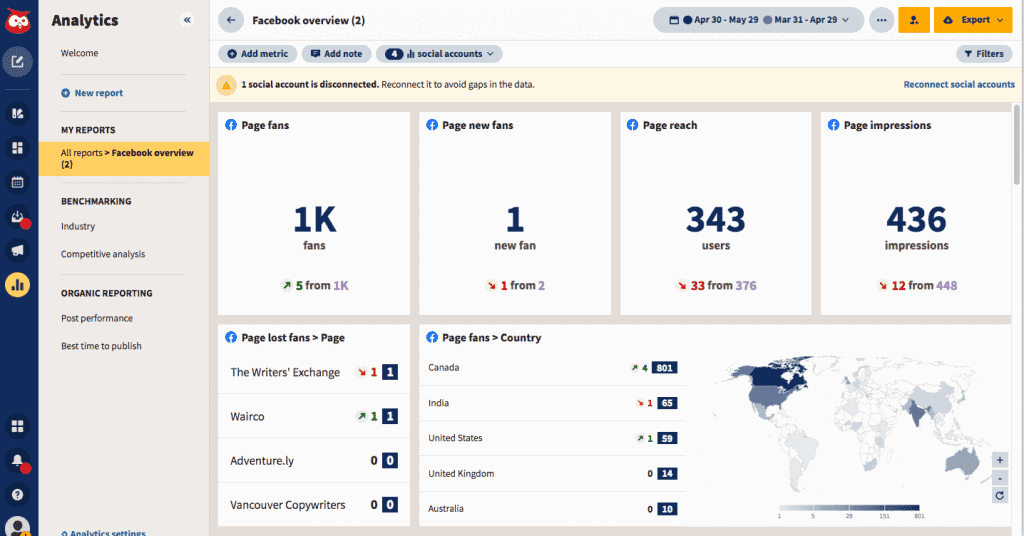 The calendar provides a detailed view of your content plan, enabling you to easily schedule posts in bulk across different platforms. You can also add media with captions and alternate text.
The content editor helps optimize your captions and posts, dropping hints about meeting character limits, spelling errors, link shortening, and more. It also has a writing helper (aptly named OwlyWriter AI), which you can prompt to generate new post ideas that suit your brand's niche, style, and tone.
Hootsuite suggests optimal times for publishing your posts for maximum engagement. The analytics feature provides real-time insights into your content's performance, helping you refine your strategy for even better results.
Price: While there's a free basic version that is extremely limiting in terms of features, paid plans start from $6 per month per channel.
This one's another excellent scheduling tool that simplifies cross-platform social media posting.
With Buffer, you can plan, create, optimize, and publish your social posts effortlessly yet efficiently. By recommending times when your different audiences are most active, Buffer helps your business achieve maximum visibility.
Like Hootsuite, Buffer also has an AI Assistant to help write content, repurpose old posts, and even translate your content to a different language.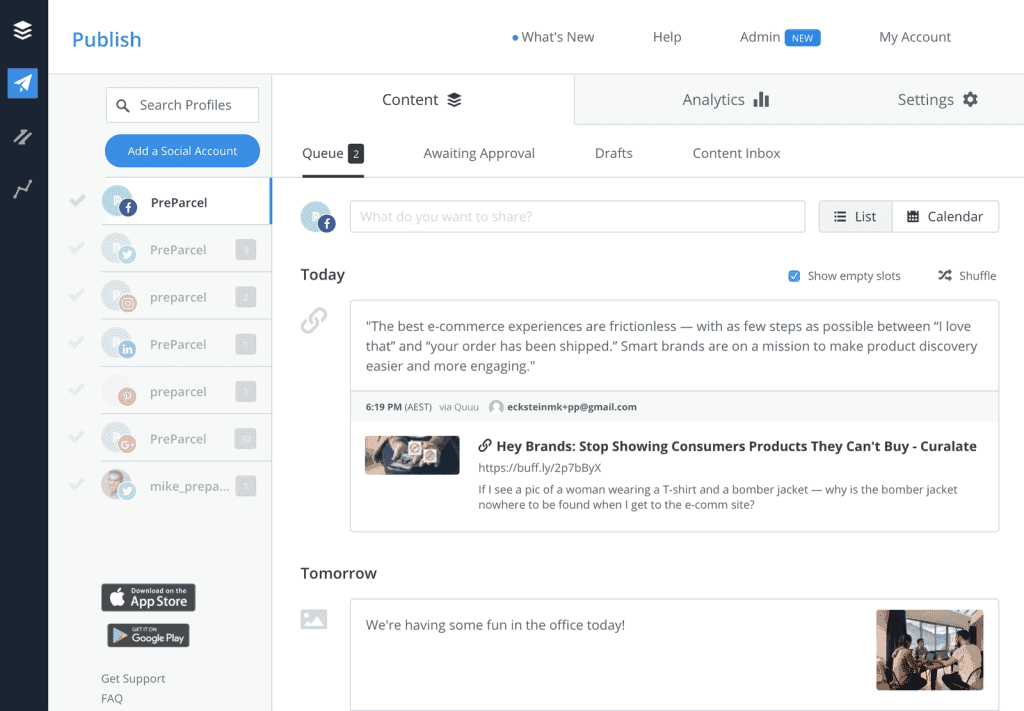 The engagement module allows social media managers to reply faster to the audience's comments, messages, or mentions. You no longer have to worry about any audience interaction notifications getting lost.
The platform also has an analytics feature to provide insights into profile and post performance, target demographics, engagement levels, and improvement opportunities.
Price: Starts from $249 per month for a single user
Sprout Social is a robust social media management tool offering different packs of features depending on your pricing plan. But let's give you a quick overview of its fundamental functions.
The four main modules include engagement and monitoring, planning and publishing, reporting and analytics, and social listening.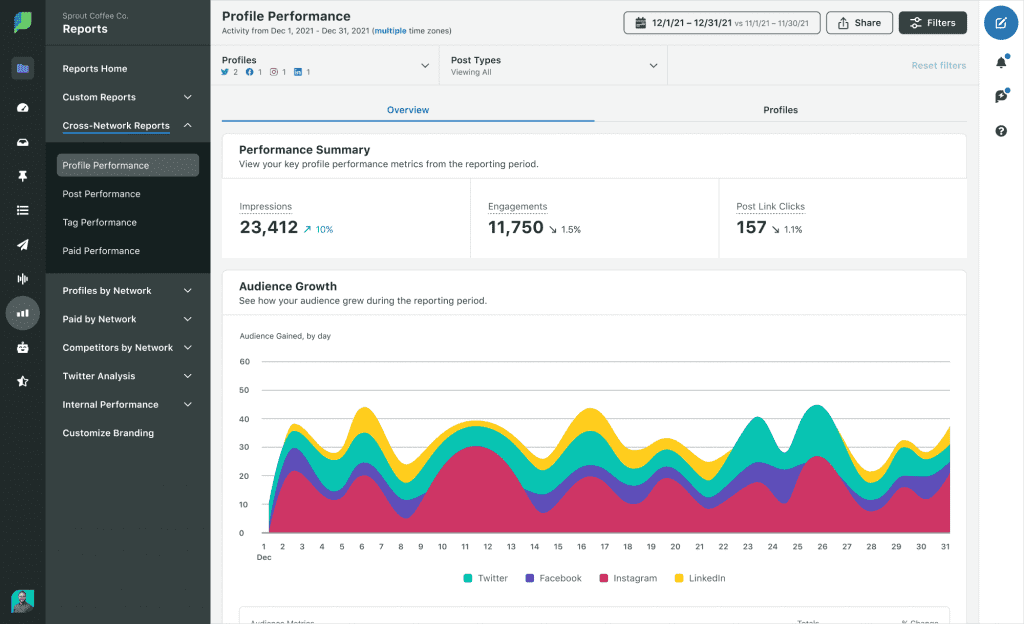 The first one is all about tracking branded keywords, tags, conversations, comments, and influencers. Conversations can be automated via chatbots.
Then comes the content creation and publishing part, which is pretty similar to many other tools. You can use the scheduling tool to align posts for publication at ideal times across all platforms.
Overall, Sprout Social is a treasure trove of key insights into your business's social media performance.
Price: If the features offered in the free version are not enough, you can opt for a paid plan, starting from $6.49 per month per user.
If you're a complete newbie to graphic design, Canva is your tool! The interface is so user-friendly that even someone with zero experience could easily pick it up and do a pretty good job.
Apart from its vast collection of ready-to-use, Canva offers stock images and videos, free music, icons, shapes, transitions, effects, text styles, and a host of other features. It can really elevate the visual quality of your social media content.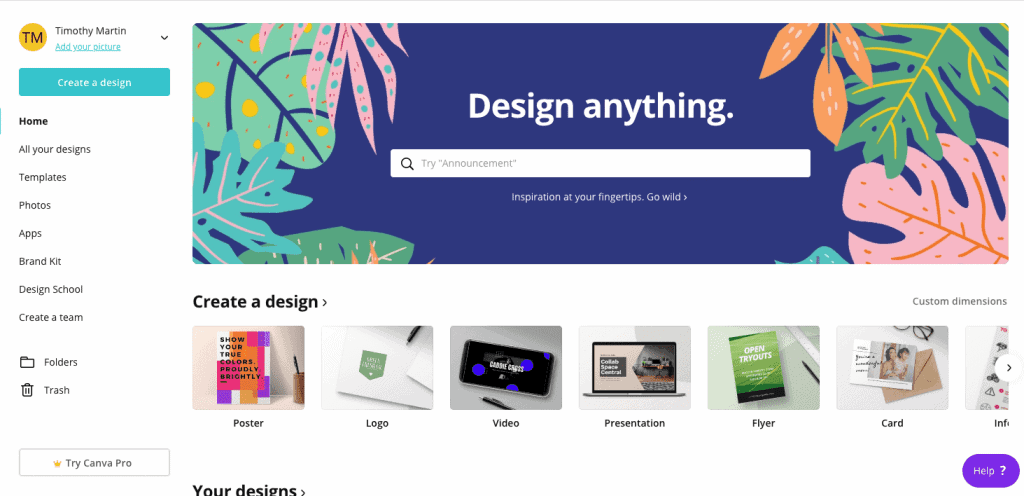 You can design and create anything, from a logo or Facebook poster to a newsletter, infographic, or video within the web app. If you upload your logo or other branded content, Canva will identify your brand colors and help you incorporate them within your content.
You can download finished files in optimal size and quality according to your needs.
The tool allows you to build different teams, and members can work together on any post or project. Collaboration goals!
Price: Starts from $199 per month for one user
BuzzSumo is the ultimate content research tool for businesses seeking a trusted social media marketing platform.
There are several modules dedicated to different aspects of social media management.
There's one for idea generation, for example, which also helps you bring those ideas to life in the best way. Then there's social listening, where you can learn about the general buzz and work out how to use it to your advantage. For instance, it scours social media to find out what questions people have been asking, so you can address them promptly.
Influencer tracking, which the tool heavily focuses on, helps you discover powerful voices in the community who could be great for collaboration. You can then reach out to them, establish collaborative relationships, and launch powerful campaigns together.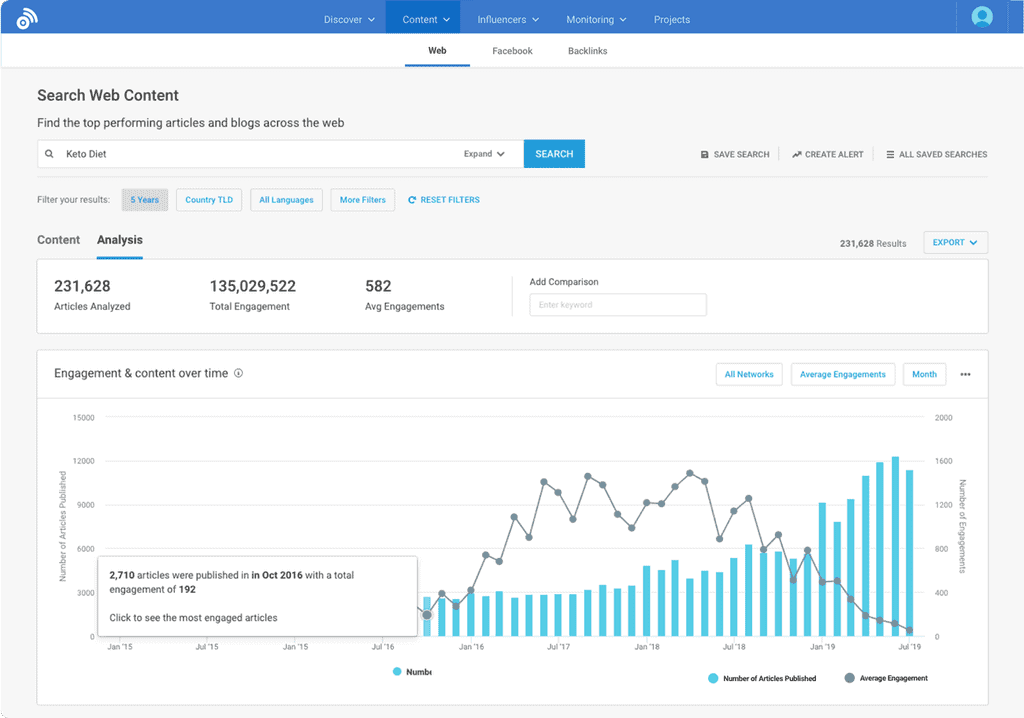 The analytics module helps with comprehensive content performance tracking and optimization. You get an individual report for each social media profile or page you handle. Competitor data is also available for more thorough research.
Price: Starts from $29 per month for one user
One of SocialBee's key features is content generation, which includes AI writing, bulk editing, hashtag generation, first comment scheduling, alt text, stock photo library, and URL shortening. And, to top it all off, it offers a Canva integration!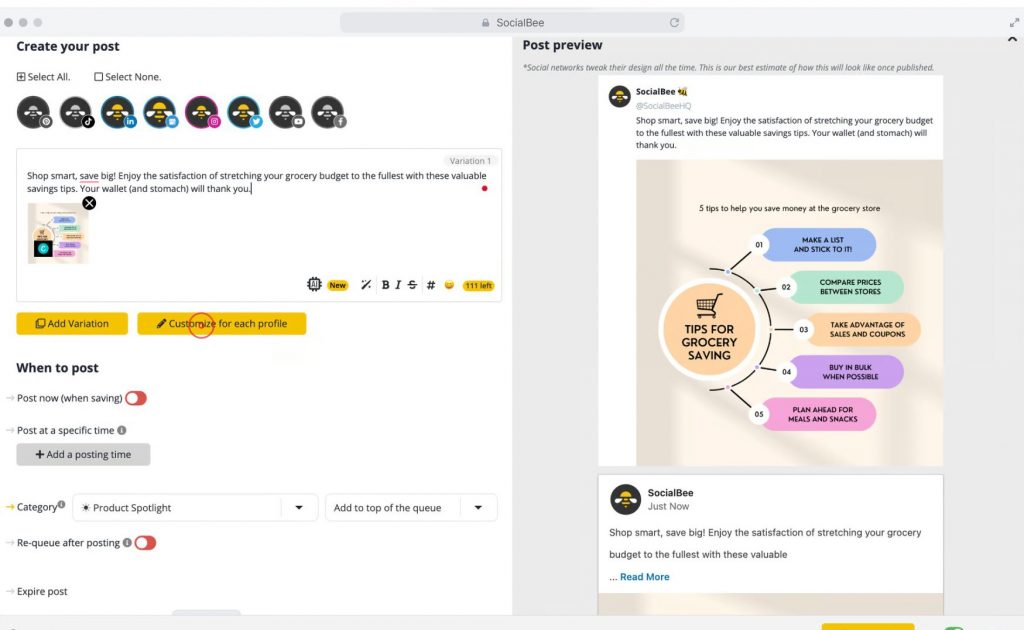 With its project management capabilities, you can easily create a social media campaign calendar and track progress. And with advanced organization tools, you can maintain a regular presence on social media with a healthy mix of different types of content.
By creating separate workspaces for different bands, SocialBee encourages you to stay collaborative and always on top of tasks. It ensures every part of your social plan is executed smoothly and on time.
Price: There's a free version available, albeit with limited functionality. Paid versions start from $19 per month per user.
As the name strongly suggests, CoSchedule's primary purpose is scheduling. This social media management tool is a game-changer for digital marketing industry stakeholders.
The offering we're focusing on for this article is their social calendar which is a part of their content organizer. It's a beautiful color-coded visual representation of all your social media posts in one place. It has an easy drag-and-drop system to manage scheduling changes easily.
You can create custom posts here and save them as templates to reuse for future posts. This will save you from tons of repetitive work, copying and pasting. You can create campaigns too. Deadlines for all the posts within a campaign can easily be readjusted by moving the opening post of the campaign.
After your posts are published, you can interact with your audience on those posts within the same app. And last but not least, the analytics tool helps keep an eye on how your posts or campaigns perform online.
Like the content organizer, there's also a work organizer that gives you an overview of which tasks are assigned to which team member. This should help improve collaboration and coordination among your marketing team.
Picking the perfect social media marketing tool from a horde of options can be a bit overwhelming. But like everything else in life, there's a process for this, too, the basis of which is proper research on your part.
Here are a few factors you need to consider.
Feature set: Think about the functionality that you need in order to accomplish your social media management goals. Are you looking for a generic umbrella tool or one that's more focused on a specific function of SMM? Ensure your chosen digital marketing tool also offers integrations for any existing tools you might already be using.
Pricing: Can you afford a paid tool, or will you have to make do with a free one? Set a well-planned budget and explore options that are within your range. And think about payment plans too. Some tools offer one-time payment licenses, while others have a subscription model. Think long-term. Most platforms offer free trials; that should mitigate some financial risk for your business.
Ease of use: Time is precious. The entire point of adopting social media management tools is to save time. So you must prioritize user-friendliness, not just for yourself but for other team members too. Look for tools with intuitive interfaces and workflows.
Customer support: Prompt and approachable customer support is a must. Check if the service provider is responsive and whether you prefer 24/7 support or occasional help. Also, check which channels they provide support through; the more, the better.
You can narrow your options down using these factors and discover the best fit for your social media needs. Reading reviews and testimonials from other users can also offer valuable insights to guide your decision. Happy tool hunting!
Wrapping Up
Social media management tools can be incredibly helpful in making your process faster, better, and more productive. But for that, it's important to make the right choice of software.
Each business has unique needs, so there is no one-size-fits-all solution. So take your time to go through each option, see pricing plans, and check verified reviews. Do some trial runs, perhaps, before finalizing a tool, so you can pick the one that best aligns with your requirements.
If you're in search of a holistic social media marketing tool that can help you with all aspects of SMM, from creating impactful content to tracking mentions and engagement, we recommend trying out Keyhole's free trial. Try Keyhole to witness the power that it holds with a free trial.
Related Articles
27 Free + Paid Social Media Analytics Tools In 2023
How To Perform A Social Media Competitive Analysis
Frequently Asked Questions
Social media marketing tools, also known as "SMM tools", are software applications or platforms that help businesses manage, monitor, and consequently optimize their social media presence. Their functions can range from graphic design and video editing to post scheduling, analytics, and audience behavior tracking.
Social media marketing tools can streamline – and often also automate – your social media efforts. They save time, expand your analytical capabilities, enhance audience engagement, and ultimately maximize the impact of your social media strategy.
Social media management tools simplify collaboration among team members by providing shared workspaces where team members can access and manage social media accounts collectively. They can assign tasks to each other, see what others are working on, and make sure that they're maintaining consistent brand voice, tone, and messaging across all social platforms that your business is active on.