Essena O'Neill, an 18-year-old Australian fashion blogger with half a million followers on Instagram, 200,000 on YouTube and Tumblr, and 60,000 on Snapchat, surprised many of her fans when she recently announced she's quitting social media. Her Instagram account is now private and her bio reads:
"I have over 200k requests.. I am done with social media!! ●Official ● Support the movement ● Be true to yourself 👇Check Real Value At Website Instead letsbegamechangers.com"

In one of her recently edited captions on her Instagram pictures before her social media shut-down, she reveals that she had been paid $400 to wear a black stripped dress for brand promotion and that many online fashion sites will pay up to $2000 per post.
Although O'Neill's original intention was to attack the perfect appearance of social media, she shines light upon a growing trend in the fashion industry — social media influencer marketing.
The Big Shift
To make sense of the shift from traditional advertising to influencer marketing in the fashion industry, we must understand the psychology behind consumer behaviours.
Instead of following suit with traditional advertising techniques, many fashion brands are adopting novel ways of collaborating with influencers to expand brand recognition and promote sales. Consumers no longer feel the same attraction towards celebrity-endorsed commercials overflowing of glamour and luxury as they seem too good to be true.
Now, customers look towards a more down to earth pool of inspiration — photographers, Instagram stars, Viners, Youtube celebrities, SnapChat personalities, Young Hollywood, DJs, musicians, dancers, wellness gurus, travellers, fitness advisors, video gamers, stylists, videographers, creative directors, designer. Anyone, you name it. These influencers are closer to our lives, which makes the fashion products they are promoting appear more attainable.
"Influencer marketing is the fastest growing and most cost-effective channel."
– Tomoson
On a more practical standpoint, consumers know when they see an ad, it is created and promoted by the financial beneficiary. Social media celebrities, on the other hand, serve no duty to these fashion companies. Thus, consumers often find social media influencers' opinions more trustworthy than the facade fabricated by the fashion brands themselves.
According to an interview conducted by Luxury Society with Jeff Fromm, President of FutureCast said this:
"Millennials are the largest consumers of branded and original content. Not only are they more likely to post their own content, but they are also more likely to be influenced by what they see others posting online. Millennials are [also] more likely to trust what their peers are saying through user-generated content than branded content."

World's Top Selling Luxury Fashion Brands
Among Forbes' list of the World's Most Valuable Luxury Brands are LV, Tiffany&Co., Gucci, Hermès, and Cartier, to name a few.
What's the secret to their successes? Influencer marketing.  
Although it may not be the sole reason of the popular demand of these luxury brands, something must be working with all their investments in influencer marketing.
"Businesses make $6.50 for every dollar invested in influencer marketing."
– Tomoson
In fall 2014, Louis Vuitton introduced its new collection of Dora handbags and tagged the photographer @princepelayo. He subsequently re-posted the picture on his Instagram account, which has the following base of 556k people. By connecting with an influencer, Louis Vuitton reached an audience with more diversified backgrounds, and received an overwhelming 114k likes as opposed to its usual 40-60k likes.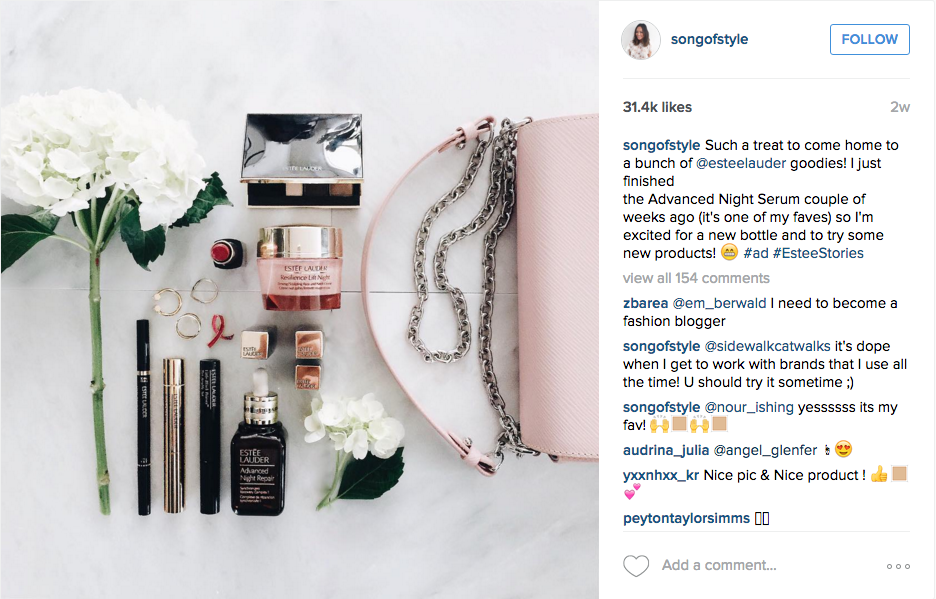 Similarly, Aimee Song, an influential fashion blogger, recently advertised for Estée Lauder's new nail polish set on her Instagram @songofstyle, generating almost 20 times more attention than Estée Lauder could have made on its social media account. Small businesses also try to weave their way into influencer marketing in hopes of going viral. Schutz Shoes on average receives only 1000-2000 likes on its Instagram photos; however, with Chiara Ferragni (@chiaraferragni) on board, the brand now has exposure to 4.8 million people.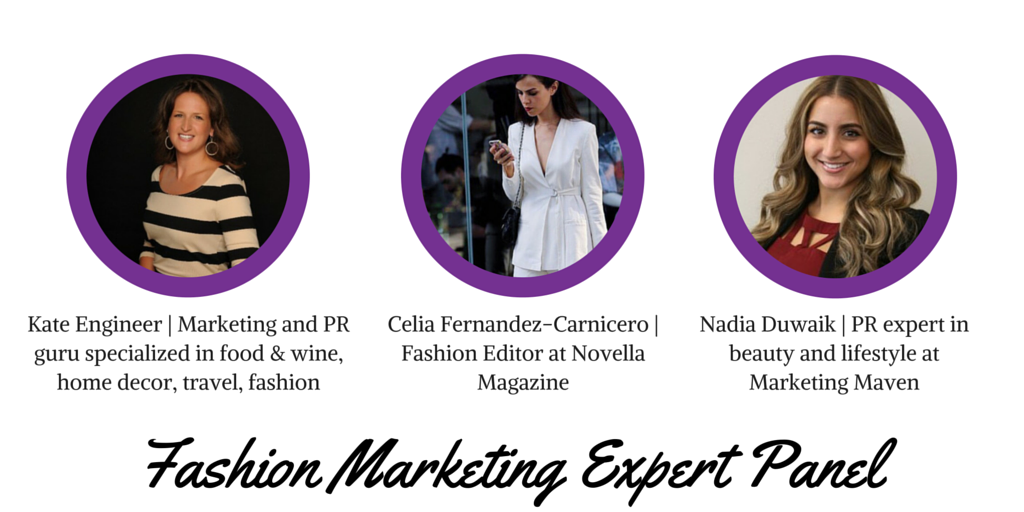 How do you reach out to influencers?
To understand how to connect with influencers that target your audience on social media, KeyHole interviewed three fashion industry experts who shared their insights with us.
Kate Engineer is a marketing and public relations guru specialized in food & wine, home decor, travel, fashion with ten years of experience in B2B and B2C brands.
Celia Fernandez-Carnicero is a Fashion Editor | Novella Magazine, a visual artvertorial featuring talents from fashion, lifestyle, art and culture.
Nadia Duwaik is an expert in beauty and lifestyle categories| Public Relations at Marketing Maven
Q: What is your best tip on reaching out to fashion influencers?
A: Kate Engineer: The best tip on reaching out to fashion influencers is to study their content and know their audience. Take some time to really get to know the influencer, study their work and know what their tone of voice is. Every influencer is different, and their content and tone is what makes them unique. Make sure it's authentic content that you want to be associated with your brand. Take a look at the demographic of their audience as well. Make sure the demo aligns with your brand/company. This will ensure your brand will resonate with the right audience. Remember, sometimes it's not about who they are, but what they talk about. The better you understand what it is they are trying to convey the more you'll know if they are a fit for your brand/product.

Celia Fernandez: Use a respectful yet self-confident tone. If you sound like a 'crazy fan', they'll never see you as part of the same industry or talk to you from a professional perspective.
Nadia Duwaik: Do your research! It is so important to gain as much information as you can about the influencer, their likes, passion and what brands or styles they are into. So when you do make your pitch, you know that you are providing them with content they will be interested in learning about. It is also a good idea to follow them through social media, so they already see that you are supporting what they are doing in advance of reaching out.
Q: In your experience, was influencer marketing effective in boosting sales?
A: Kate Engineer: Yes, definitely. Especially with Social Media, is absolutely crazy how powerful are influencer's opinion. The key to this success is that, because they are 'real' people (not huge super famous celebrities) people perceive their opinion more honest and sincere. People want to follow and trust real people!
Celia Fernandez: Absolutely! Influencers fans and followers are motivated by what they see the influencer wearing, and how they can achieve their look! The social reach of the influencer also helps to grow the social following of the brand that they support, which can lead to sales as well. My clients have seen direct sales results from an influencer wearing their product on social media, blogs and other media types.
Nadia Duwaik: I've seen influencer marketing programs be an extremely effective and rewarding partnership for both parties when done correctly. The best way to boost sales is to provide an incentive to either the influencer or the audience. Affiliate marketing programs are a great way to keep the influencer involved for a long period. Providing discount codes is another way to encourage their audience to make a purchase.
Traditional fashion commercials are still a great way to grab attention, but influencer marketing is a growing trend not only within the luxury fashion industry that garners more diverse consumer bases. As long as businesses carefully choose influencers who identify with their brands, they will achieve better brand recognition and promotion, as well as boost sales. 
---
Keyhole is a real-time conversation tracker that provides keyword and hashtag analytics for Twitter and Instagram. Get started for free and search your brand.