Curious how you shape up against your competitors on social media? Then you'll want to track and calculate share of voice.
"Taste the relish to be found in competition — in having to put forth the best within you to match the deeds of risk-taking, hard-working competitors."

Henry J. Kaiser
Share of voice (SOV) measures what percentage of the market your brand owns relative to your competitors. It's a measure of brand awareness.
SOV was originally used in traditional media to track a brand's visibility in print, radio, and TV ads compared to their competitors, but it has since grown into the digital space.
SOV is now most commonly used in the context of paid digital advertising to track how often a brand appears for a certain keyword relative to its competitors, but it's also used to track brand awareness of social media.
Knowing your share of voice lets you benchmark your current social standing and performance against your competitors.
But more than allowing you to see where you rank, it also shows you how much space there is for growth, and allows you to gain insights from competitors who are already succeeding in the marketplace.
Share of voice can be calculated for different social media metrics, whether it's hashtag impressions, engagements, brand mentions, followers, or any other conceivable metric.
The share of voice formula is:
SOV = Your brand's measures / Total market measures X 100%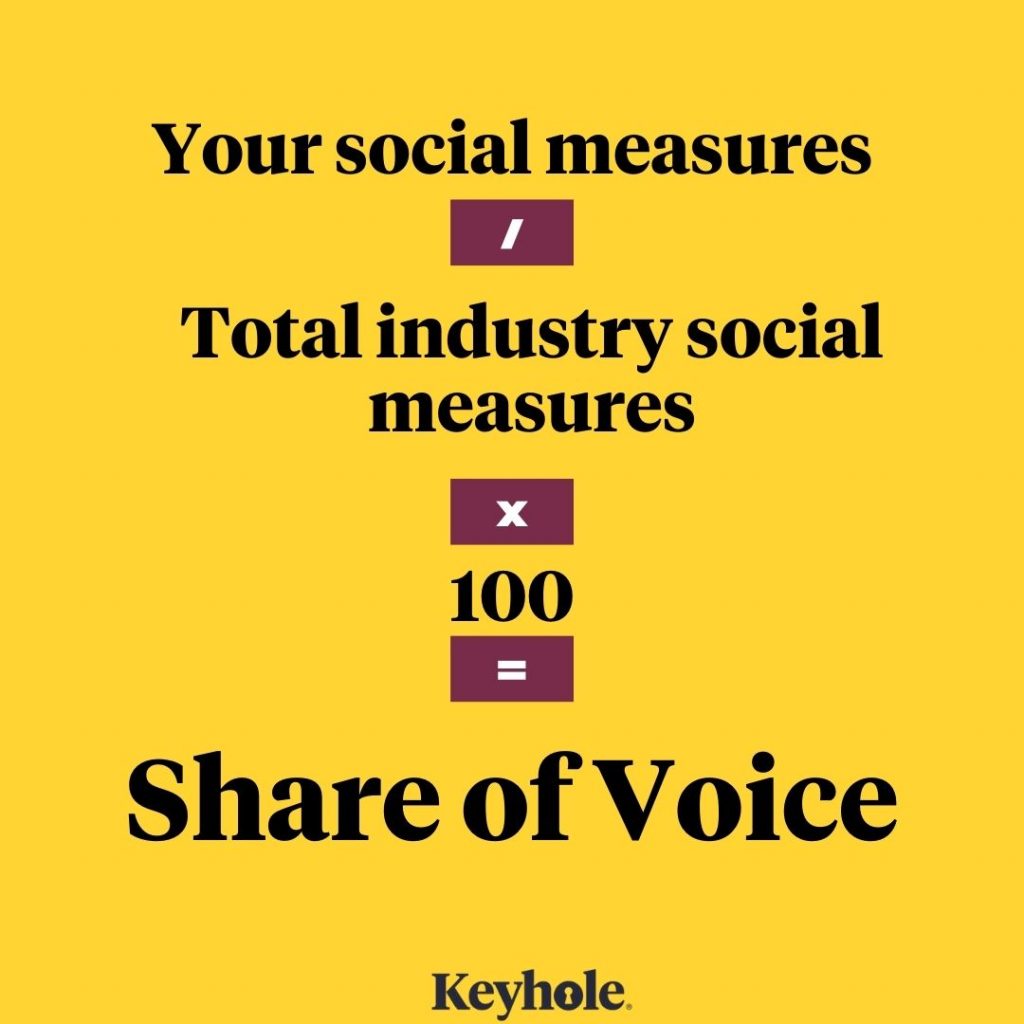 For instance, you might want to know your share of voice in terms of social media conversations. Thus, you would track your brand mentions relative to those of your competitors and calculate your SOV.
To do so, you would add up your brand mentions and all the brand mentions of your competitors. You'd then divide your individual brand mentions by that total sum to get your SOV.
SOV (social media) = Your brand mentions / (Your brand mentions + Your competitors' brand mentions) X 100%
While it's technically possible to track SOV manually, it's much easier to do so using a social media analytics tool. Remember, you need to track your brand's mentions as well as all your major competitor's. That is a lot of social listening work.
All of these brand awareness metrics can be easily tracked with Keyhole's brand monitoring tools.
To start measuring your share of voice, try a free trial of Keyhole today.
---
Keyhole is a Social Media Listening & Online Monitoring Solution that helps marketers unlock data-driven business insights. Its visual dashboard is simple and shareable with your clients. Start your free trial today and get the metrics you need.