With more than one billion active members, Instagram is one of the most prominent social networking channels among brands. Here, 83% of consumers discover new products and services, and brands can reach over 850 million people with ads. Thus, many businesses use this photo and video-sharing site for social media marketing.
However, the quest to increase engagement and enhance brand visibility has made it one of the most aggressive marketplaces.
To stand out in this crowd, you must routinely measure your and your competitor's performance through Instagram competitor analysis. It will show you the strengths and weaknesses of brands while identifying the issues in your social media marketing.
But leveraging Instagram's immense potential could be more effective with software. Here, Instagram competitor analysis tools are the way to go. And to make your choice easy in the sea of options, we have compiled a list of the 12 best ones.
But first, let's look at why you should do an Instagram competitor analysis.
Why should you do Instagram competitor analysis?
Because of its popularity, Instagram is crowded with millions of brands trying to enhance their audience reach and brand visibility. Such a scenario makes it very difficult to stand out as a brand and appeal to the audience to choose you over your competitors.
Hence, the key to a successful Instagram marketing campaign is constantly evaluating your social media presence against rival brands.
Here is where Instagram competitor analysis comes into play. It allows you to keep a tab on everything your competitors are doing right on Instagram, learn from them, and avoid their mistakes.
This demands holistic monitoring of several important KPIs, which is impossible with a manual method. So, choose an effective Instagram competitor analysis tool to prevent mishaps and inaccuracies.
12 Best Instagram competitor analysis tools
There is an abundance of options for Instagram competitor analysis tools. To help you make the right choice, we have compiled a list of the 12 powerful ones.
1. Keyhole
The first tool on our list is Keyhole, a social media management platform capable of tracking every move of your rival brands on Instagram and other social media platforms.
Benchmarking your competitors is easy and streamlined with side-by-side comparison reports. You can keep track of important metrics like audience demographics, post impressions, and share of voice. How? Keyhole generates graphs and charts detailing actionable performance insights next to your top contenders in the industry.
With accurate industry baselines, this platform helps you align your brand's Instagram marketing strategy with your long-term business goals. Its social listening features allow you to examine your competitors' campaigns and their chosen influencers and identify the highlights of their social media strategies.
By understanding the strengths & weaknesses of your competitors, Keyhole turns your flaws into favorable opportunities.
Features
Sentiment analysis
Advanced shareable dashboard
"Intelligent notifications" for specific hashtags and keywords based on triggers, time, or sentiments
Schedule unlimited posts across multiple social media platforms
Pros: Highly customizable and generates accurate and comprehensible data. Besides competitors' performance, you can also track trending conversations and brand health.
Price: Keyhole has four packages with subscriptions starting at $39 per month.
What customers say about Keyhole
"I've been using Keyhole almost since the beginning, and what I love best is the flexibility in the data that can be tracked and captured. It has made evaluating the ROI of different campaigns and tactics much easier."
— Annelise L, Digital Strategist, Marketing Consultant & Game Master.
"I like how easy it is to generate my analytics report for my social media channels. The hashtag tracker is particularly useful, and the insights have proven to be of great use for our campaign."
— Tasmy G, Online Communications Officer.
2. Social Status
One of the known options available, Social Status compiles all recent competitor posts in one beautiful dashboard for you to check and analyze. This Instagram competitor analysis tool shows you what works for your competitors and helps you upgrade your social media strategy.
Taking inspiration from the industry's stakeholders is easy on Social Status, thanks to its single interface portraying all the latest postings of your competitors.
The platform also offers a sentiment analysis feature, offering you an in-depth analysis of your audience's social conversation on your brand. You can also compare your and your competition's productivity graphically and comprehensively.
Features
Engagement feed and engagement insight
White label reports
Ads analytics and influencer
Pros: Comes with a sentiment analysis feature and gives access to the historical data of your competitors.
Cons: Monthly rates are relatively high, and a credit system exists only for reports
Price: The paid subscriptions start at $29 per month.
3. Sprout Social
Another valuable addition to the list, Sprout Social is a notable social media engagement platform. While not only designed for Instagram, the platform offers stellar competitor analysis features for the photo and video-sharing site. You can benchmark several competitors at once on the platform.
Sprout Social also has social media monitoring capabilities that allow you to follow discussions on your and your rival brands on the internet. Attitude monitoring features are there to determine how people feel about your competition.
Although Social Sprout does not have advanced Instagram analysis features, it is a good option for end-to-end social media marketing and management.
Features
The discovery tool allows you to connect highly targetted customers
Custom branded reports
Monitors Check-Ins and visitor loyalty.
Pros: Easy to use and generates pretty accurate and comprehensive results.
Cons: From a pricing point of view, Sprout Social is a little more expensive than its competitors if you want to avail the full suite of tools. The platform does not offer a free plan.
Price: Starts at $89 per user per month.
4. Brandwatch
Brandwatch, earlier known as Falcon, is a social media marketing and management tool that offers some noteworthy Instagram competitor analysis features. This popular platform lets users compare their performance against the competitors on several important Instagram metrics such as follower growth, the number of posts, engagement, and more.
Brandwatch gives you an easy way to benchmark and assesses your Instagram marketing performance against your rival brands. Thus, it is the most suited for small businesses wanting a quick fix and an effective social media profile. .
Features
Top posts analysis
Competitor's content strategy analysis
The Query Wizard feature makes it easier for beginners
Pros: Gives access to historical data of other brands in your industry. The platform also offers audience size metrics, hashtag analytics, unlimited reports, and share of voice.
Cons: It is not as user-friendly as the alternatives. The loading time is also reportedly slow.
Price: starts at $108 per seat per month.
5. Brand24
Next up on the list is Brand24, a platform for competitor analysis and online reputation management features. The platform has good social media monitoring capabilities that grant users instant access to brand mentions across social, news, blogs, videos, forums, podcasts, reviews, and more.
Features
Filters to help you narrow down your results and find what you are looking for.
Dedicated mentions feed and discussion volume charts
Marketing analytics and influence score
Sentiment analysis.
Pros: Sends additional emails and notifications whenever there is any notable change in audience discussion, in its quality or quantity. The platform also calculates the authority index for each stakeholder in the discussion.
Cons: It takes time to get used to the system.
Price: Starts at $39 per month.
6. Sociality.io
With some dedicated social media analytics features, Sociality.io helps users measure competitor performance metrics and examine their content strategy to design effective Instagram marketing campaigns.
Features
Structures and centralizes competitors' published and deleted content
Offers advanced filters
Sends scheduled reports directly to your inbox
Pros: The platform automates routine copy-pasting of competitors' historical data and brings them into one place to set accurate benchmarks.
Cons: Users may face problems while downloading the reports.
Price: Starts at $99.
7. Emplifi.io
Formerly known as social bakers, Emplifi.io is a digital network analytics tool offering competitor analytics features for Instagram. The platform turns disparate social media data into actionable insights and assists you in finding industry standards, your target demographic, and your competition's strengths and weaknesses.
Emplifi.io benchmarks your Instagram marketing success with those of your contenders through graphical contrast, helping you identify the pain points in your marketing approach and improve.
Features
Social monitoring features for tracking comments and discussions on your competitors in real-time
Calendar view for scheduling content.
Pros: Emplifi.io analyzes multi-channel campaigns in real-time, all in one place.
Cons: The platform does not allow programming carousel posts on Instagram. Customer reviews also show that it is overpriced, inflexible, and can fall short on customer service.
Price: Available on request.
8. Hootsuite
The next addition to our list is another digital network marketing tool with social monitoring and statistics features. Hootsuite allows you to keep track of Instagram conversations on key topics, track the performance of your posts and brand mentions, and monitor competitor activities in one unified dashboard.
You can constantly monitor your competitor's digital behavior. Hootsuite's competitor report contains all the crucial metrics on your rival brands. You get insights into the quantity of Instagram posts, audience interactions, increase in followers, etc.
On Hootsuite, you get sentiment analysis, real-time audience insights, and trends analysis. With its streamlined and personalized content feed, you can keep track of internet communications connected to a particular subject, sector, or contender.
Features
An extensive list of social media profiles where you can publish and monitor your brand's content.
Curate content to share with your followers right from the Hootsuite app.
Excellent API integrations.
Pros: Users don't need a separate publishing tool with Hootsuite. It saves time and effort. It allows you to try all available features in the 30 days trial period.
Cons: Customers report issues with their pricing model.
Price: Starts at $49 per month.
Skedsocial is an Instagram-centric social media management tool that shows you accurate data and measures your performance so that you can make the right changes to your strategy.
This social media tool allows you to monitor each story's performance and see each one's impressions, completion rate, tap-backs and forwards, replies, and exits. Its audience intelligence helps you understand audience demographics, interests, and expectations.
Features
Calculates engagement rates
Monitors hashtag performance and audience demographics, etc.
Pros: With Skedsocial's comprehensive and clean dashboard, you can track what's working for your competition and where their strategy went wrong.
Cons: The product has some issues. Reviewers have called it slow and glitchy.
Price: Starts at $21 per month.
10. Phlanx
Although Phlanx accommodates several social media platforms, it has several dedicated features for Instagram competitor tracking.
Features
Influencer directory
Campaign manager
Pros: You can track all web mentions of your brand and competitor brands and leverage social listening by monitoring news, blogs, and forums on social media.
Cons: Few customers believe it provides low-quality data.
Price: Starts at $39 per month.
11. Social Blade
Social Blade helps users get detailed reports on their social media engagement, competitor performance, user growth, and trends. Its clean search bar lets you search and finds the most relevant Instagram ads to analyze.
The reports show accurate insights through statistical graphs and charts, tracking progress and growth.
Features
Estimated Earnings
Future Projections
Numerical Data
Easy to Read Graphs
Pros: Besides competitor analysis, the platform also generates an overview of estimated earnings and future projections, providing numerical data and cohesive graphs.
Cons: It's best to look at their reviews on Trust Pilot of 2.1 before making a decision.
Price: Starts at $3.99 per month and goes up to $99.99 per month.
12. Vaizle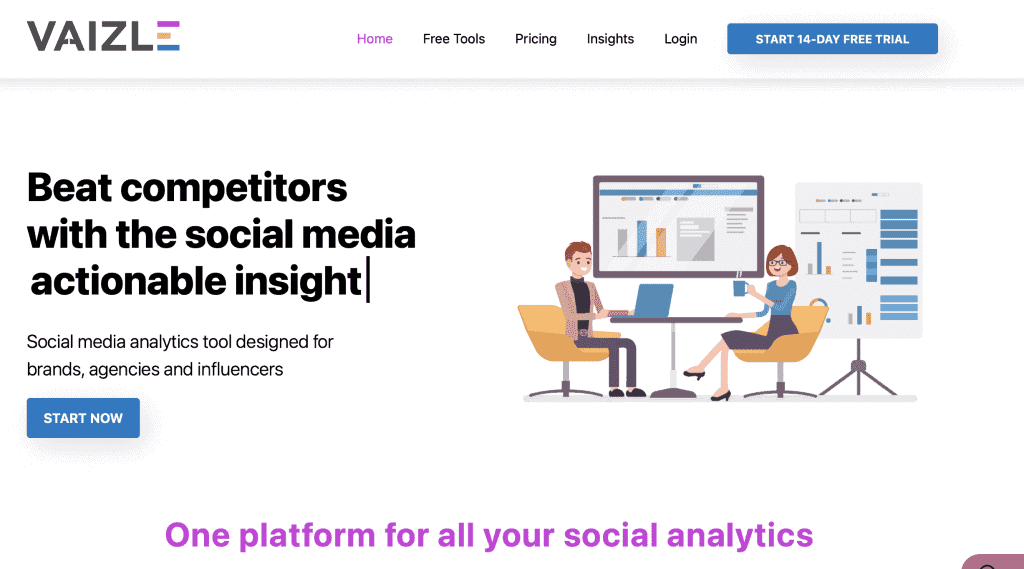 Vaizle Instagram competitor analysis tool provides valuable insights into the performance of Instagram accounts. With Vaizle, businesses can easily track their own performance and that of their competitors, and gain a better understanding of the trends in their industry.
The tool offers a variety of features, including the ability to monitor engagement rates, follower growth, and top-performing posts. Users can also track hashtags and mentions, as well as gain insights into their competitor's audience demographics and behavior.
Features
Insights into competitor audience demographics and behavior
Automated reporting and customized alerts for key metrics
Ability to compare multiple Instagram accounts side-by-side for easy analysis
Pros: Vaizle provides a thorough analysis of Instagram accounts, covering key metrics such as engagement rate, follower growth, top-performing posts, and competitor activity, allowing businesses to make data-driven decisions.
Cons: It does not provide the scheduling feature.
Price: The regular plan starts from $22/month.
Conclusion
We are witnessing an era where every brand is trying to do its best to leverage social media. Thus, how effectively you analyze your competitors and how quickly you implement changes can turn failure into a massive success.
The key to achieving that is choosing a competitor analysis tool that's accurate, effective, and capable of bringing actual change in your social media marketing — and that's exactly what Keyhole delivers.
With features like sentiment analysis, a clean dashboard, and intelligent competitor analytic reports, you will stay on top of your Instagram marketing game.
Want to be among the top brands on Instagram? Start your free Keyhole trial today!
---
Related Articles:

Instagram Creator Account: Is It Worth The Switch?
Instagram Engagement Rate Calculator + 5 Tips To Increase It
Frequently Asked Questions
What is the best analytics tool for Instagram?
Here are some of the best analytics tools for Instagram:
1. Keyhole
2. Sprout Social
3. Sociality.io
4. Hootsuite
How do you do an analysis on Instagram?
To do an analysis on Instagram, go to your profile, click on the three lines at the top right corner and click on 'Insights'. To do a thorough analysis of your profile or your competitors', you can opt for Keyhole.
Is there a free Instagram Analyzer?
While you can analyze your profile for free on Instagram itself, opting for a third-party tool is beneficial. Platforms like Keyhole even offer a free trial.