In recent years, we have witnessed an explosive rise of Instagram in the social networking space. It evolved from a mere photo-sharing platform to a medium that brands now rely on for their social media marketing campaigns.
To gain traction in a crowded platform like Instagram, you need to outperform your competitors — and that requires a solid strategy.
But how do you map out a strategy that accurately gauges the chances of your marketing strategy appealing to the right segment of the audience? The most effective way to do this is through tracking your competitors on the platform.
Instagram competitor analysis can evaluate the required steps to ensure your brand gets the desired share of voice. To make your journey easier, we are discussing how you can leverage competitor analysis to enhance your brand voice on Instagram.
What is Instagram competitor analysis?
Instagram competitor analysis is a method of evaluating your competitor's marketing activity. The aim here is to gather data and prepare insightful reports to benchmark social media campaigns for your brand.
It helps you:
identify what your target audience desires from the industry, and
how to grab their attention with relevant content and outperform your top competitors in the space.
With this in mind, let's try to understand its benefits.
5 Benefits of tracking and analyzing competitors on Instagram
Here are the top benefits of doing an Instagram competitor analysis:
1. Figure out your known and new competitors
While tracking, both known and new competitors deserve the same amount of focus. For example, Trello's known competitors are Monday.com and ClickUp. Now, with a quick search on Instagram, you'll find tools like Wrike. 
Analyzing known competitors has its perks, like constant comparative progress and benchmarking. Still, identifying new contenders in the business is also important.
It will help you build connections in your industry and learn new things about customer habits. Focus on separating your direct and indirect competitors. Each may need some level of personalized strategy.
2. Understand target audience preferences
Analyzing your competitors will give you deeper insight into what your customers want. You get tangible data on how your top contenders:
appeal to a particular audience segment
how they interact on social media, and
what it takes to create a sustainable follower base on Instagram.
An Instagram competitor analysis also helps you understand what sort of content drives the most engagement. It also helps you refine your audience. This way, you can focus your resources on curating a social media profile that's personalized and brings more traffic.
A great example of this is Nike's Instagram. They have understood that content that involves athletes performs well. They also include user-generated content to gain their audience's trust. They also get to show potential viewers that their products are loved by many.
3. Set performance benchmarks
Benchmarking is important because it gives you an accurate reflection of your brand's performance. It helps you understand where you need to improve to be on top of the game. The generated reports divulge the changing needs of the market and help you improve your services to accommodate them.
An Instagram competitor analysis gives you the necessary insight to examine your performance and benchmark it against your competitors. The gathered data gives you a competitive edge. It helps you establish a brand presence that attracts core audience segments.
4. Helps baseline your Instagram marketing strategy
Analyzing your top contenders helps you build an effective baseline for your social media marketing strategy. Tracking your rival brands helps you understand your audience better. It can also guide you in curating better content for them.
The insights tell you what brands aced the current trends and what they did right to make it appealing to their audience. This way, you can bring positive changes to your Instagram strategy and grow your brand presence on Instagram.
You can keep an eye on what your competitors are doing wrong and avoid making the same mistakes. The journey of Instagram competitor analysis helps you learn when to post to get the highest engagement and how to build a competitive advantage to grow faster.
Let's take Lindt, Hersheys, and Toblerone as an example. As you can see in the screenshot below, all three brands are using images as a part of their Instagram marketing strategy. However, it is only Toblerone who is using Instagram's favorite feature — reels, to reel in larger audiences.

5. Cost-effective method
Outsourcing your Instagram competitive analysis to agencies can be an expensive business. However, carrying out an analysis with a tool is a budget-friendly solution for customer and business intelligence.
You can get valuable insights into what makes a brand click on Instagram and what type of content drives the most visitors. It helps you improve your social media marketing strategy.
With sentiment analysis, you can also track what your core audience says about you and your competitors. You understand what they need and how to provide it for them. Instagram competitor analysis delivers all that with no significant investment.
How to do an Instagram competitor analysis
Now that we know the perks of investing in Instagram competitor analysis, let's look at the simple steps you need to have the best results:
Step 1: Identify competitors
Your regular business competitors are different from your social media competitors. The aim here is to make the brand more visible. Hence, the first step toward running a successful Instagram competitor analysis is to identify which rival brands you need to target. Once you know what brands to track, the entire process becomes a focused and consistent pursuit.
Like other social media platforms, there are two types of competitors on Instagram as well — direct and indirect.
Your direct competitors are those who offer products and services that are similar to yours. When it comes to indirect competitors, they are defined by products and services that can replace yours. As both have different dynamics in the market, they need separate strategies.
Outperforming your direct competition and showing why your products are the best in the industry. This requires you to convey the constant improvements your brand is making in customer services, product design, etc. Dealing with indirect competition may prove a little tricky. This is where a proper feature-rich competitor analysis tool particularly comes in handy to win over the challenging algorithm.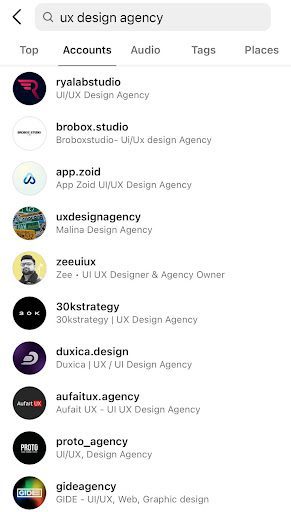 You can identify your competitors by surfing through the platform, doing an account search using keywords, keeping a keen eye on the 'suggested for you' option, and tracking trending hashtags. The explore page also gives you a chance to come across new brands that are thriving on our favorite photo-sharing platform.
Step 2: Collect performance data
Once you have identified your top contenders, now it's time to target them and start collecting as much data as possible. To benchmark your progress, you must set up important KPIs and gather information based on them.
Here are some of the metrics you need to keep in mind for effective competitor analysis. These are:
Recent ads
Average followers on the page
Average engagement rates on the recent posts
Characteristics of the top posts
Conversation on the most engaging posts
The success rate of reels for a particular account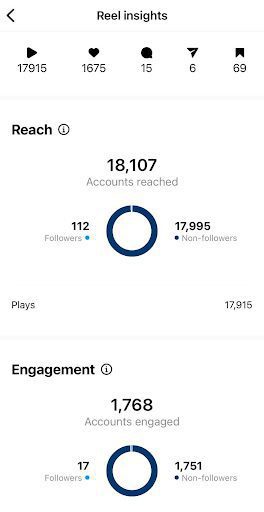 Apart from that, also focus on collecting data on what time or day of the week drives the most engagement for each of your competitors.
Step 3: Examine their content
On social media, content is king. A well-curated content can constantly convey your business's ethos and leave a positive influence on people's minds.
The quality of the content plays a big part in the way your target market interacts with your Instagram profile. No matter how innovative your product is, the audience will not pay any heed to your content if the strategy is not up to the mark. Chances are, top brands on Instagram are already nailing this part. So, your job is to dissect the collected data and see what works for the Instagram crowd.
Examine what types of posts get the most engagement. Be it reels or stories, what grabs the audience's attention in your business space? Take a deep look at how they create content, their tone, and their style of formatting. This will tell you what you need to do to step up.
Step 4: Analyze data from the report
By now, you have all the information you need. All that's left to do is to analyze them as accurately as possible and create a side-by-side comparison. This will show you where you are lacking and will put things into perspective.
Focus on both the quantitative and qualitative insights on the report for a thorough understanding. Keyhole provides you with the most comprehensive and insightful reports that include colorful charts, graphs, and tangible and quantifiable information for you to leverage.
Step 5: Monitor frequently
Markets across industries are transforming rapidly, and so are the marketing strategies of the top brands. So if you want to track the best of the best, you need to keep up with their pace.
Missing out on a single change in their growth may hamper the whole process. Thus, for accurate results and sustained enhancement, tracking your competition has to be a continuous process.
Doing this manually when you are tracking several competitors is next to impossible and is likely to be prone to error. To detect even the subtlest changes, you need to be on alert all the time.
This is where a competitive analysis platform can change your game. It automates the complete process and notifies you whenever it deduces any significant changes in data and subsequent results. Constant competitor monitoring minimizes the chances of unforeseen damages and will sustain your edge on a very crowded platform.
Use social listening to track audience conversation and reactions constantly. This will help you figure out how to improve services and make your Instagram page more appealing.
The better way to analyze multiple competitors on Instagram
While manual methods have been quite prevalent in the business world for a while, social media is fast-paced. So, the traditional approach is not the best option here.
This is where you need to opt for a tool to streamline the operation — and for the best results, Keyhole is your most trusted option. Keyhole's profile analytics allows you to monitor competitor accounts in three simple steps:
Step 1: Add the Instagram profiles of your competitors to Keyhole's Profile Analytics
First, log into your keyhole account and click on the 'Profile Analytics' tab.
A new page will open where you will see an orange button showing "Add New Profile". Click on it and select the "Analyze New profile" option.

The subsequent page will show several social media options for you to choose from. Now select the Instagram button.
A new page will open where you must first enter your brand's name and then add the competitor page you want to track. After that, the "create comparison" button will turn orange. Click on it, wait and see how Keyhole automatically backfills the data.
Step 2: Create a comparison report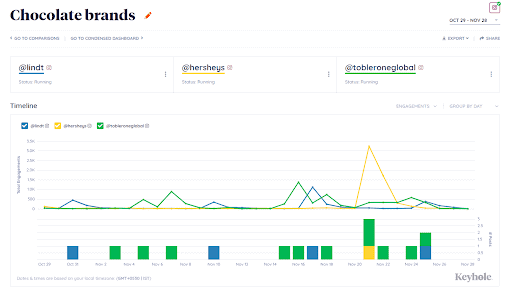 A comparison report will help you identify trends, curate better content, schedule them better, and enhance formatting for boosted engagement. With Keyhole, you can create an accurate comparison report in a jiffy.
Once Keyhole backfills the data on you and your competitor's engagement on Instagram, it creates reports that identify trends and track what time of the day or day of the week content of your particular industry gets the most attention on Instagram.
You can also select a date range and examine analytics results over that particular range or a specific date. You can also convert the generated report into PDF or XLS and download them. The platform also allows external sharing.
Step 3: Analyze your competitors' top post type & follower growth

Apart from tangible visualization of analytical findings, Keyhole also shows you the top posts of both you and your competitors. You can compare the engagement rate and follower growth and figure out the most prevalent post type to build your brand visibility on Instagram.
Keyhole shows your most frequent post types, most frequent media types, etc., and helps you understand what needs to be changed.
Up your Instagram competitor analysis game with Keyhole
Proper marketing on Instagram drives engagement, brings in new leads, and helps in business growth. The key to building an appealing presence in a crowded place like Instagram is a winning social media strategy.
For that, you need to be aware of the strengthened Instagram environment. Monitoring competitors gives you all the relevant data you need to over-perform your top rival brands. Using a reliable Instagram competitor analysis tool is the only way to get ahead — and that's exactly what Keyhole does.
With its superior profile analytics feature, Keyhole creates reports comparing your performance with that of your competitors. Keyhole helps you identify the best-performing posts, design the best way to form content, and figure out the most strategic schedule for posting them.
Moreover, with its advanced sentiment analysis, you will always be in the swim with every significant audience interaction, demand, and desire.
To consistently learn from your contenders and make the best out of your Instagram strategy, start your free trial with Keyhole today.
Related Articles:
11 Actionable Tips to Increase Your Instagram Engagement Rate in 2023
Instagram SEO: 7 Tips to Boost Your Visibility in 2023
Frequently Asked Questions
What are the best competitor analysis tools for Instagram?
Some of the best tools competitor analysis tools for Instagram are:
1. Keyhole
2. Sprout Social
3. Sociality.io
4. Hootsuite
5. Buzz Sumo
How do you analyze competitors on Instagram?
Follow these steps to analyze competitors on Instagram:
1. Identify competitors (on Instagram)
2. Collect data on them
3. Create detailed reports
4. Do a SWOT analysis
5. Repeat these steps routinely
How do I see my competitor's audience on Instagram?
To see your competitor's audience on Instagram, opt for a third-party tool like Keyhole. It allows you to analyze your and your competitor's audience and profiles. This way, you can benchmark your performance and come out on top.