Knowing your industry, brand reputation, and competitors is vital to your continued success.
Information is power, and unless you're constantly gathering data, you'll be in the dark on key shifts that could help your business soar or, at the very least, prevent disaster.
Thankfully, there's a simple, free option you can use to keep one finger on your industry's pulse at all times.
Enter: Google Alerts.
Google Alerts is a free service that you can use to monitor specific search terms. You receive results directly in your Gmail inbox at whatever frequency you decide. Not only is this service 100% free, but it's entirely customizable to your preferences.
But, like most data initiatives, you'll get the most out of Google Alerts when you understand how to optimize the process.
That's what this ultimate guide is for. In today's guide, we'll teach you everything you need to know about Google Alerts, including what they are and how to set them up. We'll also teach you how to manage and optimize your alerts for the greatest chance of success.
What are Google Alerts?
Google Alerts is a free service created by Google that lets users monitor any keyword or phrase they want. When you set up Google Alerts, the system will send email reports to your Gmail account with links to where your alert terms have popped up.
As far as frequency goes, Google gives you a few options, including:
As it happens
At most, once a day
At most, once a week
Speak with your marketing team, consider your goals, and analyze how quickly the information you track shifts when deciding on frequency.
Of course, Google Alerts isn't a be-all-end-all solution. It can't as of now monitor social media mentions, which is a huge part of gauging public conversation around your industry or brand. That's why certain Google Alerts alternative services like Keyhole exist to help you keep your finger on the pulse of social media conversations.
Setting up Google Alerts
Now that you understand what Google Alerts are, let's go over how to set up an alert.
Step 1: Go to the Google Alerts page
Google Alerts has its own page in the Google family. Simply go to google.com/alerts, and you'll see a very simplistic interface Google provides:

As you can tell, it's just a simple search bar, like the kind you use on Google every day.
Step 2: Enter your search terms
Now, enter the search term you want alerts for. Let's assume you're running a real estate firm for this example.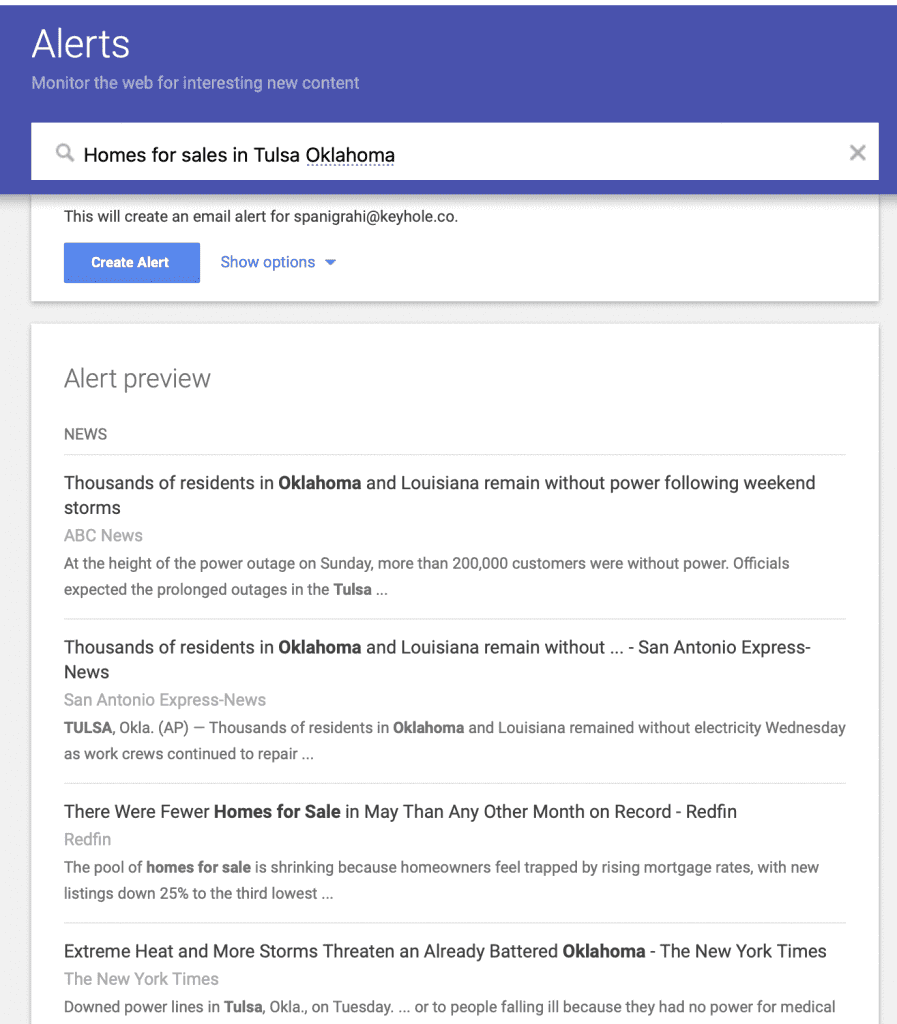 Once you enter the term, you'll get a sample alert preview before finalizing the alert, which we've highlighted in the image above. This will give you an idea of what information you'll get when creating alerts for this specific term.
Step 3: Click on "Show Options" to set your preferences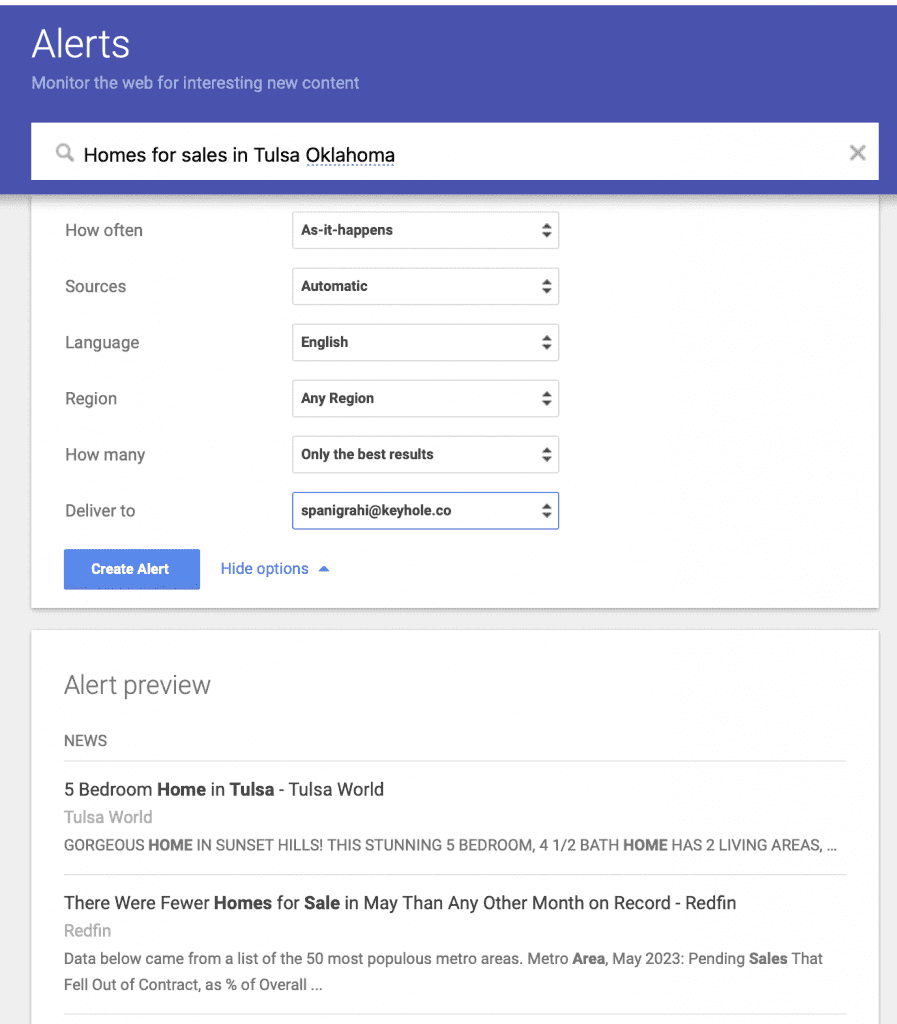 To set your alert preferences, click on the "Show Options" toggle menu toward the top of the page. This will open up another menu listing your options.
Here you'll set preferences like:
The frequency of your alerts
What sources you want to pull from
The language you want your results in
The region Google is pulling from
How many results you want to see
Whether you want your alerts delivered to an email address or an RSS feed
Step 4: Create your alert

Once you've set your terms and preferences, click "Create Alert," and you'll receive Google Alerts immediately. And that's it! You've officially created your first Google Alert.
Managing Google Alerts for apt tracking
Once you've created Google Alerts, it's important to manage them. Set up multiple Google alerts for maximum success.
To edit them, head to the main page, where you'll see the alerts you've made. Go to the alert you want to manage and click on the edit icon, which looks like a pencil:

This will open the same menu as when you initially set up the alert. You can refine and adjust your alerts by selecting the option you want to change and making a new selection.
Your options include:
How Often

As it happens
At most once per day
At most once per week

Sources

Automatic
News
Blogs
Web
Video
Books
Discussion
Finance

Language

Select from many world languages

Region

Any region
Select from specific regions all over the world

How many

Only the best results
All results

Deliver to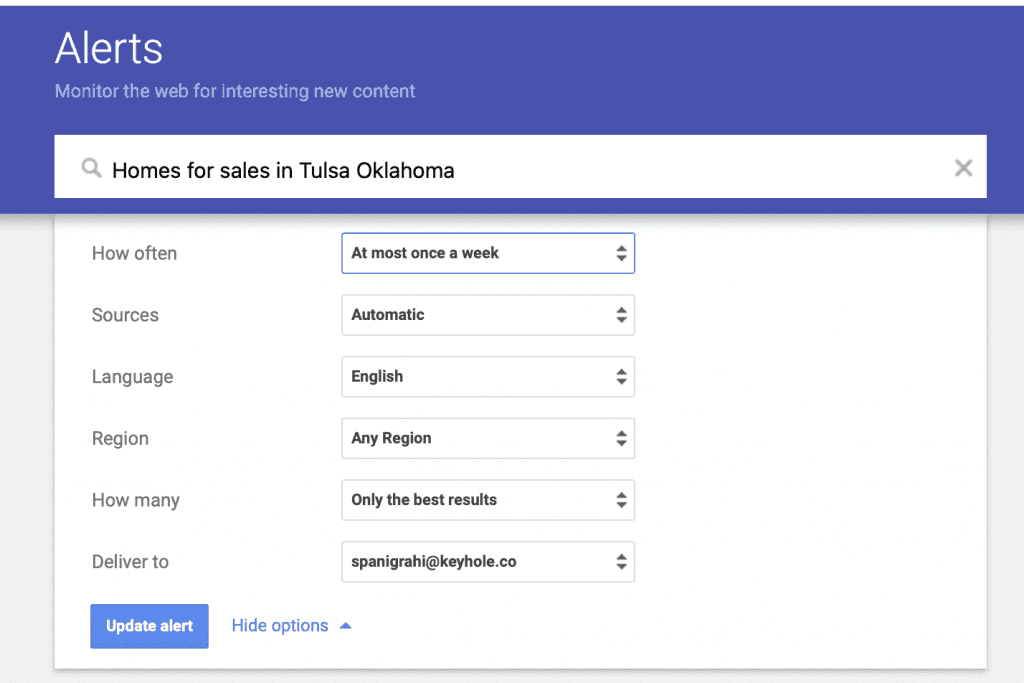 Once you make a change, click "Update Alert," as shown in the image above. There's also a Settings cog symbol at the upper right: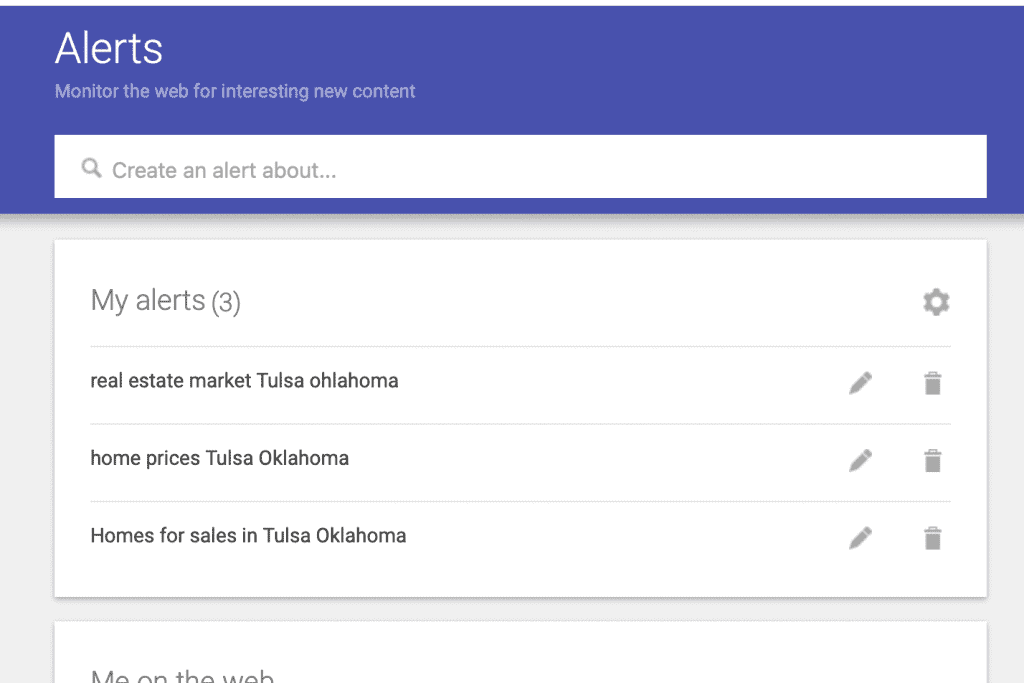 Click on that to decide when your alerts will come in and whether you want them all in a single email.
Optimizing Google Alerts for better results
To optimize your Google alerts for success, there are a few best practices you should implement.
These include:
1. Be specific with keywords
You don't want to create a broad search term that will flood your inbox with useless information. That's why it's better to opt for "Real Estate Tulsa Oklahoma" and not just "Real Estate."
2. Don't limit your alerts
Create many specific alerts to get a full picture of what's happening in your industry. Try using different modifiers to augment your results.
For example, try out something like "Tulsa OK Real Estate Trends," "Tulsa OK Real Estate Dangers," "Tulsa OK Real Estate Scam," and so on.
3. Use Google's filters
The filters under the Options menu are there for a reason, so use them. Set the region to your service area. If you want to filter out low-quality results, set your alert to show "Only the best."
4. Use quotation marks to combine terms
When setting the search terms for your alerts, anything you place in quotes will generate an exact match. So typing: "Tulsa OK Real Estate Market" will get results for that exact term as written.
But if you add words outside of the quotes, you can mix and match results.
Try something like "Tulsa OK Real Estate Market" tips, "Tulsa OK Real Estate Market" prices, "Tulsa OK Real Estate Market," strong, for example.
Advanced Google Alert techniques for beginners
With a little know-how, you can take your Google Alerts to the next level with some advanced techniques.
You can harness the power of these alerts for continued success in several ways.
These include:
Monitoring brand mentions
Your brand reputation is vital to your continued success. By setting a Google Alert for your business' name, you'll be able to capture any mentions and determine the general tone of the conversation.
If people are speaking poorly about your business, receiving an alert right away can help you devise an immediate plan to get out in front of it and curb any damage.
To monitor your brand mentions, do a general search for your brand name and create modifier searches.
For example, if you're trying to gauge how people feel about your brand, try something like:
"Brand" best
"Brand" great
"Brand" good
"Brand" bad
"Brand" worst
"Brand" awful
And so on.
Monitoring competitors
It's also important to see what people say about your biggest competitors.
For instance, if your competitors are getting a lot of praise, you need to know what they're doing right. If they're getting flack, you also need to understand why. Losing sight of your competitors could allow them to surprise — or worse — overtake you.
When keeping an eye on competitors, simply replace your brand name with theirs and add the same modifiers we covered in the bulleted list above. This will help you measure what the public has to say about your brand against what they say about your chief rivals.
Monitoring relevant topics
You can keep a close eye on your industry by tracking topics relevant to your business and customer pain points. By keeping this information top of mind, you can accurately forecast shifts in industry trends that'll help you stay ahead of the curve.
Here's a great example of how you can use Google Alerts to monitor your industry. For this example, let's stick with our real estate firm scenario.
In addition to using IDX real estate software to display the most up-to-date property listing data, Google Alerts information can be invaluable in helping real estate firms optimize their websites and marketing efforts to serve clients better and stand out from the competition.
By setting up Google Alerts for specific keywords related to their market, such as "homes for sale in [city name]" or "real estate trends in [state name]," real estate firms can stay up-to-date on the latest news and developments in their area while closely monitoring demand, competition, and potential lead sources.
Regardless of the industry you're in, by coupling Google Alerts with relevant brand monitoring tools, you can do your best to stay ahead of the competition and understand what your target audience needs most.
Conclusion
Google Alerts can be a powerful way to keep track of your brand, competitors, and industry. Consider experimenting with different search combinations and modifiers, applying various filters when needed to see what gets you the best results.
While Google Alerts is a valuable service, it's not a perfect solution. Currently, Google Alerts can't check social media conversations. That means you're missing out on mentions within these major platforms.
Keyhole's social listening tool can work seamlessly alongside Google Alerts to give you a more complete view of what the public says about your business throughout the World Wide Web.
Sign up for a free trial of Keyhole today to see just how effective it can be in broadening your view.
Author Bio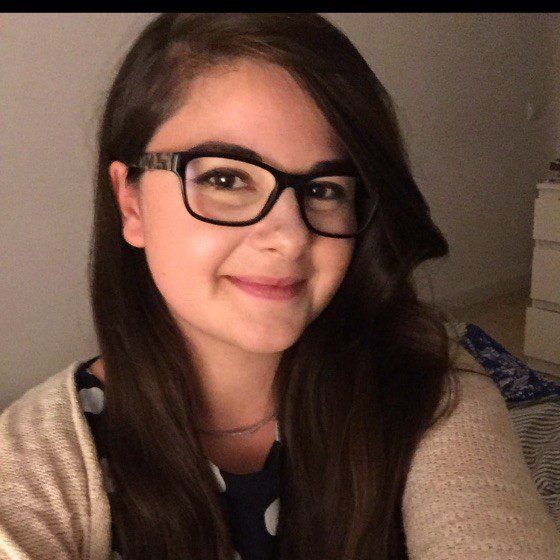 Ioana is a Business, Digital Marketing, and SaaS content writer for B2B brands. Born in Transylvania and raised in Texas, Ioana has been living the digital nomad life since 2016. From Barcelona to Puerto Vallarta to her new abode in the windy city of Oklahoma, you'll never know where Ioana will head off to next.
Related Articles:

6 Must-Know Types Of Competitor Analysis Tools With Top Recommendations
Ultimate Brand Monitoring Guide For Tracking Online Reputation
Frequently Asked Questions
1. How do I set up Google Alerts?
To set up Google Alerts:
1. Visit google.com/alerts
2. Enter the terms you want alerts for in the search bar
3. Review the sample alerts to ensure they'll be beneficial
4. Modify your search by clicking the options menu and changing your alert frequency, language, region, sources, amount, and delivery options
5. Click "Create Alert" to finish up
2. Do you need Gmail to set up a Google Alert?
To receive Google Alerts, you must have a Google account, which automatically comes with a Gmail address. That's where you'll receive your results.
Google Alerts don't work on social media. You'll need a social listening tool like Keyhole to monitor social media mentions.