Twitter's trends list catches the eyes of most users, making many social media marketers think: "How can I use these trending hashtags to my advantage?"
They generally require fast action, but there are audience-building strategies you can use when new or relevant trends pop up.
Grow your following by capitalizing on trending Twitter hashtags with these tactics:
Offer an Expert Opinion
When a topic trends that applies to your realm of expertise, sharing an informed opinion can help you stand out in a sea of generic tweets.
For speed's sake, you can do this through a series of posts.
You may find yourself in a news story as a result. It's common practice for reporters to embed relevant and interesting tweets in their articles, allowing readers to click your @username: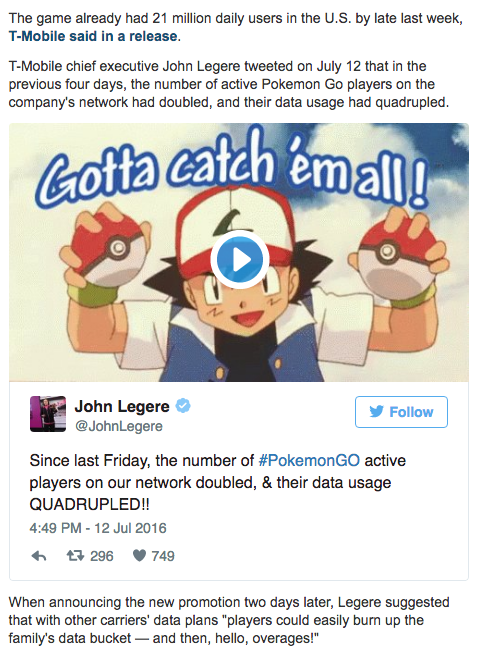 But when the trend recurs relatively often, you can create a campaign or long-form blog post around it.
Take WATERisLIFE for example.
The charity quickly grew its Twitter following by developing a campaign around #FirstWorldProblems – a frequently-trending hashtag that people use to complain about issues such as laggy Internet.
WATERisLIFE created a video called First World Problems Anthem, comparing problems in the developed world to those faced by people who can't access clean later:
The video went viral on Twitter and Facebook, drawing attention to the charity and its cause.
Join the Fun (After Some Research)
When trending hashtags don't explicitly pertain to your niche, contributing with clever or insightful tweets can still grow your follower count.
That's why it's normal to see many large brands contribute to seemingly-random topics. They typically get favourable results, too.
Denny's Diner is an example. When #CollegeIn5Words trended on Twitter, the restaurant chain furthered its reputation as a company with a funny social media presence. Take a look at this tweet: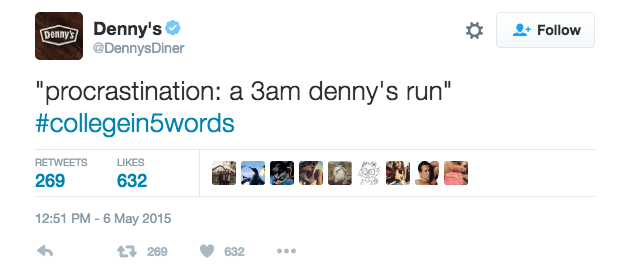 Although the engagement numbers show benefits, contributing to a trending topic without research can quickly backfire.
A 2014 tweet from DiGiorno Pizza is the clearest case of this happening.
Users posted #WhyIStayed to discuss their experiences in abusive relationships, in the wake of a video making its way online that showed an NFL star punching his fiancée.
The pizza brand sent this tweet before issuing a series of apologies:

Do your due diligence to avoid such mistakes, and you should see your follower count rise when joining these kinds of trending hashtags.
Participate in Chats that Trend
Don't hesitate to join trending Twitter chats, as thoughtful discussion can help you build rapport with new users – some of whom may turn into leads or dedicated content readers.
Some chats pertain to specific industries, whereas others are general enough to apply to many brands and businesses. They almost always follow a schedule, so you can get ready to contribute next time if you catch the tail end of one.
>> Click here for a directory of popular Twitter chats <<
When you spot a chat you want to contribute to, remember that the purpose isn't solely to interact with the host or moderator. Drive engagement by posting your own comments and replying to other user's posts.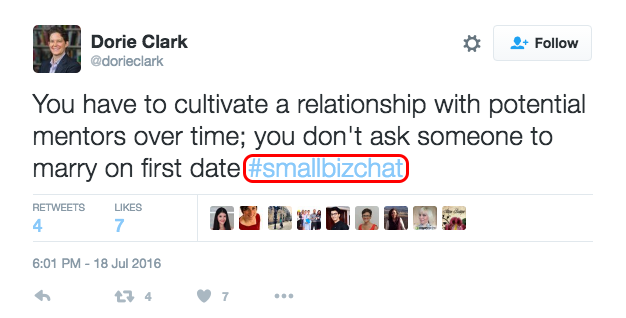 This way, you'll build connections with other participants while putting your profile in front of people who check out the hashtag.
Create a Hashtag Tracker to Study Recurring Trends
Analyzing hashtags that regularly trend can guide your posting strategy when it's time to contribute, helping boost metrics such as engagement and follower count.
Assume that a relevant hashtag trends throughout the afternoon each Friday. By tracking that hashtag with an applicable social media analytics tool, you can likely determine when peak posting times are and which types of tweets yield the most interaction.
For example, it's typical to see #Smallbizchat trend every Wednesday night as small business leaders discuss strategy and answer questions.
Monitoring and tracking the hashtag should help you address these sorts of thoughts:
Do questions or responses get the most engagement?

Does this depend on posting before or during the chat's highest activity points?

Are certain media forms, such as GIFs, linked to more engagement?
Give hashtag tracking a shot, if answering these questions appeals to you:
Tie Activity Across Channels
You can grow your overall social media following by participating in trending hashtags across platforms such as Instagram and Facebook.
This tactic generally applies to anticipated trends, such as ones based on sports and political campaigns. The Super Bowl is a prime example. Its yearly hashtag is popular on almost every network.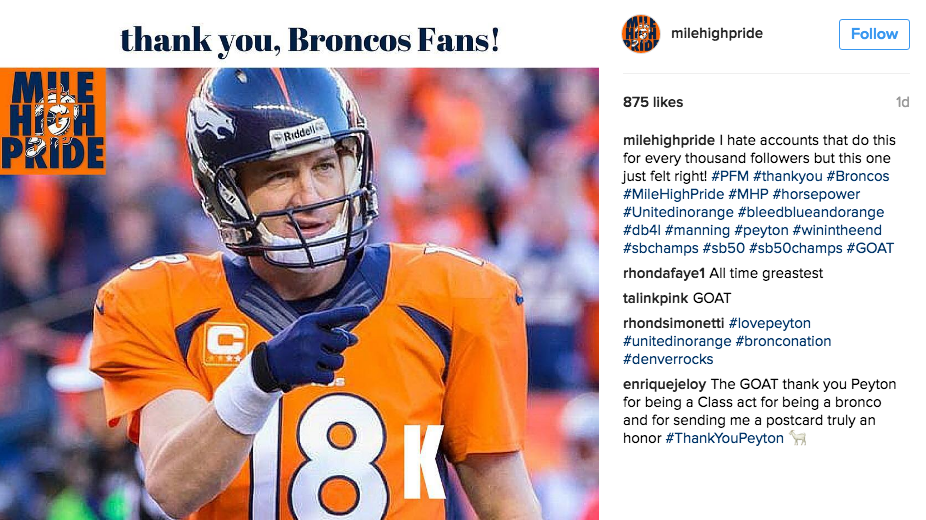 You can capitalize on these sorts of hashtags by running a contest across your main social channels. Reward users who follow you and post engaging, original content using the trending hashtag along with your brand hashtag – a concise and unique phrase that represents your business.
This should grow your follower counts, as consumers show their competitive sides.
Look to Qwertee – a novelty T-shirt company – for proof of a contest's effectiveness.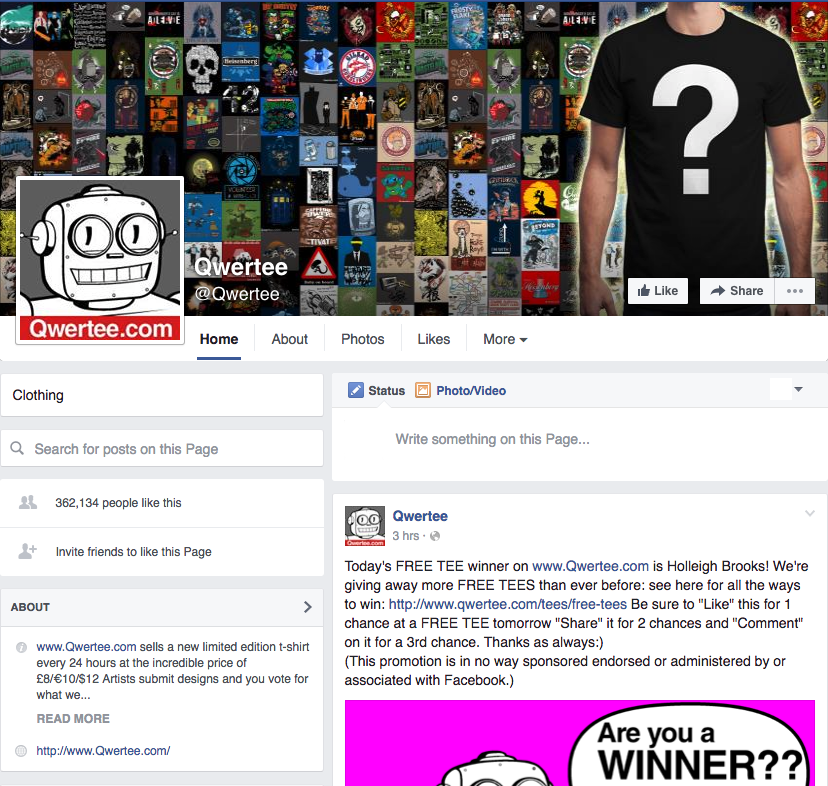 The business set a goal to reach 100,000 Facebook likes, but now has more than 360,000. It saw this growth by offering a grand prize of 30 free shirts, requiring people to like its Facebook page and submit their email addresses.
A contest's effectiveness will depend on the nature of your brand and the incentives it can offer, but it's just one way to take advantage of trends across different social networks.
Get creative – you may come up with a cross-channel tactic unique to your business.
Go Beyond the Default Top 10
You can change your trend settings to view other popular Twitter hashtags, applying these tactics to them to further develop your audience.
By default, you see "tailored Trends." This is a custom list that displays trends based on your location and who you follow.
Click the "Change" option at the top of the list. This will allow you to choose a specific city or region's trending topics.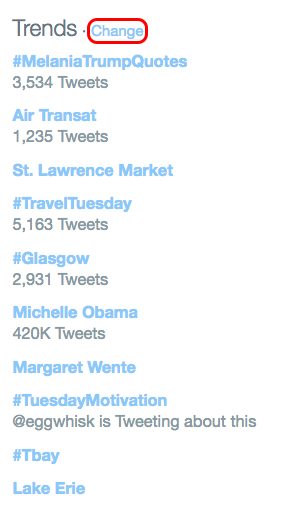 So, if you're a local business, you can keep tabs on your area.
News and international organizations can also benefit from this tactic.
By scanning trends in different locations, you can uncover more ways to interact with target market members in those locations. For example, you can participate in trending hashtags based on regional events.
You can return to "tailored Trends" at any time.
But going beyond the default 10 will open up more avenues to use follower-building strategies.
Final Thoughts About Using Trending Twitter Hashtags
In a sense, tweeting with a trending hashtag can give you a near-limitless audience.
That's because anyone who clicks on the trend link could see your post. If that post is witty, original or informative, the shares it generates will further boost impressions and comments.
These actions can, of course, attract more followers.
Social media marketers who closely monitor their Twitter feeds and audiences can certainly reap these benefits.
---
[testimonial_rotator id="3263″]
Keyhole is a real-time conversation tracker that provides keyword and hashtag analytics for Twitter and Instagram. Get started for free and search your brand below: