Hashtags don't just belong on social media.
It's not strange to see a commercial use a hashtag to stir conversation on Twitter and Instagram. Whether on TV or websites, brands in different industries are sharing their tagged topics to drive social media engagement.

Here's how three companies used different strategies to successfully promote hashtags in commercials:
1. #Ballogize
Company: T-Mobile
Commercial:
https://www.youtube.com/watch?v=eI8YZdejPKg
Overview:
Like every year before, Super Bowl 50 was a showcase for big-budget ads and creative commercials. Almost 30 TV spots featured hashtags, according to Marketing Land.
But T-Mobile stole the social show.
More than 40,000 users tweeted #Ballogize over a four-day span after CBS aired the commercial.
In it, Steve Harvey – the host of Family Feud and the latest Miss Universe pageant – explains why people switch from Verizon to T-Mobile.
Doesn't seem special, right? But there's more to it than an endorsement.
Why it Worked:
A. The Hashtag and Commercial Capitalized on a Viral Trend
T-Mobile's hashtag and commercial succeeded largely because it played off Harvey's Twitter infamy.
#Ballogize is a twist on "apologize." That's what Harvey had to do at the climax of 2015's Miss Universe pageant, less than two months before the commercial aired.
Awarding the crown to wrong contestant, he quickly had to strip her of the title and give it the real winner.
Twitter users didn't pull punches:
WE ASKED ONE HUNDRED AMERICANS WHAT'S THE WORST THING YOU COULD POSSIBLY DO AT A BEAUTY PAGEANT

— Langston Taylor (@langstonitaylor) December 21, 2015
Harvey was already a trending topic. By referencing his celebrity, T-Mobile tapped into an existing audience to fuel discussion around its brand.
B. They Used a Social Influencer
#Ballogize is an example of how influencer marketing, the practice of encouraging popular social figures to talk about a brand, can spur discussion on social media.
More than 90% of consumers trust earned media – word-of-mouth and recommendations from trustworthy sources – over all other types of advertising, according to Nielsen research from 2012.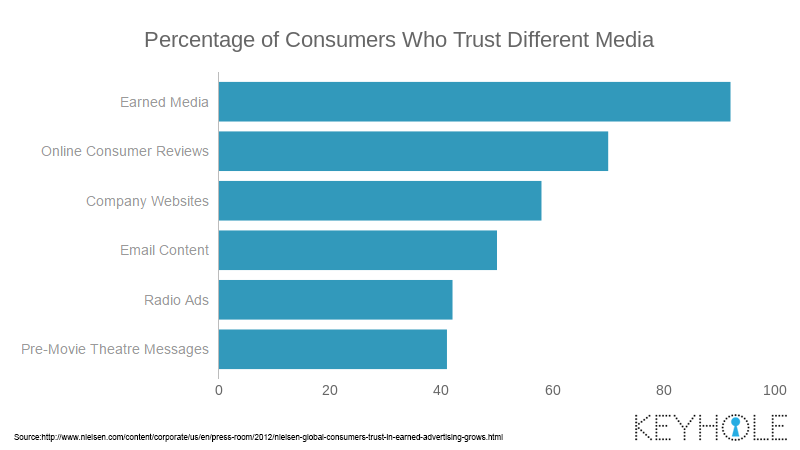 Along with the statistics listed above, a 2010 McKinsey study found that customers won through earned media have a 37% higher retention rate.
That's why using Harvey to deliver a simple message over a company spokesperson gave it more value.
The result was winning the title of one of Super Bowl 50's most popular hashtags.
2. #Clydesdales
Company: Budweiser
Commercial:
Overview:
The famous beer brand joined in Twitter in 2013 with this post, asking followers to name its newest clydesdale foal for the Super Bowl:
This year's #SuperBowl star? Our new #Clydesdales foal — and we need help to name it. Tweet us ideas via #Clydesdales. pic.twitter.com/knVsSyQp

— beer.eth (@budweiserusa) January 27, 2013
The tweet drew more than 60,000 suggestions, as people hoped their ideas would appear during Budweiser's big game commercial.
Ironically, "Hope" was the winning name.
But the Twitter debut was so successful, there ended up being a second winner:
Give a warm welcome to our two little #Clydesdales foals. Thanks for all your name ideas — we couldn't pick just one. pic.twitter.com/CTNtSZWc

— beer.eth (@budweiserusa) February 5, 2013
As well as building a commanding social media presence, Budweiser earned an enviable amount of press coverage. Publications such as Adweek and Business Insider covered the hashtag and commercial campaign.
Why it Worked:
A. The Hashtag and Commercial are Calls-to-Action (CTAs)
Budweiser's CTA hashtag – a tag meant to encourage the online community to perform a certain action involving your brand – demonstrates the power of CTAs.
They don't directly apply to hashtags and commercials, but consider these statistics:
Along with #Clydesdales, the data show that telling people to take action will typically work.
A more recent example is #BellLetsTalk of a CTA hashtag. Made by a Canadian telecom giant, tweeting with the hashtag will cause the company to donate five cents to mental health research.
In both cases, the CTA hashtag encouraged participation by helping users:
Contribute to a clear cause. Participating in a highly-followed contest or raising funds for mental health research are vastly different initiatives, but both give users clear goals to work toward.

Earn a sense of participation. If your friends, and the bulk of the Twittersphere, are tweeting about a certain topic, it's natural to do the same.
3. #MyCalvins
Company: Calvin Klein
Commercial:
Overview:
Almost 180,000 photos of users posing in Calvin Klein underwear have made their ways onto Instagram, says an October 2015 Racked article.
#MyCalvins references a celebrated 1981 ad that stars a 16-year-old Brooke Shields. Her only line is: "You wanna know what comes between me and my Calvin's? Nothing."
Coupled with new commercials, the hashtag campaign debuted in 2014. It has, from launch, persuaded customers to celebrate their undergarments and denim jeans.
But there are factors beyond nostalgia and a CTA that fueled the hashtag's success.
Why it Worked:
A. The Hashtag and Commercial Used Social Influencers
Calvin Klein's current brand hashtag takes influencer marketing further than T-Mobile's #Ballogize.
Not only do Justin Bieber and Kendall Jenner play roles in the campaign, but so do a group of popular fashion bloggers and personalities.
Some of the most popular Instagram posts are from:
By increasing its spread of earned media, the brand can earn the trust of more members within its target market.
B. They Involved a Brand Name
Using a brand name, or at least part of it, as a hashtag is a deceptively simple but effective tactic.
A Super Bowl 47 study by sysomos, a social media monitoring software company, revealed that the most-tweeted hashtags were brand names. Users tweeted #Doritos more than 33,000 times and #CalvinKlein – as part of a separate campaign – almost 30,000 times.
GoDaddy's #TheKiss was a distant third with less than 17,000 tweets.
The data is limited, but shows the effectiveness of simple and relevant hashtags. Especially when challenging other brands for social supremacy within a single audience.
C. They Used Sex to Sell
#MyCalvins brings up the cliche that sex sells. But research shows there's truth to it.
According to a 2012 University of Georgia study that looked at more than 3,000 marketing materials:
People are hard-wired to quickly notice sexually-relevant information

27% of ads published in 2003 contained sexual imagery, up from 18% 20 years prior

Advertisers have used sex to successfully sell products related to alcohol, banking, hygiene and more
Driven by images of underwear-clad models, #MyCalvins is clearly centred on selling through sex:
https://www.instagram.com/p/BBOJBw8xC3a/?taken-by=calvinklein
https://www.instagram.com/p/BBLyahoxC2A/?taken-by=calvinklein
Given its success, the hashtag and commercial campaign may even be a model to study for selling through sex in the social media age.
There are more to these hashtag campaigns than sticking a tagged phrase onto the end of a commercial.
The ads and campaigns each use proven marketing tactics, including:
Viral trend references

Influencer marketing

CTAs

Brand name usage

Sex appeal
Even when not backed by commercials, the hashtags you create and promote can benefit from these lessons.
---
Keyhole is a real-time conversation tracker that provides keyword and hashtag analytics for Twitter and Instagram. Get started for free and search your brand now.