A number of you use Keyhole to track Twitter contest participants, so we wanted to make sure you're armed with all the necessary knowledge to make your campaign a success.
Twitter hashtag contests are an awesome way to build strong relationships between your target audience and your brand. But these contests have important rules as well, which need to be followed. Otherwise, not only can your contest hashtags can be removed from search results, but participant accounts can be deleted altogether!
Here's a quick infographic about Twitter contest rules to keep in mind.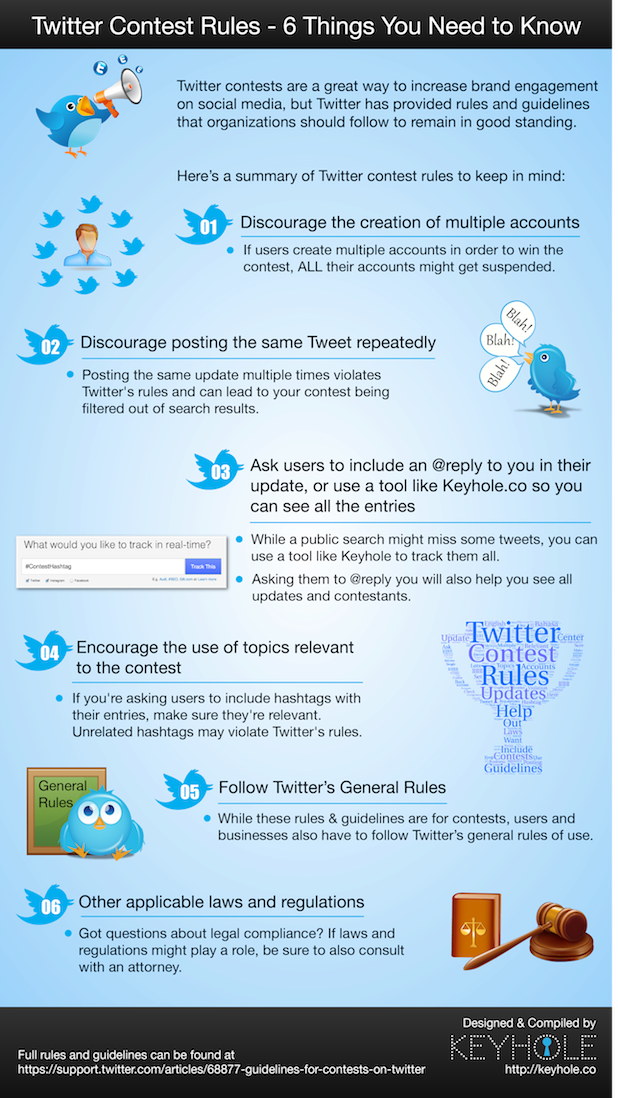 In summary:
Discourage the creation of multiple accounts by users, or risk all their accounts getting suspended
Discourage posting the same Tweet repeatedly, otherwise your contest hashtag may be filtered out of Twitter search results
Ask users to include an @reply to you in their update, or use a tool like Keyhole.co so you can see all the entries. While this isn't a 'rule', it will certainly help you with your task of collecting all posts

If participants are including other hashtags or keywords, encourage the use of relevant ones

While these are contest rules, Twitter's general rules can't be ignored. Make sure they're followed as well
Many jurisdictions also have laws & regulations around online rules. If this is the case, make sure you consult a legal advisor or attorney as well
These rules are described further by Twitter on their contest guidelines page.
So there you have it. Hope it helps with your campaigns, and let us know if you have any questions.
Cheers!
Saif
---
Keyhole is a real-time conversation tracker that provides keyword and hashtag analytics for Twitter and Instagram. Get started for free and search your brand.