According to Euromonitor International report, emerging markets will account for 65% of global economic growth on average, up through 2020. If you're working in corporate, I know you know Emerging Market is a big red checkbox on the agenda.
Emerging markets are complicated. And as if that's not enough, this is a game that needs speed.

Domestic players are eager and hungry. If you don't do it quickly, they will. For instance, Wahaha, a beverage manufacturer based in Hangzhou is now the biggest threat to global players like Coca-Cola and PepsiCo in China. They have a  $5.2 billion business, cultivated by targeting rural areas. 
But mere will-power & heavy capital isn't going to cut it. Multi-nationals are failing at capturing market shares in emerging markets. We see this happening again and again.
"Multinationals have been slow to understand consumers outside Europe and North America: Baseball bats were met with amusement in soccer-loving Argentina; gardening tools flopped in Latin America's yardless neighborhoods. Unilever, having established its Ala powder detergent as a leader in southern Brazil, was unable to build a strong position in the northeastern part of the country, where women wash laundry in streams and prefer bar soap for the task. Procter & Gamble's Always feminine hygiene line, which had done well in the United States, hit a wall in Mexico, where women did not like the product."

There are 4 critical components of successful emerging market penetration.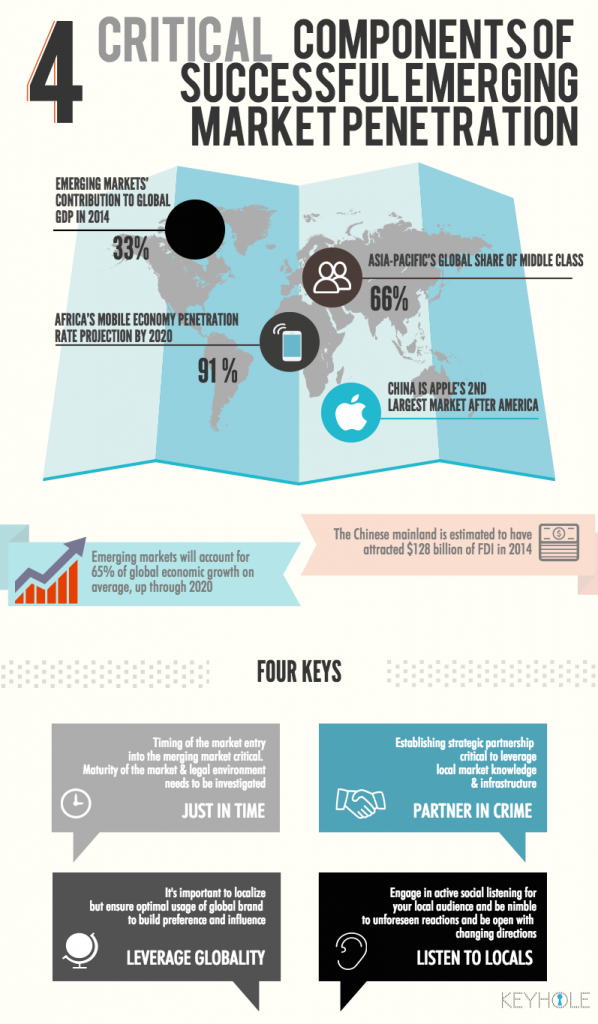 4 CRITICAL COMPONENTS OF EMERGING MARKET PENETRATION
#1 Just In Time
Timing is critical in determining the success of a company's market entry into an emerging market. PEST analysis that evaluates the Political, Economic, Social and Technological factors of the market is critical. Case studies of multi-national brands entry into emerging markets have shown the environment arguably have more to do with success than the company's internal factors.
#2 Perfect Partners in Crime 
You can't do everything yourself – especially in a new environment. Language, cultural, and legal barriers are best mitigated with a partner who gets it intuitively. Hire internally, collaborate, or out-source, make sure your brand has a reliable and knowledgeable partner enthusiastic to sail the ship together.
#3 Leverage Globality
Being a multinational brand means you have resources local companies don't – capital, knowledge, human power, technology, brand equity – you name it. Make sure your local strategy optimizes on your strengths.
Develop products, customer service, and marketing based on what your local customers want. Listen to your customers in your local region and give them what they want.
To learn exactly how these four keys were leveraged to bring success, read real-life case studies below:
---
Keyhole is a real-time conversation tracker that provides keyword and hashtag analytics for Twitter and Instagram. Get started for free and search your brand now!