How many times do you check your email everyday?
A study done by the University of British Columbia shows that on average we check our emails 15 times a day.
One of the most effective forms of direct marketing is, without a doubt, email marketing.  According to statistics from the State of Marketing, 93% of B2B marketers use email marketing. It has, indeed, become the most critical element of the marketing mix.
*2015 State of Marketing, Web Marketing 123
How can you improve your rates (Open rates & CTR)?
There are four key email marketing tactics that will help you penetrate the market.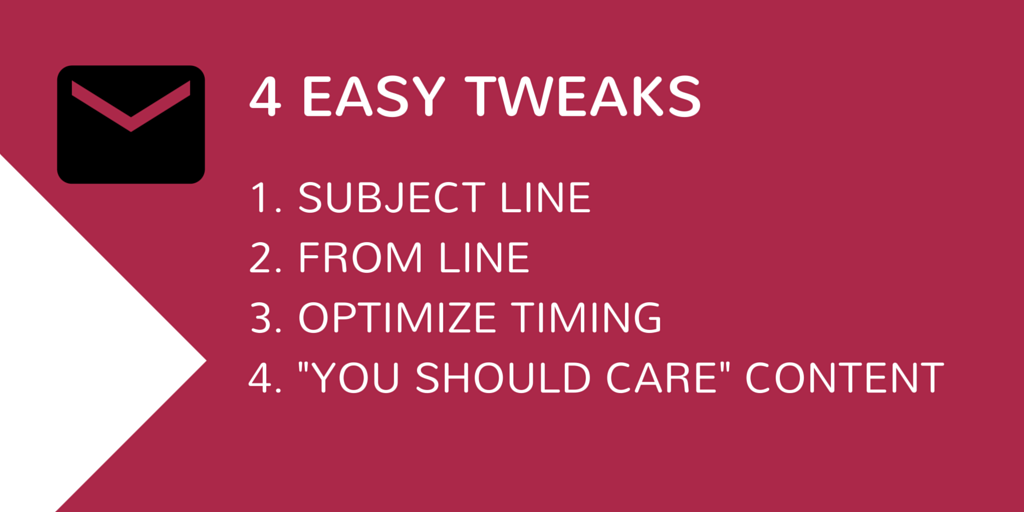 The Subject line is your first impression! Start the subject line with a dynamic verb and highlight a reader benefit. It works best when you can create a sense of urgency!
Subject lines or titles are SUPER important in open rates! Research shows that 35% of receivers decide to open if stimulated by an eye-catching title while 69% decided to report spam based on subject lines.
A quick tip for building an effective email marketing plan is to keep the subject line personalized and concise ––less than 35 words. Also, B2C business should avoid certain words like "sales" or "free" in subject lines because they have higher chances of being marked as spam.
How can you personalize subject lines? Address readers by their first & last name! You can also use email subject line generators for quick inspiration. 
      From line shows your professionalism. From line can often be overlooked but it is one of the important features. Try using the name of your brand or a well-known name of someone from your organization.
When sending emails to current or potential customers, the "from" line is also important. You should avoid using personal email accounts like Hotmail.com or gmail.com and opt for business e-mail address to demonstrate professionalism Surprisingly, 73% of people click "Report as Spam"  solely based on the "From" line. If you are writing an email from your personal account, it will increase your chances of being tossed in the trash can..
      Timing is everything
People say timing is everything – it sure makes a difference in email campaign as well. When is the best time to send an email that will increase your open rates?
According to Mailchimp, Friday is the biggest day for opens and clicks!
Let's take a look at the most popular times during the day for people to open the emails.

Based on Crowdspring's study, subscribers are most likely to open after 12 pm and are most active from 2-5pm.
However, these are just industry standards. Your open rates will depend more on what you offer and which industry you are in.
So, despite the benchmark times, test and measure what works best for your business. In that matter, you may conduct A/B testing to identify patterns and trends specific to your audience and industry and increase the open rates of your transactional emails sent at different times.
      Powerful content increases CTR! Lead the message body with personal benefits and ask a question of "Why should they care?"
After settling the nitty gritty to make sure your customers don't leave upon first glance, work on your content ––the real message you wish to get across. The message body is just as important, if not more important than the subject line to boost your rates. What drives traffic on your web page and increases click-through rates is determined by how well you execute your message body.  Here are  four tips to help you create content that will impress your readers.
TIP 1: Remember to place the most important copy at the top of the email,  also make sure it's easy to read on a mobile device. The message should be short, crisp and scan-able.
When pushing out an email, it is best to stick with one topic. If there is too much information on too many topics, readers will get confused.
Here is an example of a well-crafted email from KISSmetrics with simple but informative content to spark your curiosity to get you to click!
TIP 2: BUILD a copy to SELL the call to action
Present a call to action early and embed them in the message. In fact, 6-10 links in an email will generate the greatest number of clicks. The call to actions should contain direct links to the landing page of your website including other specific pages.
Here's an example of a clear call to action:

TIP 3: Make use of graphics! VIDEOS, charts and images!
A picture is worth a thousand words. Using graphic will help customers visualize your products or services. Make sure the images are relevant to your content and are not just random stock photos you added because they looked pretty.
Why should you use videos?
Videos in email marketing increase click-through rates by 96%.
Tip 4: Lead Email + Social Media trend, leverage social media with email marketing!
The percentage of marketers who use social network sharing buttons in their emails are increasing every day. According to Constant Contact, email marketing that include a social sharing option generates 30% more CTRs than emails without.
When pushing out an email, try to include direct links to your social media posts and have the readers engage with your brand right away.
For example, send out an invitation email to bring people back to your social media account. Having email opt-ins will help your business increase the conversion rate exponentially by generating a list of qualified leads. 
Read: How to leverage social media to amplify live events
There you have it. Now, implement, test, and measure!
And one more recommendation – for a successful email marketing campaign, integrate email authentication protocols such as DKIM, DMARC, or SPF records to protect your domain from phishing attacks and spam.
The three most important metrics to measure email marketing success are click-through rate, conversion rate, and open rate.
How is your business doing email marketing?
80 billion emails are sent per day, and 90% of consumers check email at least once daily. To conduct effective email marketing, you have to test – measure – change.  A well-designed email marketing campaign can generate impressive returns. 
---
Keyhole is a real-time conversation tracker that provides keyword and hashtag analytics for Twitter and Instagram. Get started for free and search your brand.