KFC lost part of its market share in the recent years in China, but their success in the Chinese market is legendary.
KFC entered the Chinese market in 1987, and it's now the largest restaurant chain in the country, with a total of 4,563 restaurants. KFC controls as much as 40 percent of the Chinese market share, while McDonalds, far and away the most popular fast food restaurant in America, controls only 16 percent. There are four critical success factors.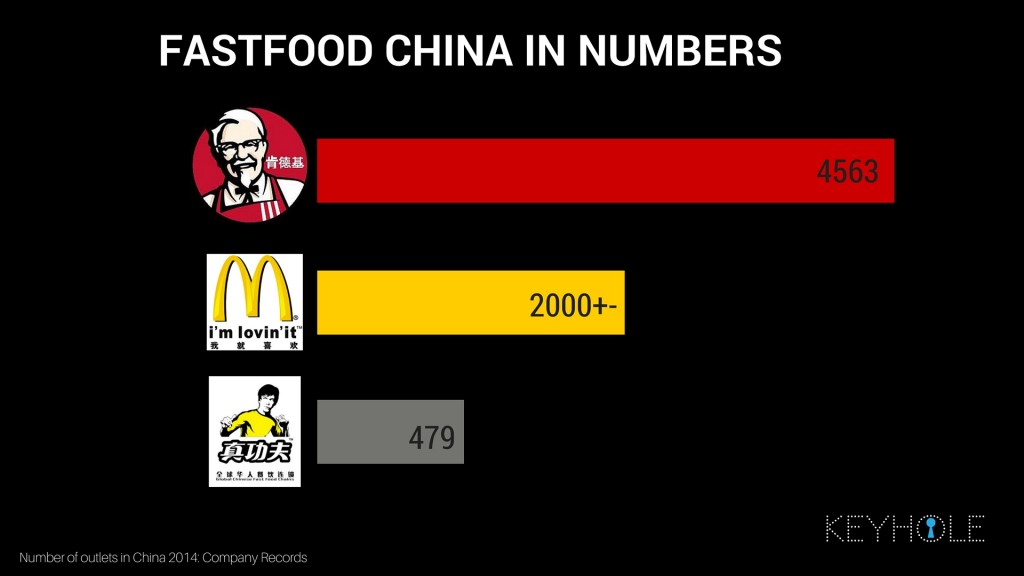 #1 JUST IN TIME
KFC was a market leader of North American fast food brand to enter the market in 1987. Because they were so new, they stood out. Many customers at the Beijing flagship restaurant "spent hours talking to each other and gazing out the huge glass window that overlooks a busy commercial street—thereby demonstrating their sophistication to the people who passed by."
When they began, the food wasn't the reason Chinese went to KFC. KFC was new, novel, and modern. Top-notch customer service and clean environment (which was rare for mid-priced restaurants back then) lured them in.
Political and sociological underpinnings were also critical to KFC's success.
Let me give you a condensed history of China's recent economic reforms.
China was a closed economy until late 1978. Government decided to loosen the control of the economy and encouraged Foreign investment, hence opening of Special Economic Zones. Consequently, China's economy grew 10.2% in the 1980s annually, and by 10% in 1990-2001.  To give you a bench mark, US GDP grew by 3.6% in 1992.
People were now richer, which meant consumption patterns were changing. From 1987 to 1992, consumer's disposable income tripled. This meant higher expenditures in non-staple food items, such as KFC. When KFC arrived in 1987 beside Tiananmen Square, China's population was looking to the West with anticipation.
Internally, it was also "Just in time" for KFC. The company already had experienced failures in Hong Kong and Taiwan, which meant they were more ready for China. "KFC's early failure in Hong Kong and Taiwan served as valuable and inexpensive lessons in preparation for its entry into China," author Liu says.
#2 PERFECT PARTNER IN CRIME 
The 'Taiwan Gang'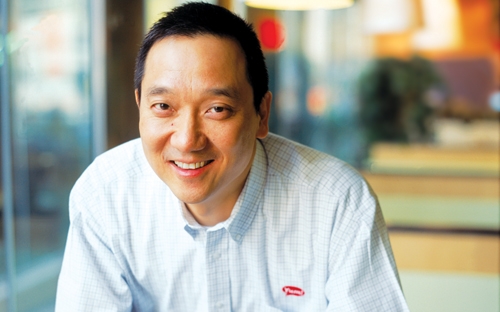 Local partners are a common strategy for Multi-national brands when entering a new market. KFC went a step further and created a local team internally. KFC China's first leadership team were all from Taiwan. Though different in nationality, they share a common language, parts of history with huge overlaps in culture. The leadership team were Western-educated, but "got China" intuitively. Coined as the "Taiwan Gang" by Liu, members of this  KFC Chian "gang" knew the industry, the culture, and the global-standard of multi-nationals. 
" According to Liu, the Taiwan Gang made and implemented China-appropriate decisions earlier, and more powerfully, than most of their competitors, while being sufficiently globalized to capture that aspect of competitive advantage. The index cites 25 references to McDonalds—Liu clearly thinks the Taiwan Gang may take credit for the whuppin' KFC applies daily to the Golden Arches in the Middle Kingdom."
Asian Review 
Those employees were also key in opening up supply lines to allow Yum to reach Chinese locations out of the reach of rival food companies run by overseas managers.
#3 LEVERAGE GLOBALITY
KFC, unlike most fast-food chains, had company-owned expansion model over franchising. 90% of Yum outlets in China are company-owned compared to only 12% in US  and they were able to do this because of the backings of their umbrella corporation. This was a risky decision, but a smart one nevertheless.
Franchising in China during their entry period would have placed them in a vulnerable position towards exposing their business intelligence and know-hows as legal protection of IP was very loose back in the days. Also, centralized purchasing allowed them to reduce cost and gave larger share of outlet profits. Centrally owned also meant quicker adoption of radical changes to menus which ensured regionally diverse offerings.
#4 LISTEN TO LOCALS 
KFC is famous in North America for  Colonel's strict recipe policies. This is far from KFC China's strategy. KFC China has a set of 'classics' that are consistent globally, but many of the items are only available short-term and highly customized.  For instance, breakfast menu offers both Chinese and American offerings such as burgers to congee. Thorough understanding of local culture is demonstrated via their advertisements. Many of KFC's advertisement incorporates extended family and idea of collectivism, which is a strong cultural element that resonates with many Chinese people.
KFC also clearly understood the "4-2-1 indulgence" – four grandparents and two parents indulging one child – a consequence of the long-held one-child policy. The parent generation grew up with Cultural Revolution (1966-1976). To ensure their children live a better life, they go to lengths to provide for their children. Today, nearly half a family's income is spent on its children.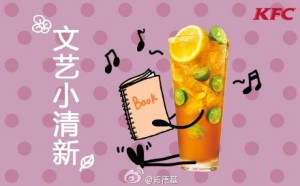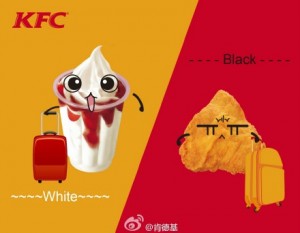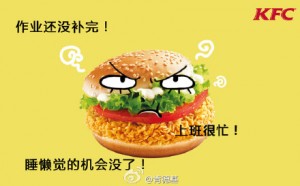 Digital posters from KFC China Sina Weibo, which is a Twitter equivalent of China
KFC leverages 4-2-1 mentality:
Their print advertising and pamphlets promote the KFC kid package by claiming the rich nutrition necessary to children's development.
Combos for kids employ toys as selling points.
Employees would take care of the children on the playground
At specific time in a day (i.e. at noon) female employees nicknamed Sister Qiqi would teach children present to dance or sing English songs.
In Shanghai, KFC heavily promoted birthday parties and hosting children's birthday celebrations have become a tradition in KFC.
KFC has built up its public image by sponsoring education.
A 10-year-long project beginning in 2002 annually offers 5,000 renminbi (602 US dollars) for each poor student, who can apply for the aid year by year from the first term until graduation. The stipend totaling 38 million renminbi (about 4.5 million US dollars) is the largest commonweal fund jointly set by the China Youth Development Foundation and the multinational company in China so far.
Read other case studies
---
Keyhole is a real-time conversation tracker that provides keyword and hashtag analytics for Twitter and Instagram. Get started for free and search your brand now.