A few weeks ago, we spoke to a number of Keyhole users to learn about how they use the product and what changes they'd like to see.
By far, the #1 piece of feedback we received was that people wanted the ability to set custom date ranges within trackers. Although Keyhole provided the ability to select preset date ranges (e.g. Last 7 Days), this didn't help users with time-boxed campaigns.
Quick background on why only preset date ranges were offered

A lot of Keyhole's analysis requires data to be compared to previous time periods. For example, it's impossible to calculate unique reach without first analyzing past tweeters and finding the overlaps. This type of analysis takes a bit of time, so each custom date range analysis would slow down user experiences. Instead, we pre-analyzed certain date ranges so that the page would load quicker.
But of course, a number of people use Keyhole for time-boxed campaigns, and so it's possible that none of the preset date ranges would provide them the window of data they're looking for. We get it.
Introducing the ability to filter by custom date ranges
After this feedback, we knew we had to make the change. So for the last few weeks, our team has been working to rearchitect the code and make custom date ranges possible!
Now, when you click the date range field, you'll see the ability to select start and end dates for your tracker: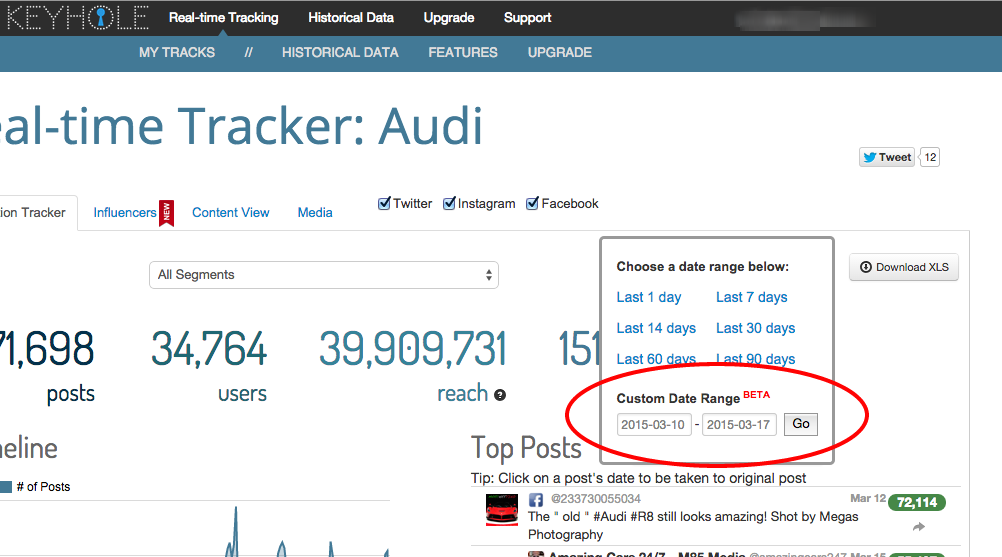 Hope this helps with time-boxed tracking, and please keep the feedback coming!
Some notes and caveats:
Only dates that your tracker has data for will be available in the fields
For now, we're still considering this feature in BETA. So drive carefully and please forgive any issues while we work out the kinks.
If your tracker has more than 100,000 posts for the selected date range, the system may not return data given the amount of analysis required. For now, this feature is only available for smaller trackers. Please select a narrower date range or a range with less data.
---
Keyhole is a real-time conversation tracker that provides keyword and hashtag analytics for Twitter and Instagram. Get started for free and search your brand.