Love it or hate it, social media is here to stay. Platforms like Facebook, Instagram, and Twitter have become so integral part to our daily lives, that they've changed the way we meet, communicate, and network.
Social media has also changed the way products and services are marketed. This sets a new law for businesses and social media marketers alike: if you aren't on social, you're missing out on a significant portion of your market.
Traditional marketing may not be on its way out just yet, but the average business won't go far without making its presence felt on social. Over a billion people use Facebook on a daily basis, and over 320 million people are on Twitter; frankly, there is no good reason why a modern, growth-oriented business should ignore this.
Of course, reaching people on social media is easier said than done. Anyone who's managed the social media accounts for a brand or business will gripe about content planning, audience targeting, ROI tracking, and the like. There's a lot of hard work, strategy, and luck that goes into the process–miss any one of the three, and you're in for a rather bumpy ride.
Fortunately, in the same way that developments in technology gave us this complex slate of opportunities, advancements in software and analytics have made it simpler for interested parties to turn it to their advantage.
We've put together a guide to the industry's three most important social media marketing tools. Reading through this article, you'll learn about the different kinds of tools, including their respective strengths, weaknesses, use cases, and requirements.
Learn to integrate these into your business and you'll become the social butterfly everyone wants to follow.
1. Managing Your Content: Hootsuite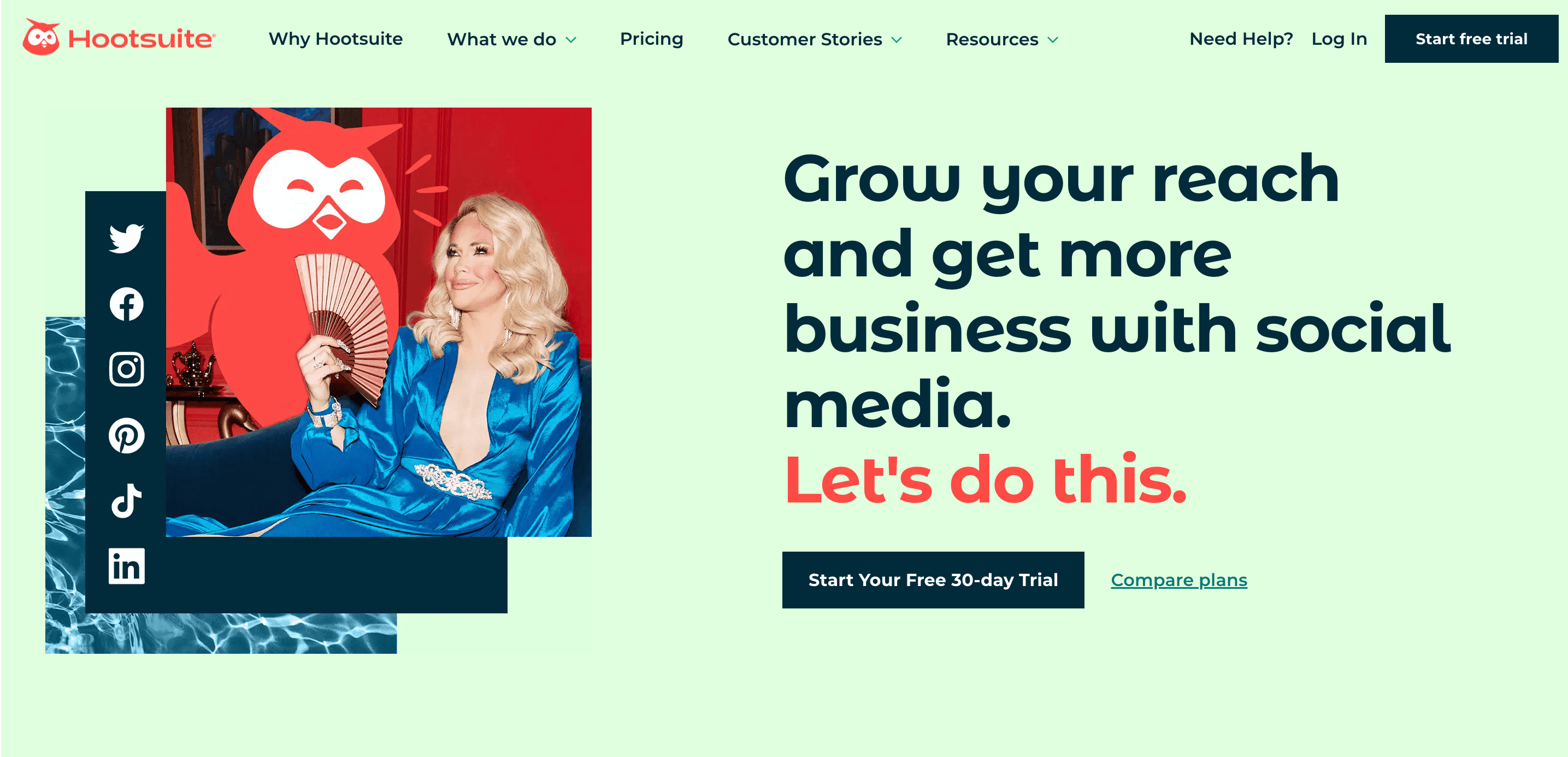 Juggling Profiles
Much of the appeal behind social media marketing comes from the fact that you can reach a extremely wide base of people with minimal effort. If you play your cards right, a great marketing effort run on a number of platforms can generate thousands (even millions) of leads.
Naturally, this means having to set up accounts on Facebook, Twitter, Instagram, LinkedIn–anywhere your customers and clients might be hiding. With this comes the trouble of scheduling posts on each of those platforms.
Since Facebook marketing is a completely different animal from Twitter marketing, LinkedIn marketing and so on, there's a big challenge in keeping your messaging organized and pushing a steady stream of best-fit content.
Juggling multiple profiles can be unwieldy, and this is where Hootsuite comes in.
At a glance, Hootsuite is a powerful tool for social media management, or the task of keeping your brand's social media accounts active and engaging. It allows users to post on each of the major social media platforms without having to switch between tabs or devices. It's a must-have app for many social media marketing professionals and business owners alike.
More Effective Posting
Figuring out how to package content for posting, when to post, and who to post for is the hardest part of social media marketing. Anyone can put together a compelling sales pitch given the time, but mastering the art of delivery takes hard data and experience.
Hootsuite's auto-schedule function takes care of timing for you. By scheduling a post or slate of posts for release when your followers or target audience are most active, the tool gives your marketing a data-driven bent, without any stress on your part.
It also has a series of analytics dashboards built in, and these can help you base your marketing decisions on hard data. You'll find scores of guides online on using analytics to drive your marketing efforts, so we won't go into detail here.
While Hootsuite doesn't specialize in analytics, these are a welcome bonus on top of Hootsuite's ultra-convenient base features. If you're after a strong analytics tool, skip ahead to the next tool on this list.
Smarter Community Engagement
The ultimate goal in social media marketing is to establish and leverage a strong community of people who are aware of your brand, and interested in what it has to say. By setting up a clear channel for communicating with your audience and keeping them engaged, you build stronger brand equity and capture more customers over time.
It takes a clear head and a plan to keep a crowd interested. The time and breathing room this frees up for you or your social media marketer will go a long way towards building a dynamic brand persona over the 'net. When it no longer has to fuss over minor details, content planning, or post scheduling, the strategic mind has a much easier time seeing the bigger picture.
Expansion and growth are only possible when you have a steady stream of leads (check), and the mental bandwidth to pursue it (check).
How Hootsuite Pays for Itself
Wasted time is a major cause of low productivity in the workplace, and when you're wasting time, you're wasting money.  Hootsuite's track record of saving the average business hours of labor leads to more cost effective marketing–meaning you get to compensate a social media manager for fewer working hours in a day, or have more productive time of your own as a manager or business owner.
Don't take your opportunity costs for granted. Aiming for efficiency is among the many things an entrepreneur or professional can do to maximize their earnings. Hootsuite might not nudge you into developing the discipline of efficiency, but it certainly makes it easier to appreciate it.
The second major benefit you'll notice if you choose to pay for Hootsuite is that you'll have a far easier time optimizing your marketing. Having a neat and insightful set of data helps you (or your marketing team, if you have one) run better, more impactful ads and ship them out to the right feeds at the right time. If you know your high-value market segments, for instance, then targeting them should be a much simpler feat.
Finally, Hootsuite gives you access to a wide variety of apps and extensions tailored to fit the gamut of social media marketing needs. Users can connect their social media feeds to Spotify, upload images directly from their Dropbox accounts, run their email marketing campaigns from the Hootsuite dashboard, and much more.
Verdict: Worth Giving a Hoot
It's clear that Hootsuite put a lot of work into planning their tool's features. As a result, they've produced the leading social media management platform on the market, giving marketers the one-stop-shop they've badly needed.
2. Listening to Your Audience: Keyhole

#Tracking
Successful social media marketing demands its practitioners stay plugged in. Trends are everything when it comes to planning content releases: you can either give the people what they want, or surprise them with something innovative. You absolutely cannot blast mediocre content out into the world.
But business owners and marketing professionals are busy people. Nobody has the time to navigate the fickle winds of Facebook, or deep-dive into the latest trends on Twitter–and even if they did, we guarantee there are far more lucrative things to do.
Keyhole changes the game by turning audience research into a simple and intuitive process.
Keyhole is world's the top company for hashtag research. Users can reference live analytics reports on the success, engagement, and reach of the hashtags your business uses to generate buzz and build brand recall. You or the marketers you've hired can track vital statistics like reach and engagement rate.
Rather than wasting whole afternoons sifting through Twitter feeds and running searches, you can skip straight to seeing the numbers that matter to your business and plan more powerful campaigns from there.
And since joining a conversation is easier than (and often just as valuable as) starting one, Keyhole lets you listen for hashtags  that are already popular among your target market. This allows you to strike while the iron is hot, and prove that yours is a brand that speaks their language.
#Reputation
The ultimate sign of a strong social media marketing effort is the value of your brand's account when compared against that of a competitor's. It makes sense: whichever brand wins the most loyalty and makes the biggest splash wins the largest share of the market.
When competing in the social arena, knowing is half the battle. The brand that has a better idea of its reputation has the advantage: it can act quickly to recover dwindling loyalty, and cement its hold over existing fans by running the kinds of content that net engagement.
Likewise, it pays to know what your customers are saying about you–but there's no way you can track down every mention of your brand across the big social media networks, individual blogs, and popular forums like Reddit without the right tool.
Keyhole has built a global reputation around social listening, which is why it leads the pack in terms of keeping businesses aware of their social media reputations.
Its tool for Social Media Account Analytics and Reporting keps businesses in the loop regarding their performance on the Big Three: Facebook, Instagram, and Twitter. Keyhole offers a massive advantage by comparing profile activity and success against any number of competitors on the various platforms.
Even better, the tool allows businesses to track their competitors' strategies in real time, and gather the best practices from other key players in their respective industries.
Keyhole's analytics range from broad to granular, with data flowing in about the performance of whole accounts, down to individual posts. All told, we highly recommend using Keyhole to monitor every level of your social media marketing operation. Making both fine and sweeping comparisons is a surefire way of staying ahead of the competition.
#Results
Social media analytics opens up a wide range of possibilities for businesses and marketers alike, but figuring out your next move after being shown the numbers can be tricky. Whether it's the sheer volume of options or a lack of specialized training, data-driven marketing can be difficult to achieve.
Keyhole understands this, and simplifies your strategic process by recommending the best course of action given your statistics. We find that with Keyhole's smart and simplified analytics, the options are endless: figure out where to go after you've narrowed down your top posts, turn your competitors' strategies against them, and use your audience's habits to build a stellar online presence.
How Keyhole Pays for Itself
The beauty of Keyhole is that it does more than pay for itself–it increases the value of the rest of your social media marketing infrastructure.
We can't stress the value of a tool that runs your analytics for you, packages it in an easy-to-digest format, and automates the reporting process. It saves you time, it saves you money on expert consultation, and it saves you the trouble of having to crawl through your accounts for the numbers that matter.
By connecting you with your market and key influencers among them, Keyhole both provides the added value of deep market research, and opens up valuable possibilities to grow and nurture your lead base.
Best of all, the tool goes the extra mile and provides valuable strategic options, raising the average value of each post and skyrocketing the worth of your brand's social media profiles. Anyone can stumble their way through the motions of social media marketing, but successful brands are powered by analytics tools with the kind of initiative that Keyhole demonstrates.
Verdict: #Win
Keyhole solves the most enduring problem of social media marketing: gathering information, and using information once you've got it. They're the global leader in hashtag analytics for a reason, and we highly suggest you take the leap and find out why.
3. Designing Your Content: ShortStack
Playing to the Home Crowd
Facebook marketing is an absolute gold mine. Millions of your potential customers are on Facebook, and so are your competitors–the last business that manages to figure out how to tap Facebook for leads will inevitably lose out in the long run.
Facebook has been making a non-stop effort to optimize its ad placement, and encourage businesses to put up ads that land conversions without disrupting the average user's experience on their platform.
As a result, some unspoken rules have come into play, such as minimizing text within images and running colors that stand out against Facebook's own color scheme. The golden rule, however, remains to be: keep your content relevant.
Now that community management is a growing field among digital marketers, social content has to be both visually appealing, interactive, and entertaining all at once.
This poses a problem for the average business owner, who by all likelihood doesn't have a background in advertising. Designing ads and posts that are both eye-catching and effective at communicating the value of a product or service can be confusing at best, and a complete nightmare at worst.
As a tool, ShortStack is valuable for much more than social media. However, it's easy to see how its ability to help users to create branded content like apps and quizzes to set loose on the Facebook Ad market earns the tool a spot on this list.
ShortStack offers users the chance to generate custom-designed campaigns that win attention and loyalty. This means you don't need to hire a team of programmers to put together a branded game for your followers, or a team of web developers to build it a landing page.
Automation Matters
Hashtag contests and social media raffles are excellent ways of generating audiences for remarketing and getting your brand name known by a wider crowd of people.
Sifting through entries by hand and randomly choosing a winner, however, makes the whole exercise far more trouble than it's worth. You might have the manpower and the system needed to run social media contests manually, but that only means that there are plenty more valuable options you should be pursuing instead.
ShortStack makes it easy for any business to run the kinds of contests that turn heads and stop thumbs mid-scroll. They generate contests, giveaways, quizzes, and promotions for you to literally copy and paste onto your web pages of choice. From there, it's a matter of sharing and promoting a link to those pages on your social feed of choice.
How ShortStack Pays for Itself
ShortStack eliminates the need to repeatedly spend on web developers or data encoding temps when you want to run a contest or promotion. The amount you stand to earn from using this tool is limited by how well you can run a contest – and with all the guides you can find online, you can expect that ceiling to be very high.
Likewise, the brand equity that you build by keeping your audiences engaged are priceless. Every user that encounters your content learns to associate your brand with excitement and intrigue, making it easier to funnel them towards a sale, and then towards repeat patronage.
Verdict: ShortStack, Tall Earnings
We highly recommend ShortStack as your gateway to social media content that sells. It saves you energy, it saves you money, and it saves you the embarrassment of running "just another generic brand."
Conclusion
Social media tools are an absolute must in today's fast-paced marketing world. No longer is it efficient to have a dedicated marketer wrestle with rote tasks such as scheduling, data mining, and reporting; you need to equip your guys with the right tools so that you can get the right content in front of the right customer at the right time in the right platform.
---
Keyhole is a real-time brand and campaign monitoring tool that provides keyword and hashtag analytics for Twitter and Instagram. Get started for free here.
Related Articles:
Reach vs Impression: What's The Difference and Why Is It Important?
Frequently Asked Questions
A social media monitoring tool is software that helps businesses and organizations track mentions and conversations about their brand or industry on social media platforms. These tools allow you to monitor social media channels, including Facebook, Twitter, Instagram, and LinkedIn, for specific keywords or phrases relevant to your brand or industry. They also provide analytics to help you measure the success of your social media strategy.
There are several benefits to using a social media monitoring tool, including:
1. Staying informed: By tracking conversations about your brand or industry, you can stay up-to-date on what people are saying and respond to any negative feedback or complaints.
2. Improving customer service: Social media monitoring tools allow you to respond quickly to customer inquiries and provide real-time support.
3. Identifying opportunities: By tracking industry conversations and competitor activity, you can identify new trends and opportunities to engage with your audience.
4. Measuring success: Social media monitoring tools provide analytics that can help you measure the success of your social media strategy, including metrics like engagement, reach, and sentiment.
When choosing a social media monitoring tool, there are several key features to look for, including:
1. Platform coverage: Make sure the tool supports the social media platforms that are most relevant to your brand or industry.
2. Keyword monitoring: The tool should allow you to set up keyword and hashtag tracking to monitor relevant conversations.
3. Sentiment analysis: Look for a tool that provides sentiment analysis to help you gauge the tone and sentiment of social media conversations about your brand or industry.
4. Reporting and analytics: The tool should provide robust reporting and analytics to help you measure the success of your social media strategy and identify areas for improvement.
5. Real-time alerts: Look for a tool that provides real-time alerts so you can quickly respond to meaningful conversations and customer inquiries.