We're excited to announce that our Influencers view, previously only available to Enterprise clients, is now open to all Keyhole users. We've also added new information, like Total Exposure, not available previously!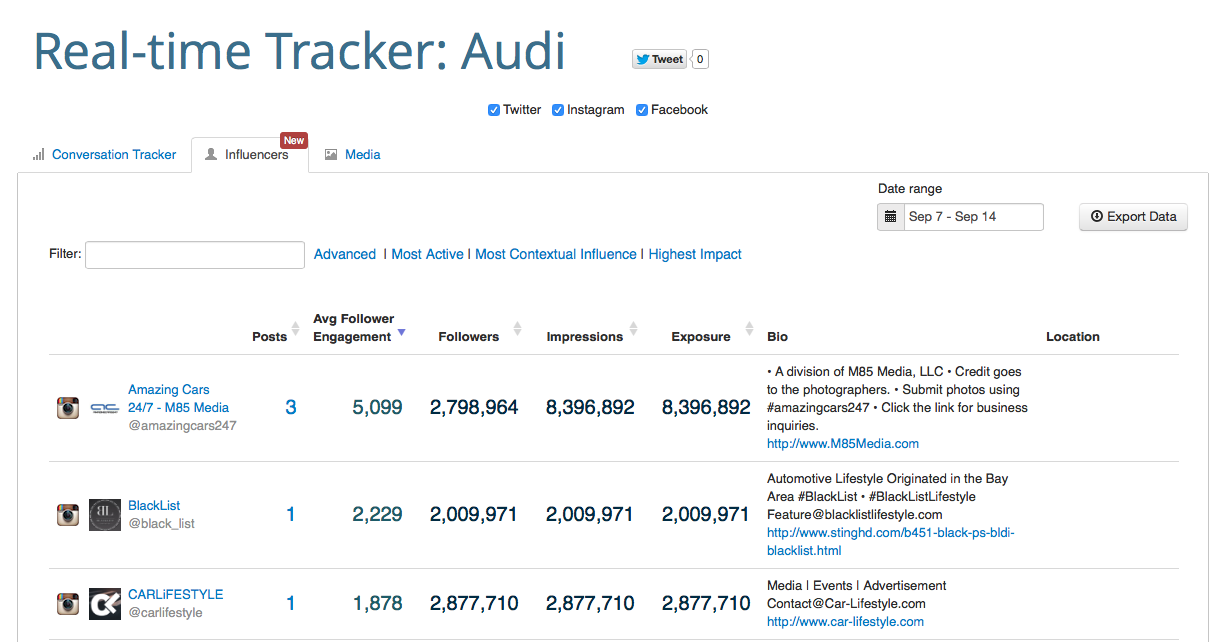 The Influencers tab allows you to laser-target your  search for brand advocates whose tweets generate the most buzz. It has an intuitive  filtering system, which allows you to filter influencers based on…
Impact

– Rank influencers based on the amount of exposure they generate for your #hashtag or searched keyword

Most

Contextual

Influence

– Filter by how much engagement they generate from their Followers for this specific keyword

Most Active

– Filter by the activity level of the influencer on this topic, from the most active on the social platform to the least
You can  also search based on location or specific terms in their bio. This feature will make finding influencers easier than ever, so you can focus on nurturing relationships and amplifying your business.
Below is a quick guide on how to navigate the Influencers feature.
STEP 1.
Type in the hashtag, keyword, or brand you want to track in Keyhole's search box and click Go.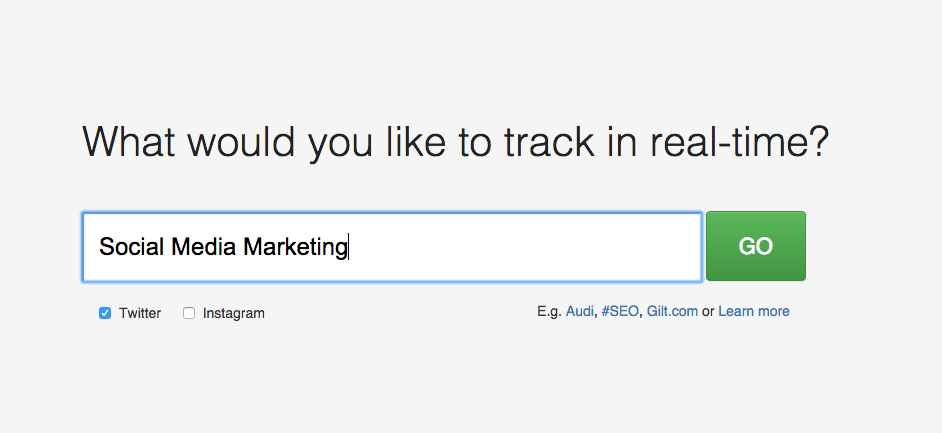 STEP 2.
On the main dashboard, click on the Influencers tab with the "new" button hovering above.
You'll see a list of influencers talking about  your search term.
Using my "Social Media Marketing" example, let's say you're running a blogger outreach campaign and want to focus on people with SEO  listed in their bio. Simply, filter the list by typing "SEO" into the filter box.   
There are also more filters  you can play with. Clicking on Advanced, circled in red below,  will open up new filters you can use to fine-tune your search.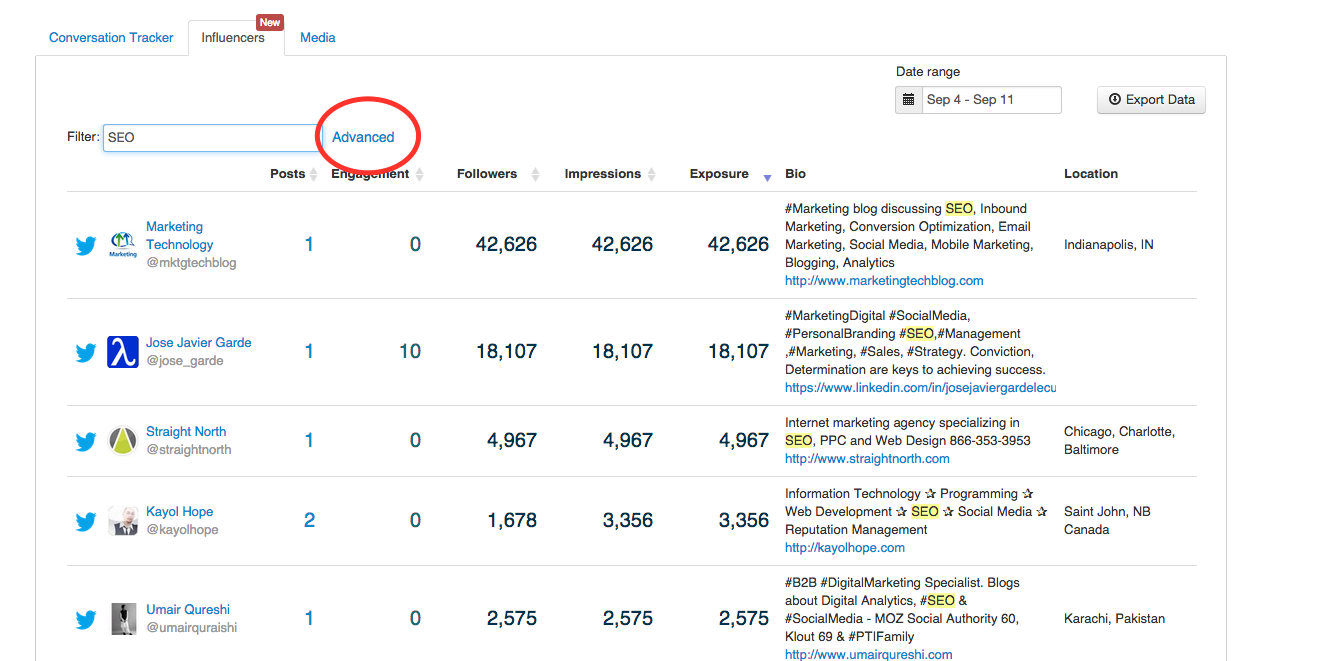 STEP 3.
Customize your influencers list by adding more parameters.
In my example, if I want to find  Canadian SEO Influencers talking about Social Media Marketing, I would type "SEO" in the Bio field, and type "Canada" in the Location  field.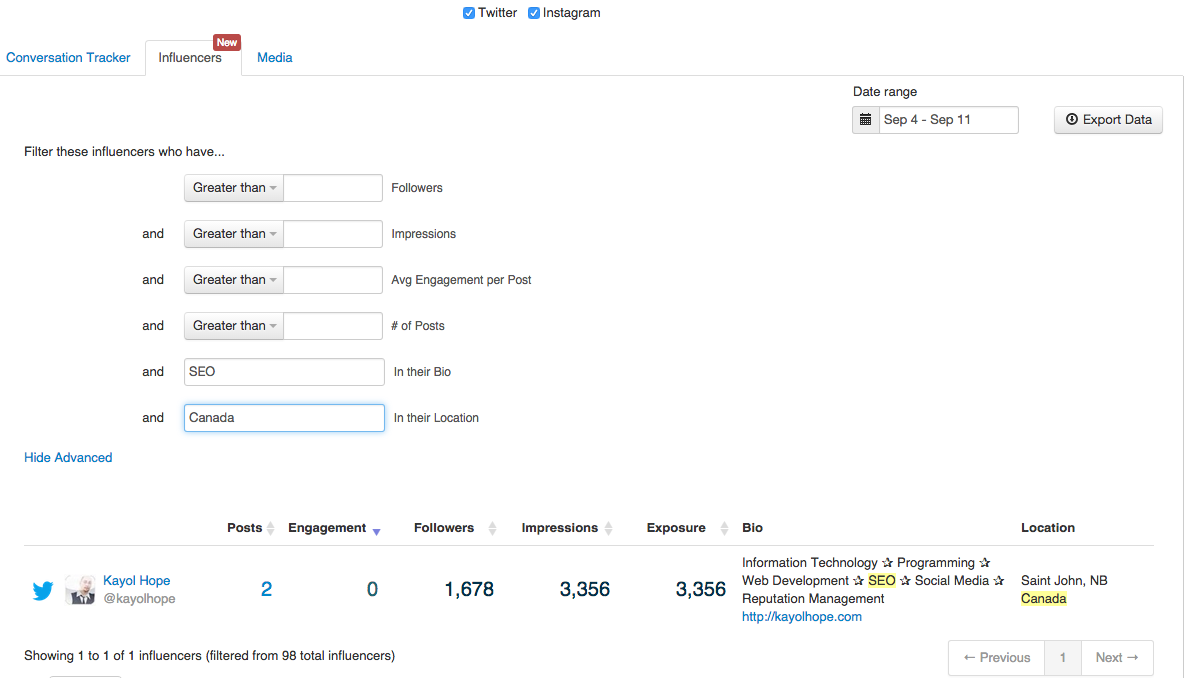 Voilà! Now I  have my target. 1 influencer filtered from 98 – how awesome is that!
Try it yourself:
---
Keyhole is a real-time conversation tracker that provides keyword and hashtag analytics for Twitter and Instagram. Get started for free and search your brand below: 
[testimonial_rotator id="3263″]