Still think the 5 Ws are what you were taught in elementary school English classes?
Think again.
Keith A. Quesenberry introduced her new spin on the 5 Ws in a recent Harvard Business Review article, which are used for social media auditing.
Who

categorizes data according to who is talking, whether that is the company, consumers, or a competitor.

Where

lists content by social media channel and environment. Channels include outlets like YouTube, Facebook, or Pinterest, while environment refers to the look and feel.

What

lists the type of content, such as article, photo, or video, plus the sentiment of the post as positive, negative, or neutral

When

quantifies the frequency of activity, like number of posts, comments, views, or shares, per day, week, or month

Why

determines the purpose of the message from awareness and promotion to complaint or praise. If applicable, key performance indicators (KPIs) are included.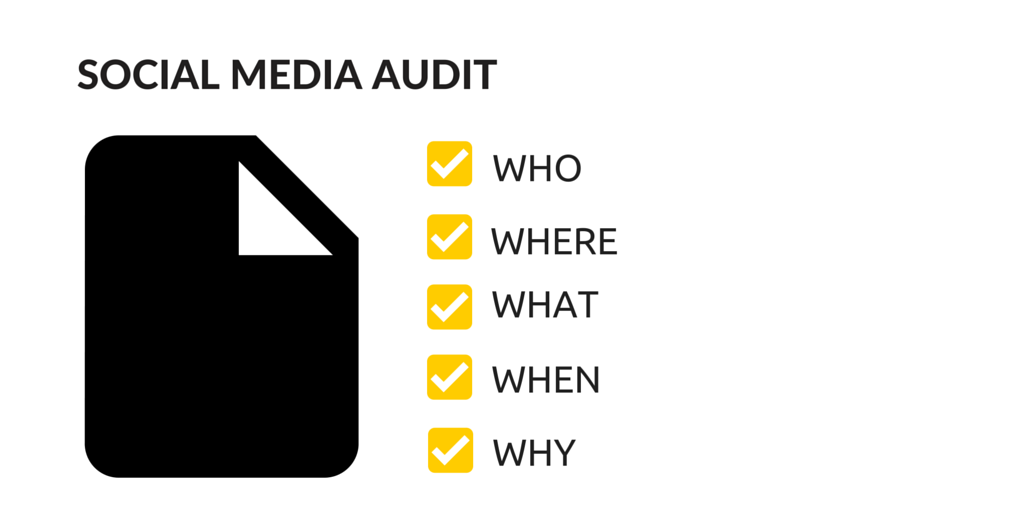 After familiarizing yourself with these 5 Ws, we will now go more in detail as to how your mind should flow through the steps while conducting a social media audit for your company.
Some Common Questions Faced By Firms
Where are my consumers heading online?

How well are my current strategies working?

How do I measure in the industry?

What types of methods are working and what changes should I make?
Recognize Your Goals
Since you are researching how to properly conduct a social media audit, you must have something about your company that you would like to find out more about. Are you looking for a new perspective to catch loopholes you might have missed? Are you looking for ways to improve your marketing strategies? Or are you trying to determine where you stand in your industry and how you compare with your competitors? No matter the reason, identify your needs first so you can target your analysis towards a specific area.
Know Your Competitors
Keep your friends closer, but keep your enemies closer.
How can you speak of topping your competitors if you don't know them well enough? Don't be oblivious to what your competitors are doing, because often in that case, you will miss out on their brilliance, and end up falling behind in the game. You should conduct thorough research on your competing firms, while following up frequently to check up on their new social media contents including photos, articles, campaigns…etc. Say for example, their most popular content are ones that have 30% entertainment, 50% education, and 20% sell, then perhaps, the same pattern will work well for your company as well.
All great artists steal.
Of course, don't copy exactly what your competitors are doing. You probably can't do better than they already are. Even if you can, people will always remember the first firm more than the one who followed. Instead, try to absorb information and be inspired to make changes to their strategies and make yourself stand out.
Use Social Media Monitoring Tools
Managing your social media platforms are now easier than ever. There are many amazing Social Media monitoring tools that are designed to help you understand what your clients want and need, so that you can adjust to their preferences to improve your business.
For example, Oktopost, Buffer, and Hootsuite are all great platforms that allow you to post and manage different social media accounts all in one place.
If your want to explore your options, one of our previous articles provided a list of helpful FREE tools that you can check out.
One of the most important factors to analyze is your engagement. In the analysis report, you will be able to identify specific geographic locations, genders, and/or age groups that are interested in your social media content. From that, you can either shift your focus to expand and attract other potential consumers, or generate materials that cater to your existing customer base.
At Keyhole, we track real time data on Twitter and Instagram and generate an analysis report consisting of the location and demographics of your visitors as well as your most influential followers. One last thing….
Don't get too caught up in the Data Analysis
Don't over analyze your data. Numbers don't mean everything. Once you have the metrics, use some heuristic analysis to better understand why certain things such as titles work better than others. Some techniques you can try are A/B tests that compare types of content. VWO is a great A/B testing software that allows you to create different versions of your landing page to test which one produces maximum conversion rates or sales.
---
Keyhole is a real-time conversation tracker that provides keyword and hashtag analytics for Twitter and Instagram. Get started for free and search your brand.